First Aid for Blisters
Last updated March 5, 2018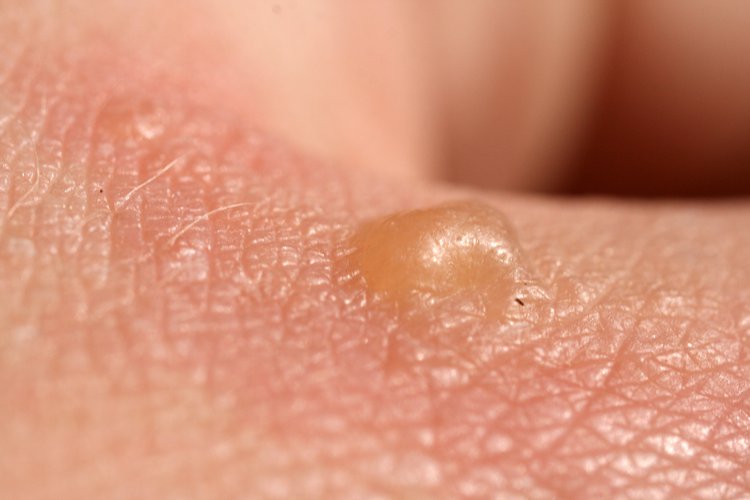 Blisters are raised, fluid-filled sacs of skin. Damaged superficial skin layer dies and detaches from the lower (inner) skin layers. Frequently, fluid fills the space in between the lower layers and the detached layer.
---
What is Blisters?
Blisters are raised, fluid-filled sacs of skin. Damaged superficial skin layer dies and detaches from the lower (inner) skin layers. Frequently, fluid fills the space in between the lower layers and the detached layer
In most cases, the condition can be resolved through adequate treatment. However, it is important to evaluate the cause of Blister formation, as it may affect the prognosis
What are the Causes of Blisters?
The common causes of Blisters include:
Friction
Heat
Electricity
Chemicals
Exposure to freezing temperatures
Infections
Contact allergens, like poison ivy
Sunburns
What are the Signs and Symptoms of Blisters?
The signs and symptoms of Blisters include:
Raised area of skin with clear fluids
Skin discoloration
Pain
How is First Aid administered for Blisters?
First Aid administration for Blisters depends on the symptoms:
If the Blister is neither painful nor interfering with your daily activities, try to leave the skin intact; wear protective bandage until it drains and resolves
If it is too painful or if it affects your daily/normal routine, you can choose to seek medical attention or try to drain it (on your own)
If you choose to drain it, you must understand that there is a risk of infection
Before you drain the Blister, clean it by washing it with soap and warm water.
Then, after rubbing alcohol or iodine; drain the fluid by using a sterilized needle, while keeping the skin intact
Apply antibiotic ointment to the blister and bandage to cover the wound
After the wound skin has dried, you may cut away the dead skin with a pair of sterilized scissors
Continue applying antibiotic ointment, until it has completely healed
Who should administer First Aid for Blisters?
First Aid can be administered by the person himself/herself, or someone in close proximity to the person.
What is the Prognosis of Blisters?
The prognosis is excellent.  The dead skin usually grows back without incident, as long as First Aid is applied and wound closely monitored for development of infections.
How can Blisters be Prevented?
A few helpful tips to prevent Blisters:
Wear shoes and clothing that fit properly
Take precautions during extremely hot and cold weather, to avoid sunburns and freezing
Wear bandages or patches of fabric over frequently blistered spots, to reduce friction. Petroleum jelly can also reduce friction
Exercise caution and protect yourself adequately while handling chemicals, working with electricity, working in the woods, etc.
What are certain Crucial Steps to be followed?
Seek immediate medical attention, if any signs of infection are noticed. These include redness, swelling, pain, fever, and pus-like drainage from the site of injury.
What are some Useful Resources for Additional Information?
American Academy of Dermatology
930 E. Woodfield Road Schaumburg, IL 60173
Phone: (866) 503-SKIN (7546)
Fax: (847) 240-1859
Website: http://www.aad.org
References and Information Sources used for the Article:
http://www.mayoclinic.com/health/FirstAidIndex/FirstAidIndex (accessed on 5/28/2013)
Helpful Peer-Reviewed Medical Articles:
Janssen, L., Allard, N. A., ten Haaf, D. S., van Romburgh, C. P., Eijsvogels, T. M., & Hopman, M. T. (2017). First-Aid Treatment for Friction Blisters:"Walking Into the Right Direction?". Clinical journal of sport medicine: official journal of the Canadian Academy of Sport Medicine.

Burns, M. (2017). First Aid. MONTH.

Wilson, P. (2015). Survival First Aid. Simon and Schuster.

Lipman, G. S., & Scheer, B. V. (2015). Blisters: the enemy of the feet. Wilderness & environmental medicine, 26(2), 275-276.

McNamara, A. R., Ensell, S., & Farley, T. D. (2016). Hand Blisters in Major League Baseball Pitchers: Current Concepts and Management. American journal of orthopedics (Belle Mead, NJ), 45(3), 134-136.

Hoffman, M. D. (2016). Etiological foundation for practical strategies to prevent exercise-related foot blisters. Current sports medicine reports, 15(5), 330-335.

Chu, C. H., Tuan, P. K., Cheng, Y. P., Chan, J. Y., & Chou, C. Y. (2017). Recurrent oral ulcers and blisters in a young woman. Clinical and experimental dermatology, 42(1), 112-114.

Lam, J. (2016). The Case of the Painful Blisters. Emergency Medicine News.
Reviewed and Approved by a member of the DoveMed Editorial Board
First uploaded: May 28, 2013
Last updated: March 5, 2018
Was this article helpful?
Comments