Time to Put KEYTRUDA® and OPDIVO® in the Drinking Water
Author
Keith J. Kaplan, MD
Posted April 25, 2018
25 years ago when I started my clinical rotations as a third-year medical student, my interest in pathology across the medical and surgical specialties was usually met with a question such as "Why do you want to do pathology? You are going to be replaced by a gene chip in 25 years."
While that has not happened (yet) and we are still here there have been other exciting developments in pathology that have allowed us to become part of the improved diagnostic methods and improved treatments leading to better outcomes, particularly for our work in anatomic pathology related to cancer cases. For many of us, the use of ER, PR and HER2 immunohistochemical stains to assist in making treatment decisions allowed us to move beyond morphology, grade, location and stage and perhaps opened up what one pathologist referred to as the "paraffin curtain".  When ALK and EGFR mutations and mismatch repair proteins were discovered to have treatment implications in a common tumors that we see every day, we could again be involved in personalized, targeted and predictive medicine beyond H&E morphology and counting mitoses and documenting necrosis.
Now of course in the past several years has come immune therapy or immunotherapy or immune system checkpoint modulation or inhibition of negative regulators of immune function (2 negatives make a positive in immunology).
Brief immunology lesson: The cytotoxic T-lymphocyte–associated antigen 4 (CTLA-4) and programmed death 1 (PD-1) immune checkpoints are negative regulators of T-cell immune function. Inhibition of these targets, resulting in increased activation of the immune system, has led to new immunotherapies for melanoma, non–small cell lung cancer and other cancers. Ipilimumab, an inhibitor of CTLA-4, is approved for the treatment of advanced or unresectable melanoma. Nivolumab and pembrolizumab, both PD-1 inhibitors, are approved to treat patients with advanced or metastatic melanoma and patients with metastatic, refractory non-small cell lung cancer (among other cancers).
A number of drugs, at the risk of not mentioning all of them, but notably, nivolumab (OPDIVO®, Bristol-Meyers Squibb), pembrolizumab (KEYTRUDA®, Merck), ipilimumab (YERVOY®, Bristol-Meyers Squibb) and atezolizumab (TECENTRIQ, Genentech) are FDA approved for use in a number of cancers. For example, KEYTRUDA® has been approved for use in advanced non-small cell carcinoma (NSCLC), advanced melanoma, head and neck squamous cancer, classical Hodgkin lymphoma, advanced urothelial bladder cancer and advanced gastric cancer. OPDIVO® is approved for patients with previously treated advanced NSCLC, metastatic melanoma, advanced renal cell carcinoma, head and neck squamous carcinoma, liver cancer with prior treatment, a specific colorectal carcinoma (with prior therapy whose tumors are dMMR/MSI-H) and classical Hodgkin lymphoma (with specific clinical criteria)**.
Initially, these treatments were recommended as first treatment in advanced non-small lung cancer for PD-L1 positive tumors that did not have ALK or EGFR mutations, among other indications.
The recent presence of both Bristol-Meyers Squibb and Merck at pathology meetings to educate pathologists on the importance of PD-L1 and interpretation of the immunohistochemistry tests highlights the manufacturers commitment to appropriate use and interpretation.
Pathologists are firmly entrenched in immunotherapies.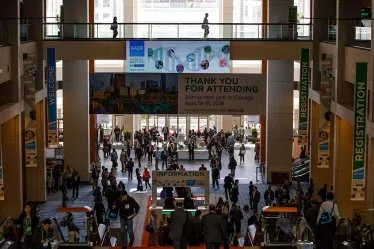 Well, we were for a bit.
PathReport.org shared a nice summary of recent news from AACR last week in Chicago that has links to three articles from clinical trials regarding the use of immunotherapy. One of the studies show ""Progression-free survival was significantly longer with first-line nivolumab plus ipilimumab than with chemotherapy among patients with NSCLC and a high tumor mutational burden, irrespective of PD-L1 expression level. The results validate the benefit of nivolumab plus ipilimumab in NSCLC and the role of tumor mutational burden as a biomarker for patient selection."
Fortunately, we still have mismatch repair proteins by immunohistochemistry.  Last May, the FDA approved immunotherapy for MSI-High or MMR-Deficient tumors. Forget about morphology and location, as the press release mentions: "This is an important first for the cancer community," said Richard Pazdur, MD, acting director of the Office of Hematology and Oncology Products in the FDA's Center for Drug Evaluation and Research, in a press release. "Until now, the FDA has approved cancer treatments based on where in the body the cancer started—for example, lung or breast cancers. We have now approved a drug based on a tumor's biomarker without regard to the tumor's original location."
I gather we are going to see more discoveries like this – a trend towards biomarkers and additional targets for treatment beyond conventional cytotoxic chemotherapy agents alone.
Pathologists will still be required to make morphologic decisions and be tasked with, in some cases, biomarker or mutational assessment but the traditional days of morphology and classification will be replaced with how well a tumor responds to specific therapies inasmuch as location and grade and stage.
It's not a gene chip but our role is changing.
Are you ready for the change?
Thanks and Gratitude:
Dr. Kaplan is a pathologist and laboratory medical director in North Carolina. He blogs daily on issues relevant to pathology and laboratory medicine at tissuepathology.com. As a member of the medical editorial board, Dr. Kaplan also reviews healthcare content created by DoveMed medical staff.