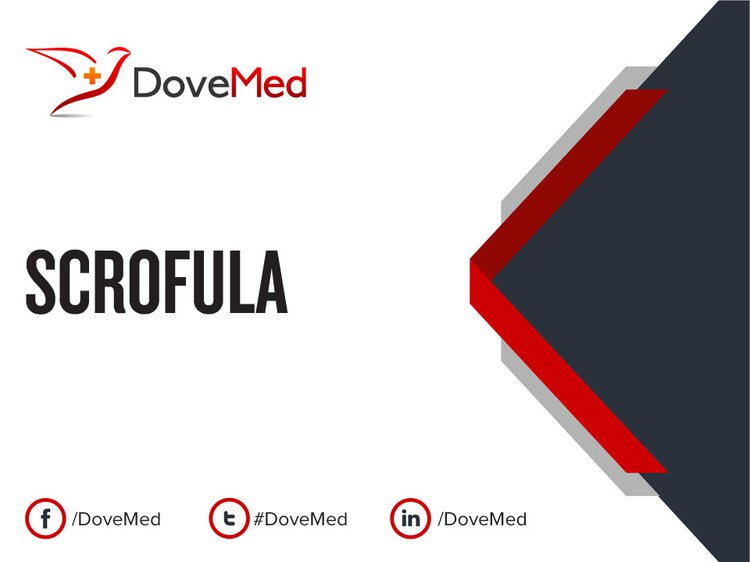 The most common form of tuberculosis is pulmonary tuberculosis in which the lungs are primarily affected. Scrofula is tuberculous infection of the lymph nodes in the neck. The condition is also known as Lymph Node Tuberculosis.
What are the other Names for this Condition? (Also known as/Synonyms)
Cervical Tuberculous Lymphadenitis
Lymph Node Tuberculosis
Tuberculous Lymphadenitis of Neck Lymph Nodes
What is Scrofula? (Definition/Background Information)
The most common form of tuberculosis is pulmonary tuberculosis in which the lungs are primarily affected. Scrofula is tuberculous infection of the lymph nodes in the neck. The condition is also known as Lymph Node Tuberculosis
Scrofula usually affects individuals with compromised immune system, such as HIV patients and those taking immunosuppressant medications (for various health reasons)
The tuberculous infection spreads to different parts of the body through blood or lymph in immuno-compromised individuals. This may also lead to infection of the lymph nodes, called lymphadenitis. When the size of the lymph nodes increases, it causes erosion of the overlying skin and leads to drainage of purulent material
The causative organisms differ in adults and children. Disseminated infection occurs with Mycobacterium tuberculosis (a pathogenic bacterium) in adults and nontuberculous mycobacterium, which includes Mycobacterium scrofulaceum and/or Mycobacterium avium, in children
The most important symptom of Scrofula is the presence of a firm, rubbery, neck swelling. The condition may be diagnosed through a fine needle aspiration test of the affected lymph node
The treatment may involve both medical and surgical interventions, depending upon the infecting organism. The prognosis of Scrofula is very good with appropriate treatment
Who gets Scrofula? (Age and Sex Distribution)
Scrofula is most commonly seen in individuals with poor or compromised immune systems.
There is no sexual predilection, both males and females are affected
The condition is observed worldwide; generally all racial and ethnic groups have the same amount of risk
What are the Risk Factors for Scrofula? (Predisposing Factors)
An important risk factor for the occurrence of Scrofula includes defects in the cell-mediated immunity, due to various health conditions and causes. The following individuals are at risk of Scrofula:
Human immunodeficiency virus infected individuals, AIDS patients
Organ transplant individuals treated with immunosuppressant medications
Chemotherapy for malignant tumors
Congenital immunodeficiency syndromes, which are immunodeficiency conditions present at the time of birth
It is important to note that having a risk factor does not mean that one will get the condition. A risk factor increases ones chances of getting a condition compared to an individual without the risk factors. Some risk factors are more important than others.
Also, not having a risk factor does not mean that an individual will not get the condition. It is always important to discuss the effect of risk factors with your healthcare provider.
What are the Causes of Scrofula? (Etiology)
There are many different types of mycobacteria. Scrofula is caused by rod-shaped bacteria such as Mycobacterium tuberculosis, Mycobacterium scrofulaceum, and Mycobacterium avium.
Generally, Mycobacterium tuberculosis is the most common cause of Scrofula in adults
In children, Scrofula is caused by Mycobacterium scrofulaceum and Mycobacterium avium in a higher frequency
Infection in adults occur from Mycobacterium tuberculosis, a pathogenic species responsible for most tuberculosis cases
Infections in children occur from nontuberculous mycobacterium (NTM), which is a group of mycobacteria species also referred to as atypical or environmental mycobacteria
Mycobacterium scrofulaceum and/or Mycobacterium avium (both NTMs) are the causative agents of Scrofula in children
What are the Signs and Symptoms of Scrofula?
The signs and symptoms of Scrofula depend upon whether it is caused by Mycobacterium tuberculosis or a non-Mycobacterium tuberculosis bacterium.
Mycobacterium tuberculosis infection (in adults) signs and symptoms may include:
Fever, chills
Firm, rubbery, neck swelling in the front part of the neck
Multiple neck swellings (lymph nodes) that are stuck together (matted)
Draining fistula from the matted lymph nodes
Non-tuberculous mycobacterium infection (in children) signs and symptoms may include:
The individuals may not have any symptoms, such as fever and chills
There may be neck swelling similar to M. tuberculosis infection
No history of previous TB exposure
How is Scrofula Diagnosed?
The diagnosis of Scrofula includes a complete evaluation of the medical history along with a thorough physical exam. Other diagnostic tests may include:
Complete blood count
Fine needle aspiration (FNA) of the lymph node, in which the material inside the lymph node is aspirated with the help of a needle and sent to the laboratory for examination under a microscope by the pathologist
Tissue culture can help in a definitive diagnosis of Scrofula
Biopsy of the lymph node and examination of the material under the microscope by a pathologist
Test for HIV (this test is not required for the diagnosis of  scrofula but is done to check the immune status of the patient)
MRI or CT scan of the neck, to examine the exact site and extent of the disease
Chest X-ray to check for the presence of pulmonary tuberculosis
Many clinical conditions may have similar signs and symptoms. Your healthcare provider may perform additional tests to rule out other clinical conditions to arrive at a definitive diagnosis.
What are the possible Complications of Scrofula?
Possible complications of Scrofula include:
Chronic draining fistula of the skin in the neck region
Scar formation resulting in cosmetic disfigurement
How is Scrofula Treated?
The treatment for Scrofula depends on the causative organism.
If the condition is caused by Mycobacterium tuberculosis, the treatment may involve the following:
Isoniazid, rifampicin, pyrazinamide, ethambutol for 2 months, followed by 2 drugs (usually isoniazid and rifampin) according to the organism sensitivity for another 4 months
Baseline liver function tests, kidney function tests, and platelet level tests should be done before starting the treatment, because the drug side effects can affect the liver and kidney function
Surgical management of M. tuberculosis infection:
Surgery is reserved for chronic cases not responding to proper medical treatment and for patients with draining fistula
Patients should be treated with anti-tuberculosis infection prior to surgery, to prevent dissemination (spread) of the disease
If the condition is caused by non-Mycobacterium tuberculosis (such as Mycobacterium scrofulaceum and Mycobacterium avium), the treatment may involve the following:
Clarithromycin is the drug of choice
Most of the patients require surgery. The surgical treatment may range from simple aspiration to complete excision of the lymph node
However, simple aspiration using FNA can result in the formation of a fistula and hence should be avoided
Also, a complete excision can cause facial nerve injury, in case of large matted lymph nodes. Facial nerve is present in the neck region and is prone to injury during a neck surgery
How can Scrofula be Prevented?
In order to ensure the prevention of Scrofula, a proper treatment of tuberculosis (TB) must be undertaken, in order to prevent or control the infection spread.
All patients with latent TB infection should be treated with a course of isoniazid for 9 months
The best strategy to prevent an infection of tuberculosis bacteria is to avoid contact with infected individuals, especially in closed and crowded areas
If such a contact is unavoidable, then proper respiratory protective equipment, such as a mask, should be used
Presently, there are tuberculosis vaccines available, called bacilli Calmette-Guerin (BCG). However, the effectiveness of the vaccine is currently being debated upon; even though, it has been shown to reduce the rate of TB in children living in developing countries
It is essential to treat individuals, who have come into active contact with TB-infected individuals (those having confirmed tuberculosis infection)
What is the Prognosis of Scrofula? (Outcomes/Resolutions)
The prognosis of Scrofula is dependent upon the type of bacteria causing the infection, and how well the infection responds to treatment measures. In general, with appropriate medical and surgical treatment, the prognosis is good.
Additional and Relevant Useful Information for Scrofula:
Tuberculosis (TB) is caused by the infection of Mycobacterium tuberculosis bacteria. It is a highly contagious infection that spreads through the air, when an infected individual sneezes, coughs, sings, or even speaks
The following article link will help you understand tuberculosis infection:
https://www.dovemed.com/diseases-conditions/tuberculosis-tb/
What are some Useful Resources for Additional Information?
Centers for Disease Control and Prevention (CDC)
1600 Clifton Rd. Atlanta, GA 30333, USA
Phone: (404) 639-3534
Toll-Free: 800-CDC-INFO (800-232-4636)
TTY: (888) 232-6348
Email: cdcinfo@cdc.gov
Website: http://www.cdc.gov
References and Information Sources used for the Article:
http://www.nlm.nih.gov/medlineplus/ency/article/001354.htm (accessed on 5/23/2015)
http://radiopaedia.org/articles/tuberculous-cervical-lymphadenitis (accessed on 5/23/2015)
Helpful Peer-Reviewed Medical Articles:
Hanson, R. A., & Thoongsuwan, N. (2002). Scrofula. Curr Probl Diagn Radiol, 31(6), 227-229. doi: 10.1067/mdr.2002.128956
Jawahar, M. S. (2000). Scrofula revisited: an update on the diagnosis and management of tuberculosis of superficial lymph nodes. Indian J Pediatr, 67(2 Suppl), S28-33.
Barnett, K., & Medzon, R. (2007). Scrofula as a presentation of tuberculosis and HIV. Canadian Journal of Emergency Medicine, 9(3), 176-179.
Forget, N., & Challoner, K. (2009). Scrofula: emergency department presentation and characteristics. International journal of emergency medicine, 2(4), 205-209.
McClay, J. E. (2008). Scrofula. Available at:)(Accessed February 10, 2008) View in Article| Google Scholar.
Duarte, I. (2017). Scrofula in the 19th century. Revista chilena de infectologia: organo oficial de la Sociedad Chilena de Infectologia, 34(1), 55-59.
Singh, H., Agarwal, S., Nirwal, G. K., & Setia, A. (2015). Incidence of Scrofula in Enlarged Neck Nodes. Research & Reviews: Journal of Surgery, 3(3), 5-8.
Zhiying, Y., Yingchao, W., Lin, H., & Wanyu, F. (2013). Pharmaceutical Practice by Clinical Pharmacists in Breast Cancer Patients with A Fever and Scrofula after Chemotherapy. China Licensed Pharmacist, 2, 013.
Khalid, S. K., & Jassim, O. (2006). Scrofula. New England Journal of Medicine, 354(18), e18.
Pereira, C., Cascais, M., Félix, M., & Salgado, M. (2017). Scrofula in a Child. The Journal of pediatrics, 189, 235.