Jejunal Atresia
Last updated Oct. 17, 2018
Approved by: Maulik P. Purohit MD, MPH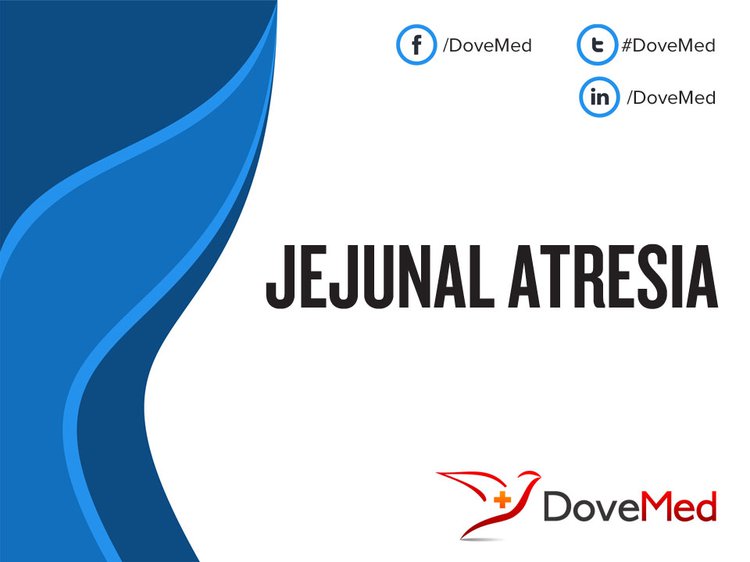 Jejunal Atresia is an extremely rare congenital disorder, characterized by the narrowing or absence of a portion of the small intestine.
---
What are the other Names for this Condition? (Also known as/Synonyms)
Apple Peel Syndrome
Christmas Tree Syndrome
Small Intestinal Atresia
What is Jejunal Atresia? (Definition/Background Information)
Jejunal Atresia is an extremely rare congenital disorder, characterized by the narrowing or absence of a portion of the small intestine. The condition occurs in newborns
The disorder is caused, when a part of membrane attaching the jejunum (one of the 3 parts of the small intestine; the others being the duodenum and ileum) to the wall of the abdomen is missing. This causes portions of the jejunum to twist around the intestinal arteries, leading to the blockage, narrowing, or atresia of the intestine
In many cases, Jejunal Atresia is seen to arise sporadically, and no risk factors are attributed to the condition. In some cases, it is inherited, and therefore, a positive family history of the condition is the biggest risk factor for a child being diagnosed with the condition
Bilious vomiting and failure to pass meconium (the child's first stool) in the first 24 hours of birth are the most common symptoms of Jejunal Atresia. The potential complications include small bowel obstruction, perforation, and malnutrition
In some cases, Jejunal Atresia can be diagnosed before birth during pre-natal ultrasound. After birth, physical examination of the baby, symptom assessment, and abdominal X-ray studies are helpful in making the diagnosis
Surgery is the mainstay of treatment for Jejunal Atresia, which is undertaken soon after birth. A surgery is performed to remove damaged portion of the intestine; the healthy portions of the small intestine are then reattached and allowed to heal. In many cases, the prognosis is good with the correct diagnosis and prompt treatment of Jejunal Atresia
Who gets Jejunal Atresia? (Age and Sex Distribution)
Jejunal Atresia is a birth defect occurring in newborns. It is known to affect both girls and boys in equal proportion
The condition is very rare and only around 100 cases have been reported worldwide. The exact prevalence of the disorder is not known
There is no racial, ethnic, or geographic predilection noted
What are the Risk Factors for Jejunal Atresia? (Predisposing Factors)
Currently, there are no specific risk factors known to be associated with Jejunal Atresia, in the majority of cases, when the condition occurs sporadically
In some cases, however, the disorder can run in the family. In such cases, a family history of the condition is a risk factor for Jejunal Atresia
It is important to note that having a risk factor does not mean that one will get the condition. A risk factor increases one's chances of getting a condition compared to an individual without the risk factors. Some risk factors are more important than others.
Also, not having a risk factor does not mean that an individual will not get the condition. It is always important to discuss the effect of risk factors with your healthcare provider.
What are the Causes of Jejunal Atresia? (Etiology)
Jejunal Atresia is caused by the partial or complete absence of a membrane known as the mesentery.
The mesentery membrane is responsible for attaching a portion of the small intestine called the jejunum, to the abdominal wall.
The absence of this attachment leads to parts of the jejunum to fold and twist around an artery (marginal artery) that supplies blood to the colon. This results in intestinal underdevelopment or atresia
Sometimes, during fetal development, events causing decreased blood flow to parts of the fetus can occur. These affected areas can become necrotic (death of cell and tissue), leading to conditions such as the missing or partial mesentery membrane.
In a majority of cases, Jejunal Atresia develops sporadically. In a few instances, a genetic predisposition can lead to the disorder.
These genetic changes are heritable and the disorder is inherited in an autosomal recessive manner
In this type of inheritance, an individual must carry two defective copies of the causative gene in each of his/her cell for the disorder to manifest itself
An affected individual inherits one defective copy each from unaffected parents, who are carriers of the disorder
What are the Signs and Symptoms of Jejunal Atresia?
Some common signs and symptoms associated with Jejunal Atresia in newborns include:
Vomit containing bile (a greenish fluid)
Abdominal distention
Swelling in the upper, middle abdomen
Constipation
Failure to pass meconium (first stools) by the child, in the first 24 hours after birth
Poor feeding
Poor general health; weak cry
Minimal activity at birth
Sluggish bowel sounds
How is Jejunal Atresia Diagnosed?
For an accurate diagnosis of Jejunal Atresia, a healthcare professional may employ the following methods:
A thorough physical examination and an assessment of signs and symptoms
An evaluation of the affected baby's family medical history
Imaging tests such as:

X-ray of the abdomen, which may show the obstruction, by way of bubbles in the jejunum
X-ray series with contrast, to locate the blockage
CT scan of the abdomen
Ultrasound of the abdomen
Prenatal detection of Jejunal Atresia is a possibility as well; it is generally undertaken, if the condition is suspected in the child. The diagnosis is undertaken through:
Prenatal ultrasound (ultrasound scan during pregnancy)
Checking the volume of the amniotic fluid, since a condition known as polyhydramnios (build-up of excess amniotic fluid) can be suggestive of Jejunal Atresia
Many clinical conditions may have similar signs and symptoms. Your healthcare provider may perform additional tests to rule out other clinical conditions to arrive at a definitive diagnosis.
What are the possible Complications of Jejunal Atresia?
Following are some potential complications associated with Jejunal Atresia:
Small bowel obstruction
Bowel perforation
Premature baby and complications associated with prematurity
Low birth weight
Sepsis: Generalized infection of the blood stream
Malnutrition 
How is Jejunal Atresia Treated?
Treatment of Jejunal Atresia may include the following:
Surgery to repair the blockage, in which the damaged portion of intestine is resected and healthy parts are joined back together
Feeding the baby through a vein or a tube directly in the stomach (parenteral nutrition) is undertaken after surgery, till such a time that the baby can resume normal eating
Other supportive care, as needed, is provided by the healthcare provider
How can Jejunal Atresia be Prevented?
Currently, there are no guidelines or methods available for the prevention of Jejunal Atresia.
What is the Prognosis of Jejunal Atresia? (Outcomes/Resolutions)
The prognosis of Jejunal Atresia is determined by early diagnosis and timely and appropriate treatment.
With recent advances in surgical techniques, the prognosis of the condition has significantly improved, such that 90% of the babies thrive after surgery
Newborns surviving the surgery and post-surgical complications are able to lead normal and healthy lives
Additional and Relevant Useful Information for Jejunal Atresia:
Till the year 2007, there were only 57 cases of this condition reported in scientific literature
The following DoveMed website link is a useful resource for additional information:
What are some Useful Resources for Additional Information?
References and Information Sources used for the Article:
http://rarediseases.info.nih.gov/GARD/Condition/6799/Jejunal_atresia.aspx (accessed on 03/25/2017)

http://www.cags.org.ae/pdf/243600.pdf (accessed on 03/25/2017)

http://radiopaedia.org/articles/jejunoileal-atresia-1 (accessed on 03/25/2017)

http://www.ibnosinahealth.org/MedicalDocuments/JejunalAtresia.pdf (accessed on 03/25/2017)
Helpful Peer-Reviewed Medical Articles:
Mishalany, H. G., & Najjar, F. B. (1968). Familial jejunal atresia: three cases in one family. The Journal of pediatrics, 73(5), 753-755

Seashore, J. H., Collins, F. S., Markowitz, R. I., & Seashore, M. R. (1987). Familial apple peel jejunal atresia: surgical, genetic, and radiographic aspects. Pediatrics, 80(4), 540-544

Zerella, J. T., & Martin, L. W. (1976). Jejunal atresia with absent mesentery and a helical ileum. Surgery, 80(5), 550-553

Touloukian, R. J. (1993). Diagnosis and treatment of jejunoileal atresia.World journal of surgery, 17(3), 310-317

Festen, S., Brevoord, J. C. D., Goldhoorn, G. A., Festen, C., Hazebroek, F. W. J., Van Heurn, L. W. E., ... & Aronson, D. C. (2002). Excellent long-term outcome for survivors of apple peel atresia. Journal of pediatric surgery,37(1), 61-65

Banieghbal, B., & Beale, P. G. (2007). Minimal access approach to jejunal atresia. Journal of pediatric surgery, 42(8), 1362-1364.

Baglaj, M., & Gerus, S. (2012). Preduodenal portal vein, malrotation, and high jejunal atresia: a case report. Journal of pediatric surgery, 47(1), e27-e30.

Lee, S. H., Cho, Y. H., Kim, H. Y., Park, J. H., & Byun, S. Y. (2012). Clinical experience of complex jejunal atresia. Pediatric surgery international, 28(11), 1079-1083.
Reviewed and Approved by a member of the DoveMed Editorial Board
First uploaded: March 31, 2017
Last updated: Oct. 17, 2018