Pnapora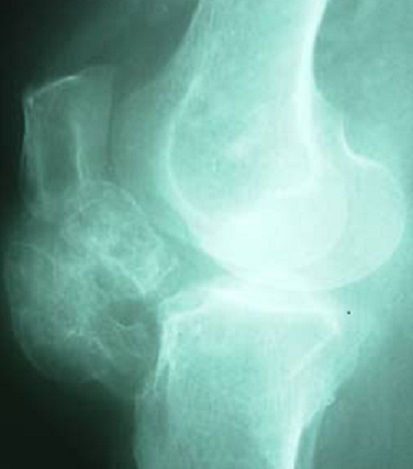 Radiograph of the knee showing an infra-patellar calcified fat after Hoffa's disease.
What are the other Names for this Condition? (Also known as/Synonyms)
Fat Pad Impingement Syndrome
Hoffa's Fat Pad Disease
Infrapatellar Fat Pad Syndrome
What is Hoffa Disease? (Definition/Background Information)
Hoffa Disease is a benign disorder of the synovium (a protective layer surrounding the joint space), caused as a response to injury. Hence, it is a post-traumatic reactive condition
It is often seen around the knee joint. The disorder causes swelling below the patellar bone, which is observed in front of the knee joint. Even though commonly seen around the knee joint, other joints of the body may be affected too
Hoffa Disease is also known as Fat Pad Impingement Syndrome, because of the impingement of the fat between the patella and the lower portion of the thigh bone
A tissue biopsy helps in a definitive diagnosis of the condition, which is treated using both conservative methods and surgical procedures (if the signs and symptoms are severe)
With appropriate treatment, the prognosis of Hoffa Disease is good
Who gets Hoffa Disease? (Age and Sex Distribution)
Hoffa Disease may occur in individuals of all ages, races, ethnic groups, and gender
However, it is more common in men than women
Generally, men who are physically active, have a high incident rate
What are the Risk Factors of Hoffa Disease? (Predisposing Factors)
Some of the risk factors associated with Hoffa Disease include:
Repeated physical activity involving sudden bending or straightening of the knee joint
Sports activity that cause repeated stress to the knee, such as football, beach volleyball, gymnastics, soccer
Certain occupations that require prolonged kneeling, also increases the risk
It is important to note that having a risk factor does not mean that one will get the condition. A risk factor increases ones chances of getting a condition compared to an individual without the risk factors. Some risk factors are more important than others.
Also, not having a risk factor does not mean that an individual will not get the condition. It is always important to discuss the effect of risk factors with your healthcare provider.
What are the Causes of Hoffa Disease? (Etiology)
An acute injury or chronic repetitive stress can cause Hoffa Disease
Hoffa Disease (Infrapatellar Fat Pad Syndrome) occurs because of an impingement or pinching of fat tissue between the kneecap (patella) and the lower portion (distal end) of the thigh bone, called femoral condyle
What are the Signs and Symptoms of Hoffa Disease?
The signs and symptoms of Hoffa Disease include:
Restricted range of motion in the affected joints
It usually causes pain that increases with physical activity (like exercise), or while stretching/straightening one's knee
Frequently, Hoffa Disease affects the knee joint; although, other joints may also be affected
The condition can cause an accumulation of joint fluid, called a reactive joint effusion, due to repeated injury of the synovial layer that surrounds a joint
How is Hoffa Disease Diagnosed?
A diagnosis of Hoffa Disease may involve:
A physical examination and evaluation of complete medical history by a healthcare provider
X-ray of the affected joint
MRI scan of the affected joint
A tissue biopsy, where the tissue is examined by a pathologist under the microscope, to arrive at a definitive diagnosis
Many clinical conditions may have similar signs and symptoms. Your healthcare provider may perform additional tests to rule out other clinical conditions to arrive at a definitive diagnosis.
What are the possible Complications of Hoffa Disease?
The possible complications from Hoffa Disease include:
If treatment is lacking or is not provided in a timely manner, then the condition can progress to cause damage to the affected joint
Pain can be severe and decrease the quality of one's life
How is Hoffa Disease Treated?
Conservative methods of treatment of Hoffa Disease are employed initially and these may include:
Rest and reduction in physical activity is the first choice
Ice pack can reduce inflammation
Physical therapy
Use of well-fitting shoes to reduce stress on the knee joint
Over-the-counter pain medication may be used to reduce inflammation
Steroid injection to the site of swelling
If the condition is recurrent causing significant pain and swelling, then surgery is recommended.
A surgery involves the removal of extrasynovial fat tissue, which occurs as a reaction to a repeated injury
Surgery to treat Hoffa Disease is performed using arthroscopy, a minimally-invasive procedure
How can Hoffa Disease be Prevented?
A few preventive measures for Hoffa Disease include:
Perform appropriate warming-up or stretching exercises, before taking part in a physical activity
Participants of intense physical and sports activities have to be physically fit, and ensure that they maintain their stamina and strength
Use of suitable protective gear around the knee joint, like knee padding
If a diagnosis of Hoffa Disease is made, then a reduced (or a complete cessation of) physical activity can help decrease progression of the condition
If there is repeated pain around the affected joint, do visit your physician immediately
What is the Prognosis of Hoffa Disease? (Outcomes/Resolutions)
The prognosis of Hoffa Disease is generally very good with surgical treatment, in advance cases
In case of a knee joint injury, a complete recovery is encouraged, before returning to any intense physical activities
A lack of treatment or delayed treatment may cause additional complications, such as prolonged pain and joint damage
Additional and Relevant Useful Information for Hoffa Disease:
The following article link will help you understand arthroscopic surgical procedure.
http://www.dovemed.com/common-procedures/procedures-surgical/arthroscopy/
What are some Useful Resources for Additional Information?
American Academy of Orthopaedic Surgeons (AAOS)
6300 North River Rd. Rosemont, IL 60018-4262
Phone: (847) 823-7186
Toll-Free: (800) 346-2267
Fax: (847) 823-8125
Email: hackett@aaos.org
Website: http://www.aaos.org
References and Information Sources used for the Article:
http://www.sw.org/misc/health/Hoffa's%20Disease%20(Infrapatellar%20Fat%20Pad%20Syndrome)%20with%20Rehab-SportsMed.html (accessed on 05/08/2014)
http://www.bjjprocs.boneandjoint.org.uk/content/88-B/SUPP_II/254.1 (accessed on 05/08/2014)
http://www.ncbi.nlm.nih.gov/pubmed/9676203 (accessed on 05/08/2014)
Helpful Peer-Reviewed Medical Articles:
Turhan, E., Doral, M. N., Atay, A. O., & Demirel, M. (2008). A giant extrasynovial osteochondroma in the infrapatellar fat pad: end stage Hoffa's disease. Arch Orthop Trauma Surg, 128(5), 515-519. doi: 10.1007/s00402-007-0397-5
Wu, H., Xu, Q., & Zhou, W. (1995). [Hoffa disease: diagnosis and arthroscopic treatment]. Zhonghua Wai Ke Za Zhi, 33(10), 581-583.
Zhang, Q., Zhang, S., Fan, C. C., & Li, R. (2009). [Arthroscopic diagnosis and treatment of Hoffa disease]. Zhongguo Gu Shang, 22(6), 468-469.
Larbi, A., Cyteval, C., Hamoui, M., Dallaudiere, B., Zarqane, H., Viala, P., & Ruyer, A. (2014). Hoffa's disease: A report on 5 cases. Diagnostic and interventional imaging, 95(11), 1079-1084.
Park, J. H., Lee, A. H., & Lee, D. H. (2011). An unusual presentation of Hoffa's disease in an elderly patient with no trauma history: a case report. Acta orthopaedica et traumatologica turcica, 45(3), 195-199.
Ataoglu, S., Ozsahin, M., Besir, F. H., Kolukisa, R., & Gecer, Y. (2014). A case presenting with anterior knee pain: Hoffa disease/On diz agrisi yakinmasiyla basvuran bir olgu nedeniyle Hoffa hastaligi. Turkish Journal of Physical Medicine and Rehabilitation, 60(3), 274-278.
Boukhris, J., Boussouga, M., Benchakroune, M., Jaafar, A., & Chagar, B. (2014). Hoffa ligament ossification: final evolution of the Hoffa disease (about a case with review of the literature). The Pan African medical journal, 19, 258-258.
Magi, M., Branca, A., Bucca, C., & Langerame, V. (1991). Hoffa disease. Italian journal of orthopaedics and traumatology, 17(2), 211-216.