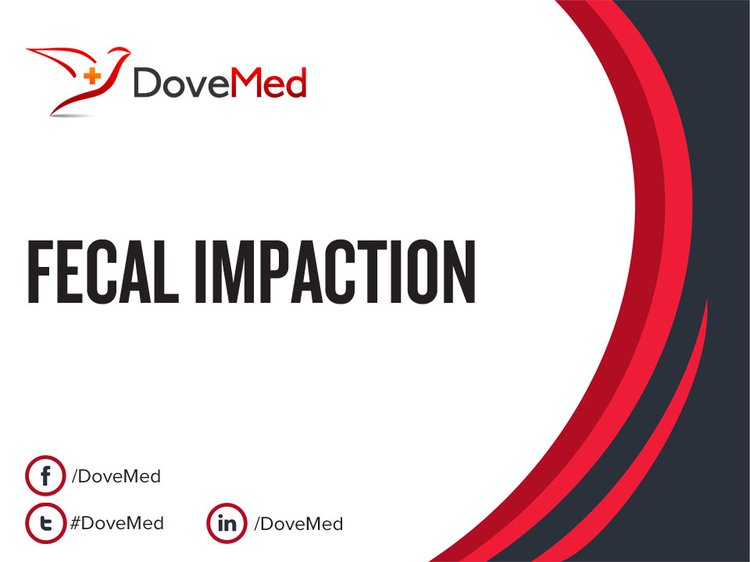 Fecal Impaction is the obstruction of normal bowel movements, due to the presence of hard and dry stools in the rectum that cannot be ejected out of the bowel, the normal way.
What are the other Names for this Condition? (Also known as/Synonyms)
Faecal Impaction
Faecal Impaction of Rectum
Impaction of the Bowels
What is Fecal Impaction? (Definition/Background Information)
Fecal Impaction is the obstruction of normal bowel movements, due to the presence of hard and dry stools in the rectum that cannot be ejected out of the bowel, the normal way
This condition is observed in individuals with an inactive lifestyle, irregular or poor eating habits, and chronic constipation, among other factors
Fecal Impaction may cause rectal bleeding, abdominal pain and bloating, apart from a severe feeling of discomfort and distress. Some cases require emergency medical treatment and hospitalization
The prognosis is good with appropriate and timely treatment, which can help avoid any permanent damage to the bowels
Who gets Fecal Impaction? (Age and Sex Distribution)
Adults are more likely to be affected by Fecal Impaction; the risk increasing beyond the age of 65 years
Both males and females are equally affected
There is no racial or ethnic bias observed
What are the Risk Factors for Fecal Impaction? (Predisposing Factors)
Risk factors for Fecal Impaction include:
Individuals suffering from long-term constipation, including those relying on a regular use of laxatives, to help relieve stools
Individuals having a low fiber diet and lacking adequate quantities of liquids/fluid intake
Lack of physical activities, leading an inactive and low-exercise lifestyle with very minimal physical body exertion, either at home or at the office
Postponing defecation or controlling your normal urge to pass stools, on a regular basis
Frequent  travel (may be long-distance), busy work schedules; having time or access constraint in using restrooms
Certain health conditions (related to the anus, rectum) that create painful bowel movements
Individuals, who are chronically bedridden, due to various long-standing illnesses are also at risk
Regularly taking iron or calcium supplements for medical conditions, the use of certain drugs prescribed for psychological illnesses and other conditions, may give rise to constipation (medication side-effect )
It is important to note that having a risk factor does not mean that one will get the condition. A risk factor increases ones chances of getting a condition compared to an individual without the risk factors. Some risk factors are more important than others.
Also, not having a risk factor does not mean that an individual will not get the condition. It is always important to discuss the effect of risk factors with your healthcare provider.
What are the Causes of Fecal Impaction? (Etiology)
Following are the causal factors of Fecal Impaction:
Fecal Impaction is associated with a lack of healthy lifestyle, like physical inactivity (too much deskwork, watching television), poor intake of water and other fluids, and regularly consuming food that is low in fiber content
Another main reason for the condition to develop is chronic constipation (due to various reasons), and/or relying heavily on laxatives to relieve the bowels. This causes a long-term suppression of the natural rectal sphincter muscle 'contraction and relaxation', which is required to push the solid feces out. When laxatives are discontinued suddenly, it leads to accumulation of stool in the bowels that slowly develops into an impaction
Certain health problems (affecting the brain) may also reduce or cease the function of the nerves, which control bowel/intestinal muscle movement
Certain prescriptive drugs and medications are known to prevent or decrease the normal muscle activity of the intestines and rectum. Sometimes, they even cause the stools to harden, causing a difficulty in expelling them
What are the Signs and Symptoms of Fecal Impaction?
Fecal Impaction results in a blocked flow of feces out of the bowels. These lead to signs and symptoms of Fecal Impaction associated with the excretory system and related organs. These include:
Swollen abdomen, abdominal pain, discomfort, feeling of pressure
An application of excessive force cannot expel the feces
Severe and long-standing constipation
Despite the obstructive, solid mass of stool in the rectum, completely liquid stools may drain around the mass and be ejected out of the body
Loss of appetite, poor eating habits
Vomiting and nausea, headache, tiredness
Rectal bleeding
How is Fecal Impaction Diagnosed?
The physician undertakes clinical studies of the region including a rectal examination. These observations together with symptomatic features are noted. Tests that are performed to establish a diagnosis of Fecal Impaction include:
Physical exam and medical history evaluation
Blood tests
Barium enema
Sigmoidoscopy: Insertion of a special instrument through the anus to view the lower intestinal region, the rectum
X-ray studies of the pelvic, lower abdominal region
A change of bowel movement can also occur due to conditions, such as cancer. Thus, a colonoscopy may be recommended to test for the same and rule out the condition
Many clinical conditions may have similar signs and symptoms. Your healthcare provider may perform additional tests to rule out other clinical conditions to arrive at a definitive diagnosis.
What are the possible Complications of Fecal Impaction?
Complications, due to Fecal Impaction are mostly caused due to a lack of proper treatment, or due to delayed treatment; these include:
Serious injury, damage, or death of the rectal tissues and muscles
Formation of ulcers inside the lower intestine
Dehydration and malaise
Increase in blood pressure, pulse and breathing rate
Complete stoppage of urine flow from the body, leading to further complications
Distress, confusion, and agitation
How is Fecal Impaction Treated?
Early awareness and appropriate treatment of Fecal Impaction, which is a removal of the solidified feces and addressing the causal factors to prevent its recurrence, is the key to speedy recovery from the condition. Surgical interventions are rarely required to address the condition and may be resorted to, only if other treatment methods prove insufficient.
The use of stool softeners (enemas, osmotic laxatives, suppositories) and lubricants are the first line of treatment. These medications liquefy the mass (or increase their water content) and break it down into smaller lumps, which can be then removed manually
General anesthesia with sedation may be required to manually break down the hardened stool, once it gets softened
Both, the use of osmotic laxatives and the administration of general anesthesia, have certain side effects and may damage the rectum
How can Fecal Impaction be Prevented?
Methods to prevent Fecal Impaction include:
Certain effective measures like lifestyle changes, with good food habits (high-fiber diet) and adding physical activities into one's regular regimen help prevent Fecal Impaction recurrence
Always drink plenty of water and other fluids to keep the urinary and excretory system robust and functionally effective. Practice regular bowel movement, avoid the urge to often hold feces in the bowels and for long periods of time
Be prompt in seeking medical attention if any signs and symptoms indicating constipation, or other intestinal, abdominal discomfort or obstruction of feces, are observed
Generally, be aware of the side effects of the medications you take, and discuss these with your physician
What is the Prognosis of Fecal Impaction? (Outcomes/Resolutions)
Following is the prognosis for Fecal Impaction:
Proper management and timely treatment of Fecal Impaction can help prevent permanent damage to the bowels and intestines; the prognosis is good in such cases
The condition may recur, if modifications to lifestyle and diet are not brought about
Long-lasting damage from infections, as well as a prolonged discomfort might occur, if management of the issue is delayed or absent
Additional and Relevant Useful Information for Fecal Impaction:
In some geographic regions, the use of medicinal herbs or home remedies to prevent or treat the condition is practiced. However, such practices are not proven to be effective and are not part of current and established medical norms.
What are some Useful Resources for Additional Information?
American Academy of Family Physicians (AAFP)
11400 Tomahawk Creek Parkway Leawood, KS 66211-2672
Phone: (913) 906-6000
Toll-Free: (800) 274-2237
Fax: (913) 906-6095
Email: fp@aafp.org
Website: http://www.aafp.org
References and Information Sources used for the Article:
http://www.intelihealth.com/IH/ihtIH/WSIHW000/9339/10175.html (accessed on 5/16/14)
http://www.ncbi.nlm.nih.gov/pubmedhealth/PMH0001277/ (accessed on 5/16/14)
Helpful Peer-Reviewed Medical Articles:
Kumar, P., Pearce, O., & Higginson, A. (2011). Imaging manifestations of faecal impaction and stercoral perforation. Clin Radiol, 66(1), 83-88. doi: 10.1016/j.crad.2010.08.002
Lee-Robichaud, H., Thomas, K., Morgan, J., & Nelson, R. L. (2010). Lactulose versus Polyethylene Glycol for Chronic Constipation. Cochrane Database Syst Rev(7), CD007570. doi: 10.1002/14651858.CD007570.pub2
Rao, S. S., & Go, J. T. (2010). Update on the management of constipation in the elderly: new treatment options. Clin Interv Aging, 5, 163-171.
Walia, R., Mahajan, L., & Steffen, R. (2009). Recent advances in chronic constipation. Curr Opin Pediatr, 21(5), 661-666. doi: 10.1097/MOP.0b013e32832ff241
Youssef, N. N., Peters, J. M., Henderson, W., Shultz-Peters, S., Lockhart, D. K., & Di Lorenzo, C. (2002). Dose response of PEG 3350 for the treatment of childhood fecal impaction. The Journal of pediatrics, 141(3), 410-414.
Wald, A. (2008). Management and prevention of fecal impaction. Current gastroenterology reports, 10(5), 499.
Araghizadeh, F. (2005). Fecal impaction. Clinics in colon and rectal surgery, 18(2), 116.
Lohlun, J., Margolis, M., Gorecki, P., & Schein, M. (2000). Fecal impaction causing megarectum-producing colorectal catastrophes. Digestive surgery, 17(2), 196-198.