Deep Aggressive Angiomyxoma
Last updated Aug. 24, 2018
Approved by: Krish Tangella MD, MBA, FCAP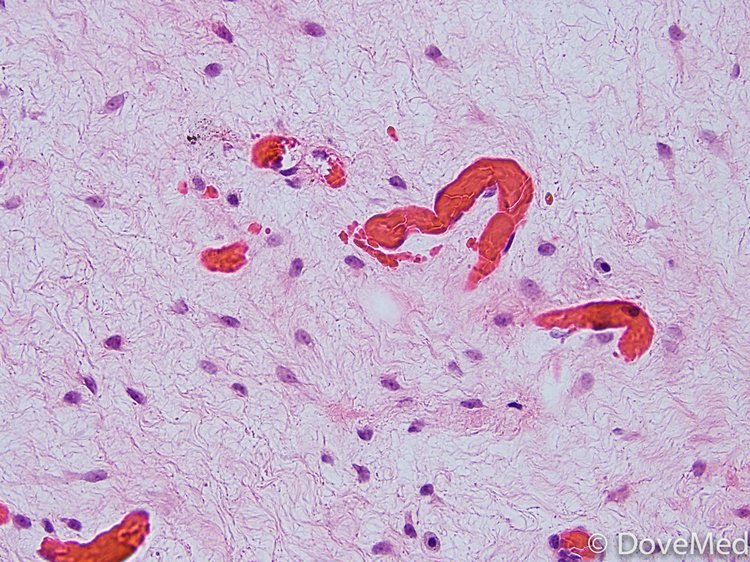 Microscopic pathology image showing Aggressive angiomyxoma (AA) tumor.
---
What are the other Names for this Condition? (Also known as/Synonyms)
AA (Aggressive Angiomyxoma)
Aggressive Angiomyxoma (AA)
Deep Angiomyxoma
What is Deep Aggressive Angiomyxoma? (Definition/Background Information)
Deep Aggressive Angiomyxoma (or AA) is a tumor of the soft tissues having no metastatic potential. But, they are found to be locally aggressive with high-infiltrative capacity (spreading to adjacent tissues and structures)
The tumor regularly occurs in the pelvic region and in areas, between the anus and genitals (called perineum), in adult women
Women in the child-bearing phase are most prone to this tumor that typically lies concealed in the pelvic region, without presenting any symptoms
Surgical excision of the tumor, to the extent possible, is the preferred method of treatment. Though the recurrence rate is high, the prognosis with AA is generally good
Who gets Deep Aggressive Angiomyxoma? (Age and Sex Distribution)
Deep Aggressive Angiomyxoma mostly affects women, between the ages of 20-50 years, particularly during their most active reproductive phase. Pre-pubertal and post-menopausal women are hardly affected
There have been instances of adult men developing AA; nevertheless, the male-to-female gender incidence ratio is 1:6
There is no known ethnic or racial preference
What are the Risk Factors for Deep Aggressive Angiomyxoma? (Predisposing Factors)
The risk factor for Deep Aggressive Angiomyxoma includes:
Women in the child-bearing age group are very vulnerable to AA
It is important to note that having a risk factor does not mean that one will get the condition. A risk factor increases ones chances of getting a condition compared to an individual without the risk factors. Some risk factors are more important than others.
Also, not having a risk factor does not mean that an individual will not get the condition. It is always important to discuss the effect of risk factors with your healthcare provider.
What are the Causes of Deep Aggressive Angiomyxoma? (Etiology)
The exact cause and mechanism of Deep Aggressive Angiomyxoma formation, is unknown. They are thought to occur spontaneously, for as yet unidentified reasons.
What are the Signs and Symptoms of Deep Aggressive Angiomyxoma?
Deep Aggressive Angiomyxoma signs and symptoms include:
Most AAs remain asymptomatic or present only a set of mild symptoms. As a result of this, they remain undetected during the initial formative phase, until they reach about 4 inches in size
The benign nodules grow at a very slow rate and may cause pain and tenderness. Some individuals (women) may experience a sense of pressure in the region. The tumor mass may not be externally visible
The presence of the tumor can lead to a painful sexual intercourse
AA mainly occurs in the pelvic or groin area, in women. It has also been observed within the abdominal cavity
How is Deep Aggressive Angiomyxoma Diagnosed?
A diagnosis of Deep Aggressive Angiomyxoma is made using the following tools:
Physical examination, evaluation of patient's medical history
Histopathological studies conducted on a biopsy specimen - the specimen is examined under a microscope by a pathologist, to arrive at a definitive diagnosis
Radiographic studies of the tumor
CT scan, MRI scan of the affected region
Many clinical conditions may have similar signs and symptoms. Your healthcare provider may perform additional tests to rule out other clinical conditions to arrive at a definitive diagnosis.
What are the possible Complications of Deep Aggressive Angiomyxoma?
Complications due to Deep Aggressive Angiomyxoma could include:
Severe pain
If the tumor is large and has infiltrated deep into adjoining regions, it may lead to significant risks during surgical operations, which could include damage of vital nerves, blood vessels, and other adjoining organs
Blood loss during invasive treatment methods may be heavy
Recurrence of AA after surgery
How is Deep Aggressive Angiomyxoma Treated?
Treatment measures for Deep Aggressive Angiomyxoma include the following:
Wide surgical excision, with removal of the entire lesion is the standard treatment mode. If the tumor is not fully removed, then there is a high chance of its recurrence
If there is any pain, it is controlled through pain medications
Post-operative care is important: A minimum activity level is to be ensured until the surgical wound heals
Follow-up care with regular screening and check-ups are important
How can Deep Aggressive Angiomyxoma be Prevented?
Current medical research have not established a way of preventing Deep Aggressive Angiomyxoma
However, women in their active reproductive phase should remain vigilant of any signs and symptoms, of any kind of tumor formation, in the abdominal/pelvic/genital region
Regular medical screening at periodic intervals with blood tests, radiological scans, and physical examinations, are mandatory for those who have been diagnosed with the tumor
Due to chances of its recurrence, often several years of active follow-up vigilance is necessary
What is the Prognosis of Deep Aggressive Angiomyxoma? (Outcomes/Resolutions)
Prognosis is excellent when lesions are small and located in a surgically accessible area, without much local infiltration. The tumor recurrence risk can also be avoided, if it can be completely isolated
Surgical excision of Deep Aggressive Angiomyxoma is difficult and intricate, if it has generally spread around the region
The recurrence rate is moderate to high (at 30%), after surgical removal of the tumor. Hence, regular follow-up checkups with a healthcare provider is required
Additional and Relevant Useful Information for Deep Aggressive Angiomyxoma:
Aggressive Angiomyxomas are composed of spindle-shaped cells embedded in a mucinous background
There have been reports of a few cases of AA, which have metastasized and caused fatal outcomes. However, in a majority of cases, the tumor only infiltrates locally, without causing distant metastasis
What are some Useful Resources for Additional Information?
American Cancer Society (ACS)
1599 Clifton Road, NE Atlanta, GA 30329-4251
Toll-Free: (800) 227-2345
TTY: (866) 228-4327
Website: http://www.cancer.org


National Cancer Institute (NCI)
U.S. National Institutes of Health
Public Inquiries Office
Building 31, Room 10A03
31 Center Drive, MSC 8322 Bethesda, MD 20892-2580
Phone: (301) 435-3848
Toll-Free: (800) 422-6237
TTY: (800) 332-8615
Email: cancergovstaff@mail.nih.gov
Website: http://www.cancer.gov
References and Information Sources used for the Article:
http://www.humpath.com/spip.php?article8914 (accessed on 12/12/12)

http://atlasgeneticsoncology.org/Tumors/AggresAngiomyxomaID5203.html (accessed on 12/12/12)

http://www.surgpath4u.com/caseviewer.php?case_no=329 (accessed on 12/11/12)

Pathology & Genetics: Tumours of Soft Tissue and Bone; WHO Classification of Tumours; Edited by Christopher D.M. Fletcher, K. Krishnan Unni, Fredrik Mertens; IARC Press, Lyon, 2002
Helpful Peer-Reviewed Medical Articles:
Jeyadevan, N. N., Sohaib, S. A. A., Thomas, J. M., Jeyarajah, A., Shepherd, J. H., & Fisher, C. (2003). Imaging features of aggressive angiomyxoma. Clinical radiology, 58(2), 157-162.

Behranwala, K. A., & Thomas, J. M. (2003). 'Aggressive'angiomyxoma: a distinct clinical entity. European journal of surgical oncology, 29(7), 559-563.

Sutton, B. J., & Laudadio, J. (2012). Aggressive angiomyxoma. Archives of pathology & laboratory medicine, 136(2), 217-221.

Kaur, A., Makhija, P. S., Vallikad, E., Padmashree, V., & Indira, H. S. (2000). Multifocal aggressive angiomyxoma: a case report. Journal of clinical pathology, 53(10), 798-799.

Dierickx, I., Deraedt, K., Poppe, W., & Verguts, J. (2008). Aggressive angiomyxoma of the vulva: a case report and review of literature. Archives of gynecology and obstetrics, 277(6), 483-487.

Idrees, M. T., Hoch, B. L., Wang, B. Y., & Unger, P. D. (2006). Aggressive angiomyxoma of male genital region. Report of 4 cases with immunohistochemical evaluation including hormone receptor status. Annals of diagnostic pathology, 10(4), 197-204.

Sirasagi, A., & Arakeri, S. (2014). Deep aggressive angiomyxoma of pelvic soft tissue: a rare case report. The Journal of Obstetrics and Gynecology of India, 1-2.

Dahiya, K., Jain, S., Duhan, N., Nanda, S., & Kundu, P. (2011). Aggressive angiomyxoma of vulva and vagina: a series of three cases and review of literature. Archives of gynecology and obstetrics, 283(5), 1145-1148.
Reviewed and Approved by a member of the DoveMed Editorial Board
First uploaded: Jan. 25, 2014
Last updated: Aug. 24, 2018