Brain Cancer
Last updated Aug. 6, 2018
Approved by: Krish Tangella MD, MBA, FCAP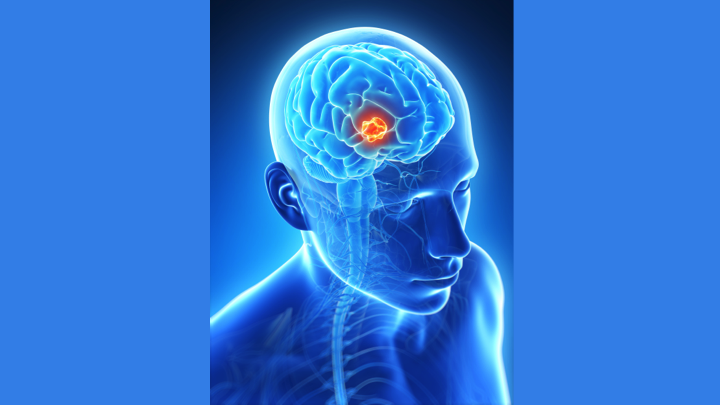 Brain Cancer is the abnormal growth and proliferation of cells in the brain.
---
What are the other Names for this Condition? (Also known as/Synonyms)
Cancer of Brain
Malignant Brain Tumor
Malignant Neoplasm of Brain
What is Brain Cancer? (Definition/Background Information)
Brain Cancer is the abnormal growth and proliferation of cells in the brain
The brain, along with the spinal cord, makes up the central nervous system (CNS), which plays a crucial role in thinking, breathing, movement, memory, vision, hearing, speech, emotions, etc.
There are 3 parts to the brain and each of these brain parts controls different activities essential to everyday life. The 3 parts of the brain are:

Cerebellum
Cerebrum
Brainstem 

Brain Cancer occurs when genetic mutations result in the transformation of healthy cells into abnormal cells. This leads to the formation of a mass of tissue, or tumor
There are various types of brain tumors. Some are benign (non-cancerous), while others are malignant (cancerous)
Furthermore, brain tumors can begin in the brain, which is called Primary Brain Cancer, or cancer can spread (metastasize) from other parts of the body to the brain, known as Secondary (Metastatic) Brain Cancer
The most common types of Primary Brain Cancer include:
Astrocytoma - the tumor arises from the astrocytes in the cerebellum
Brainstem glioma - the tumor occurs in the lowest part of the brain
Ependymoma - the tumor arises from cells that line the central canal of the spinal cord
Germ cell tumor - the tumor arises near the pineal gland
Medulloblastoma - the tumor arises in the cerebellum of the brain
Meningioma - the tumor arises in the meninges (brain membrane)
Oligodendroglioma - the tumor arises from cells that comprise the fatty substance, which surrounds and protects nerves; typically occurs in the cerebrum
Any type of cancer can spread to the brain. The most common types of Secondary Brain Cancers (metastatic cancer to brain) include:
Breast cancer
Kidney cancer
Colon cancer
Lung cancer
Melanoma
Primary Brain Cancers are generally more prevalent in children and the elderly, although it can potentially affect any individual of any age group. Metastatic or Secondary Brain Cancer is observed predominantly in adults than in children.
Caucasians are reported to be more prone to Brain Cancer. Also, cancers affecting the brain are more prevalent in men
Exposure to ionizing radiation could predispose an individual to Brain Cancer. Additionally, having a family member with a brain tumor increases the risk as well, although this occurs only rarely. Having a personal history of cancer can typically increase an individual's susceptibility to Brain Cancer
Genetic mutations are generally the cause for Primary Brain Cancers. Secondary Brain Cancers arise as a result of spreading (metastasis) of cancers that occur elsewhere in the body
In Brain Cancer, a malignant tumor takes up space within the brain, and because the skull is rigid, the tumor can impair the brain's normal functions. A tumor can increase pressure in the brain, shift the brain, or damage healthy brain tissue and nerves
The brain is divided into parts that perform different functions, and hence, the symptoms of Brain Cancer can vary, depending on the location of the tumor. Headaches, vision issues, walking difficulties, nausea, vomiting, behavioral changes, seizures, etc., are some of the symptoms of Brain Cancer
The diagnosis of Brain Cancer could involve neurological tests, biopsies, and the use of imaging tools such as computerized tomography (CT) scans
Brain Cancer may be treated using a combination of surgery, chemotherapy, radiation therapy, targeted drug therapy, etc. The prognosis for the condition depends on many factors such as the type of tumor, the extent of spread, its location, treatments opted for, and other such associated factors
Who gets Brain Cancer? (Age and Sex Distribution)
Primary Brain Cancer, or tumors that begin in the brain, can occur at any age. However, they are more frequently seen in children and older adults
Secondary Brain Cancer, or tumors that spread to the brain from another part of the body, are more often seen in adults than in children
Most Brain Cancer types are slightly more common in men than women
They are also reported in a higher incidence among Caucasians than other races or ethnic groups
What are the Risk Factors for Brain Cancer? (Predisposing Factors)
The exact cause of the genetic changes that lead to Brain Cancer is not yet known. However, it is known that certain factors increase the risk for Brain Cancer and these may include:
Race: Brain Cancer is more often diagnosed in Caucasian individuals than in any other race
Age: Although a brain tumor can develop at any age, it is commonly found in older adults
Exposure to ionizing radiation: Ionizing radiation is a type of radiation, such as that used during radiation therapy, to treat cancer. Individuals with ionizing radiation exposure have an increased risk of developing a brain tumor
Family history: A small number of brain tumors occur in individuals with a family history of the condition
It is important to note that having a risk factor does not mean that one will get the condition. A risk factor increases ones chances of getting a condition compared to an individual without the risk factors. Some risk factors are more important than others.
Also, not having a risk factor does not mean that an individual will not get the condition. It is always important to discuss the effect of risk factors with your healthcare provider.
What are the Causes of Brain Cancer? (Etiology)
Primary Brain Cancers occur when normal cells in the brain acquire mutations in their DNA, which modifies the cells into abnormal cancer cells
Secondary Brain Cancers occur through the spread (to the brain) of cancers that originated elsewhere in the body
What are the Signs and Symptoms of Brain Cancer?
Different parts of the brain control unique functions. Thus, the symptoms of Brain Cancer can vary depending on the tumor's location, size, and rate of growth. The possible signs and symptoms associated with Brain Cancer include:
Headaches that gradually become more severe and frequent
Change in pattern of headaches
Vision defects, such as double vision, blurred vision, or loss of peripheral vision
Gradual loss of sensation or movement in an arm or leg
Difficulty with balance
Difficulty with speech
Hearing difficulties, such as hearing loss
Nausea or vomiting
Personality changes that may include behavioral changes, confusion, and disorientation
Seizures (there may be no history of a seizure previously)
How is Brain Cancer Diagnosed?
If an individual is suspected of having Brain Cancer, the healthcare provider will conduct a physical exam, evaluate medical history (including family history) and may recommend, one or more of the diagnostic exams listed below:
Neurological exam: This type of exam may include checking one's vision, hearing, balance, coordination, muscle strength, and alertness
Imaging tests: Magnetic resonance imaging (MRI) is a common test used to diagnose Brain Cancer by producing pictures of regions inside the brain, which helps in the detection of tumors. Sometimes, a dye is injected into a blood vessel in the arm, before the MRI scan is performed. This helps to differentiate certain tissues in the brain
Computed tomography (CT) scan: An x-ray machine connected to a computer creates a series of images of the insides of the brain
Angiogram: An angiogram involves injecting dye into the bloodstream, which makes the blood vessels to appear visually on x-rays. The x-ray may show a tumor in the brain or the blood vessels leading into the tumor
Spinal tap: This diagnostic test is used to remove a sample of cerebrospinal fluid (CSF) from the spaces in and around the brain and spinal cord. The sample is removed from the lower spinal cord using a thin needle, and it is then checked for cancer cells
Tissue biopsy: It is a procedure used to remove a sample of tissue, to check for the presence of tumor cells. There are 2 ways to perform a biopsy:

First, a biopsy can be performed as part of a surgical procedure to remove the brain tumor
Second, a stereotactic needle biopsy can be performed when the tumor is deep within the brain or located in a sensitive area. In this procedure, the surgeon drills a small hole (called a burr hole) into the skull. A thin needle, guided by CT or MRI scanning, is then inserted through the hole to help in the removal of tissue
The tissue is then examined using microscopy to check for Brain Cancer cells
Many clinical conditions may have similar signs and symptoms. Your healthcare provider may perform additional tests to rule out other clinical conditions to arrive at a definitive diagnosis.
What are the possible Complications of Brain Cancer?
Brain Cancer can cause various complications, depending on the area of the brain affected by the tumor. The possible complications include:
Headache: When a brain tumor increases pressure within the brain, it can result in headaches. These headaches may be a direct result of the brain tumor, or they may occur due to fluid accumulation in the brain. The headaches can be severe and may also occur with nausea and vomiting
Weakness: When a brain tumor affects the area of the brain that controls movement or strength in an arm or leg, it may result in weakness
Vision changes: A brain tumor that damages the nerve leading to the eyes or the area of the brain that interprets visual information can result in visual problems. These problems may include double vision or decreased field of vision.
Hearing loss: A brain tumor that affects the auditory nerve may result in hearing loss.
Seizures: Brain tumors can irritate the brain, which could possibly lead to a seizure
Personality changes: Changes in personality or behavior may result when these tumors affect certain areas of the brain
How is Brain Cancer Treated?
The treatment plan proposed for an individual with Brain Cancer is dependent on the size, location, and type of cancer. Also taken into consideration are their preferences and overall health. Brain Cancer treatment options may include surgery, radiation therapy, chemotherapy, target drug therapy, and rehabilitation.
Surgery: The purpose of a surgery is to remove as much of the brain tumor as possible. In some cases, the tumor is small and easily accessible, which makes it possible to remove the tumor completely. When the tumor is not easily separated from surrounding brain tissue or it is located in a sensitive area, the surgeon will attempt to remove as much of the tumor as is safely possible. This can help reduce some of the symptoms associated with Brain Cancer. Surgical procedures to remove brain tumors carry risks, including infection, possible damage to healthy brain tissue, swelling, or possible fluid build-up in the brain
Radiation therapy: Radiation therapy uses high-beam energy, such as x-rays or protons, to kill Brain Cancer cells. Typically, radiation therapy is employed after surgery to kill any cancer cells still remaining. It is also used when surgery may not possible or yield better outcomes. There are two types of radiation therapy to treat Brain Cancer:

In external radiation therapy, a large machine external to the body is used to target beams of radiation to either just the area of the brain containing the tumor, or to the entire brain
In internal radiation therapy, radiation is placed inside the brain. The radiation is emitted from radioactive material located within seeds, which are placed in the brain. Internal radiation therapy is much less commonly used than external radiation therapy
Some individuals may experience a few side effects, while others may experience none. These may include fatigue, headaches, hair loss, and scalp irritation.
Chemotherapy: Chemotherapy is a treatment method where drugs are used to kill cancer cells. The drugs, which can be administered in pill form or injected into a vein, travel throughout the body via the bloodstream. Another type of chemotherapy occurs during surgery and utilizes disk-shaped wafers. Each wafer is about the size of a dime (about 0.7 inch). During surgery for the brain tumor, one or more wafers are placed in the brain where the tumor was once located. Over a span of a few weeks, these wafers release chemotherapy drugs into the brain. The drugs kill cancer cells or help prevent the tumor recurrence (in the brain)
There are side effects for chemotherapy, which depends upon the type and dose of drugs administered. The common chemotherapy side effects include nausea, vomiting, hair loss, loss of appetite, headache, fever, chills, and weakness.
Targeted drug therapy: This treatment option focuses on blocking particular factors necessary for the survival of Brain Cancer cells. By blocking these essential factors, targeted drug therapy drugs help to kill Brain Cancer cells
Rehabilitation: Brain Cancer can affect areas of the brain that regulate motor skills, speech, and thinking; and hence, rehabilitation service may be utilized to help Brain Cancer patients. Such services may include physical therapy, occupational therapy, speech therapy, or tutoring for children
How can Brain Cancer be Prevented?
Currently, there are no available measures to prevent the development of Brain Cancer
Metastatic cancers to the brain (Secondary Brain Cancers) may be prevented by adequately treating cancers at other locations in the body
Cancer screenings can be performed for individuals at risk for Brain Cancer, but not displaying any symptoms. These screenings help to detect cancer early, which can increase the chances of successfully treating Brain Cancer
What is the Prognosis of Brain Cancer? (Outcomes/Resolutions)
The prognosis is dependent on many factors, such as the type of Brain Cancer, its location, the area of the brain affected, and the treatment options used
Patients with Brain Cancer will need regular follow-up appointments with their physician subsequent to treatment, to check for any signs of cancer return, or to discover any signs and symptoms as a result of Brain Cancer treatment
Additional and Relevant Useful Information for Brain Cancer:
The following DoveMed website link is a useful resource for additional information:
What are some Useful Resources for Additional Information?
American Brain Tumor Association
8550 W. Bryn Mawr Ave. Ste 550 Chicago, IL 60631
Phone: (773) 577-8750
Fax: (773) 577-8738
Email: info@abta.org
Website: http://www.abta.org

American Cancer Society (ACS)
1599 Clifton Road, NE Atlanta, GA 30329-4251
Toll-Free: (800) 227-2345
TTY: (866) 228-4327
Website: http://www.cancer.org
References and Information Sources used for the Article:
http://www.mayoclinic.com/health/brain-tumor/DS00281 (accessed on 8/30/2015)

http://www.braintumor.org/patients-family-friends/about-brain-tumors/brain-tumor-faq.html#q2424 (accessed on 8/30/2015)

http://www.mdanderson.org/patient-and-cancer-information/cancer-information/cancer-types/brain-tumor/prevention/index.html (accessed on 8/30/2015)

http://www.cancer.gov/cancertopics/wyntk/brain/page6 (accessed on 8/30/2015)

http://www.cbtrus.org/factsheet/factsheet.html (accessed on 8/30/2015)
Helpful Peer-Reviewed Medical Articles:
Mannello, F., Medda, V., & Tonti, G. A. (2011). Hypoxia and neural stem cells: from invertebrates to brain cancer stem cells. Int J Dev Biol, 55(6), 569-581. doi: 10.1387/ijdb.103186fm

Meyers, J. D., Doane, T., Burda, C., & Basilion, J. P. (2013). Nanoparticles for imaging and treating brain cancer. Nanomedicine (Lond), 8(1), 123-143. doi: 10.2217/nnm.12.185

Pellegatta, S., Cuppini, L., & Finocchiaro, G. (2011). Brain cancer immunoediting: novel examples provided by immunotherapy of malignant gliomas. Expert Rev Anticancer Ther, 11(11), 1759-1774. doi: 10.1586/era.11.102

Stupp, R., & Hegi, M. E. (2013). Brain cancer in 2012: Molecular characterization leads the way. Nat Rev Clin Oncol, 10(2), 69-70. doi: 10.1038/nrclinonc.2012.240

Wainwright, D. A., Nigam, P., Thaci, B., Dey, M., & Lesniak, M. S. (2012). Recent developments on immunotherapy for brain cancer. Expert Opin Emerg Drugs, 17(2), 181-202. doi: 10.1517/14728214.2012.679929

Huse, J. T., & Holland, E. C. (2010). Targeting brain cancer: advances in the molecular pathology of malignant glioma and medulloblastoma. Nature reviews cancer, 10(5), 319.

Joshi, D. M., Rana, N. K., & Misra, V. M. (2010, May). Classification of brain cancer using artificial neural network. In Electronic Computer Technology (ICECT), 2010 International Conference on (pp. 112-116). IEEE.

Clarke, M. F. (2004). Neurobiology: at the root of brain cancer. Nature, 432(7015), 281.
Reviewed and Approved by a member of the DoveMed Editorial Board
First uploaded: Sept. 26, 2015
Last updated: Aug. 6, 2018