Blastocystis Hominis Infection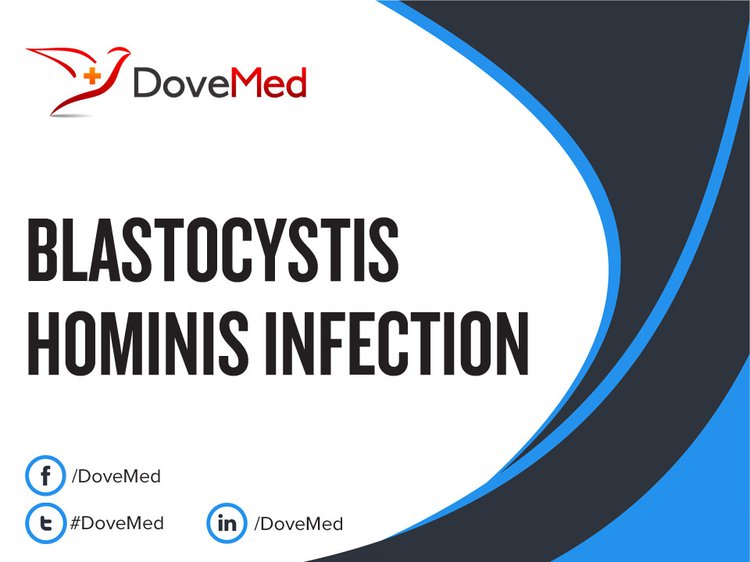 Blastocystis Hominis Infection is an illness that may result from infection by Blastocystis hominis. The Blastocystis hominis is a microscopic parasite that can be found worldwide.
What are the other Names for this Condition? (Also known as/Synonyms)
What is Blastocystis Hominis Infection? (Definition/Background Information)
Blastocystis Hominis Infection is an illness that may result from infection by Blastocystis hominis. The Blastocystis hominis is a microscopic parasite that can be found worldwide. It lives inside the intestine of its host and can be transmitted through feces of the host 
Blastocystis Hominis Infection occurs through contact with the parasite on surfaces, soil, food, or water that is contaminated with infected feces from humans or animals. The parasite enters the body through ingestion
Any individual can become infected by Blastocystis hominis; however, unsanitary conditions and traveling to countries or regions with less rigorous sanitation standards can increase one's risk for infection
The infection causes a variety of gastrointestinal symptoms, since the intestine is affected. These may include abdominal pain and diarrhea that may range from mild to severe. However, many individuals affected with Blastocystis Hominis Infection do not develop symptoms
Individuals, who report symptoms may start experiencing them either right away, or months to years following the infection. The symptoms may be acute or chronic, and it can result in complications such as dehydration. A microscopic examination of stool samples is the chief mode of diagnosis of Blastocystis Hominis Infection
The infection may clear on its own, even without treatment. There are no approved treatments available for Blastocystis Hominis Infection; although, if the symptoms do not clear, a healthcare professional may prescribe medication to help resolve the disease. With appropriate treatment, the prognosis is generally good
Who gets Blastocystis Hominis Infection? (Age and Sex Distribution)
Blastocystis Hominis Infection is very common throughout the world. The parasite can be found worldwide, including in every region of the United States
Although reported worldwide, the regions most affected are areas with poor hygiene or poor regulations on water treatment
People of all ages and both male and female genders are known to be affected
No racial or ethnic predilection is reported in the occurrence of this infection
Healthy individuals may have Blastocystis Hominis Infection without ever having symptoms, and in such cases, the condition may not even be diagnosed.
What are the Risk Factors for Blastocystis Hominis Infection? (Predisposing Factors)
Some risk factors for Blastocystis Hominis Infection include:
Consuming water or ice that is contaminated with the parasite. The most common sources of contaminated water include:

Streams and rivers
Lakes
Poorly-maintained wells

Consuming food washed or cooked with contaminated water
Traveling to countries with poor sanitation standards 
Having close contact with infected individuals
Not cleaning children in diapers properly or regularly
Swimming in potentially contaminated water
Contacting feces through sexual activities
It is important to note that having a risk factor does not mean that one will get the condition. A risk factor increases one's chances of getting a condition compared to an individual without the risk factors. Some risk factors are more important than others.
Also, not having a risk factor does not mean that an individual will not get the condition. It is always important to discuss the effect of risk factors with your healthcare provider.
What are the Causes of Blastocystis Hominis Infection? (Etiology)
Blastocystis Hominis Infection is believed to be caused by infection of the parasite Blastocystis hominis.
The mode of entry of Blastocystis hominis into the digestive system is not fully known. The most popular theory by experts is that infection occurs by ingesting the parasite through unclean water or unwashed food that has been in contact with infected feces
The parasite exists in a hard, shell-like case called a cyst. These cysts have been found in the feces of infected individuals
Ingesting cysts of Blastocystis hominis causes the casing to dissolve and the organism to start multiplying asexually. New cysts then form that exit the body of an infected individual during defecation
What are the Signs and Symptoms of Blastocystis Hominis Infection?
Many individuals with Blastocystis hominis Infection may never show any signs and symptoms of infection. The parasite can be present in normal, healthy individuals asymptomatically.
In case of symptoms, those that may be associated with Blastocystis Hominis Infection include: 
Nausea and fatigue
Loss of appetite
Bloating; excessive gas (flatulence)
Abdominal cramps
Hives or other skin rashes
Joint pain
Constipation; greasy stools that float
Diarrhea
The symptoms can begin and last for any period of time following an infection.
How is Blastocystis Hominis Infection Diagnosed?
Diagnosis of Blastocystis Hominis Infection is made through the following tests and exams: 
A complete physical examination and review of any medical or travel history
Assessment of symptoms
Analysis of stool samples: The samples are analyzed under a microscope for the presence of Blastocystis hominis cysts. The analysis may involve a submission of multiple samples over a few days
Blood testing, which is undertaken primarily to rule out other causes of symptoms
Endoscopy: During this procedure, a tube is inserted into the mouth or rectum for analysis of the digestive tract for probable causes of symptoms
Note: Blastocystis Hominis Infection can be difficult to diagnose, as some tests may be unreliable.
Many clinical conditions may have similar signs and symptoms. Your healthcare provider may perform additional tests to rule out other clinical conditions to arrive at a definitive diagnosis.
What are the possible Complications of Blastocystis Hominis Infection?
A major complication of Blastocystis Hominis Infection is dehydration, which can result from symptoms of chronic infection, such as diarrhea, that is unresponsive to treatment.
How is Blastocystis Hominis Infection Treated?
Individuals with Blastocystis Hominis Infection without symptoms do not need to undergo any treatment. However, in individuals presenting symptoms, the treatment measures may include the following:
Administration of medications that include:

Antibiotics
Antiprotozoal medications 
A combination of medications (medications with two or more ingredients) may be necessary, in some cases

If medications are ineffective, further diagnostic procedures may be necessary to check for other causes of symptoms
How can Blastocystis Hominis Infection be Prevented?
Some methods to ensure the prevention of Blastocystis Hominis Infection include: 
Practicing good hygiene 
Avoiding food and water that may be contaminated

Peeling any raw vegetable or fruits and/or washing them before eating 
Avoiding food from street vendors that may not be properly prepared
Avoiding unpasteurized milk and dairy products
Avoiding moist food kept at room temperatures
Not cooking with potentially contaminated water

Making sure to filter or boil water for at least 3 minutes in regions where water may be unsafe due to poor water and sanitary regulations. In such cases, canned or bottled beverages may be safer to consume
Avoiding swimming in potentially contaminated waters. Also, avoiding swimming, if experiencing diarrhea
Showering before and after swimming; keeping the mouth closed while showering
Using bottled water to brush teeth, when water may be contaminated
Precautions while having sex:

Avoiding exposure or contact with feces during sexual activity
Washing hands if contact is made with the anus or rectal area
Using a condom if engaging in anal sex, and washing hands before and after handling the condom
Or, using a suitable barrier during oral-anal sex
What is the Prognosis of Blastocystis Hominis Infection? (Outcomes/Resolutions)
The prognosis of Blastocystis Hominis Infection can depend on the overall health of the affected individual. The potential outcomes of the disease include the following: 
Mild symptoms resolve on their own without treatment within a few days 
Moderate to severe symptoms may clear with adequate treatment
In some cases, the infection can become chronic with digestive issues, such as diarrhea, that do not respond to treatment. Children are at a greater risk for dehydration resulting from diarrhea than adults
Additional and Relevant Useful Information for Blastocystis Hominis Infection:
Understanding the biology of Blastocystis hominis and the mechanism of how it causes symptoms in some infected people is still an area of active research
Currently, there is no definitive proof that infection of Blastocystis hominis is the cause for any symptoms. It can be found in healthy individuals, or individuals who have digestive issues including diarrhea. Many people infected with Blastocystis hominis do not ever have any symptoms
Blastocystis hominis has been characterized as a yeast, fungus, flagellate (having the ability to move around in a whip-like motion), and vegetable in the past. It is currently classified as a protist. A protist is a name for a eukaryotic (non-bacterial) organism that is not a plant, animal, or fungus
Blastocystis Hominis Infection is a common waterborne disease in USA. In the United States, Blastocystis hominis is the most commonly seen parasite in stool samples analyzed by medical professionals. It is frequently associated with irritable bowel syndrome (IBS)
What are some Useful Resources for Additional Information?
Centers for Disease Control and Prevention (CDC)
1600 Clifton Rd. Atlanta, GA 30333, USA
Phone: (404) 639-3534
Toll-Free: 800-CDC-INFO (800-232-4636)
TTY: (888) 232-6348
Email: cdcinfo@cdc.gov
Website: http://www.cdc.gov
World Health Organization (WHO)
Avenue Appia 20 1211 Geneva 27, Switzerland
Phone: + 41 22 791 21 11
Fax: + 41 22 791 31 11
Website: http://www.who.int
References and Information Sources used for the Article:
http://www.mayoclinic.org/diseases-conditions/blastocystis-hominis-infection/home/ovc-20169153 (accessed on 02/20/2017) 
https://www.cdc.gov/parasites/blastocystis/ (accessed on 02/20/2017) 
http://bhomcenter.org/wp/blastocystis-fact-sheet/ (accessed on 02/20/2017)
https://academic.oup.com/cid/article/54/1/105/369396/Blastocystis-To-Treat-or-Not-to-Treat (accessed on 02/20/2017) 
https://www.cdc.gov/dpdx/blastocystis/ (accessed on 02/20/2017)
Helpful Peer-Reviewed Medical Articles:
Yakoob, Javed, et al. "Irritable bowel syndrome: in search of an etiology: role of Blastocystis hominis." The American journal of tropical medicine and hygiene 70.4 (2004): 383-385.
Yoshikawa, Hisao, et al. "Polymerase chain reaction-based genotype classification among human Blastocystis hominis populations isolated from different countries." Parasitology research 92.1 (2004): 22-29.
Suresh, K., and H. Smith. "Comparison of methods for detecting Blastocystis hominis." European Journal of Clinical Microbiology and Infectious Diseases 23.6 (2004): 509-511.
Kaneda, Yoshimasa, et al. "Ribodemes of Blastocystis hominis isolated in Japan." The American journal of tropical medicine and hygiene 65.4 (2001): 393-396.
Leelayoova, S., et al. "In-vitro cultivation: a sensitive method for detecting Blastocystis hominis." Annals of tropical medicine and parasitology 96.8 (2002): 803-807.
Taşova, Y., et al. "Clinical significance and frequency of Blastocystis hominis in Turkish patients with hematological malignancy." Acta Medica Okayama 54.3 (2000): 133-136.
Tan, Kevin SW, Mulkit Singh, and Eu Hian Yap. "Recent advances in Blastocystis hominis research: hot spots in terra incognita." International journal for parasitology 32.7 (2002): 789-804.
Windsor, J. J., et al. "Incidence of Blastocystis hominis in faecal samples submitted for routine microbiological analysis." British journal of biomedical science 59.3 (2002): 154-157.
Tungtrongchitr, Anchalee, et al. "Blastocystis hominis infection in irritable bowel syndrome patients." (2004).
Moghaddam, Davood Dorostkar, E. Ghadirian, and M. Azami. "Blastocystis hominis and the evaluation of efficacy of metronidazole and trimethoprim/sulfamethoxazole." Parasitology research 96.4 (2005): 273-275.