Beckwith-Wiedemann Syndrome (BWS)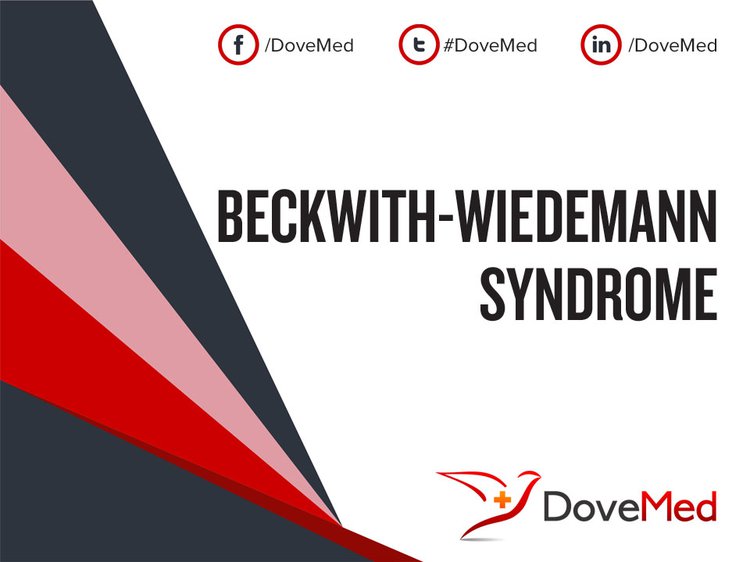 Beckwith-Wiedemann Syndrome (BWS) is an inherited genetic disorder characterized by an abnormal overgrowth of the body parts.
What are the other Names for this Condition? (Also known as/Synonyms)
EMG Syndrome
Exomphalos-Macroglossia-Gigantism Syndrome
WBS (Wiedemann-Beckwith Syndrome)
What is Beckwith-Wiedemann Syndrome? (Definition/Background Information)
Beckwith-Wiedemann Syndrome (BWS) is an inherited genetic disorder characterized by an abnormal overgrowth of the body parts
Children born with this condition are larger than normal, and have manifestations like abdominal wall defect, large-sized tongue, and low blood sugar. BWS also makes them highly susceptible to many childhood cancers
The causative factor of BWS is described as a genetic defect, called genomic imprinting, in which some expressions of a parent gene remain inactive, and are not expressed in the child
Most children who survive the initial phase of the syndrome, have a good outcome
Who gets Beckwith-Wiedemann Syndrome? (Age and Sex Distribution)
Beckwith-Wiedemann Syndrome is a condition that manifests itself at birth. The global incidence is about 1 in 14,000, and 85% of the cases occur at random (sporadic occurrences)
There is no known predilection towards any particular gender or racial group
What are the Risk Factors for Beckwith-Wiedemann Syndrome? (Predisposing Factors)
The risk factors for Beckwith-Wiedemann Syndrome include the following:
Children conceived using in-vitro fertilization, or by other artificial procedures, seem to be at a higher risk of BWS, than a normally conceived child
Children born in families with a history of BWS may be more vulnerable
It is important to note that having a risk factor does not mean that one will get the condition. A risk factor increases ones chances of getting a condition compared to an individual without the risk factors. Some risk factors are more important than others.
Also, not having a risk factor does not mean that an individual will not get the condition. It is always important to discuss the effect of risk factors with your healthcare provider.
What are the Causes of Beckwith-Wiedemann Syndrome? (Etiology)
The presence of chromosomal aberrations and gene mutations on a part of chromosome 11, have pointed to genetic factors, as the probable cause of Beckwith-Wiedemann Syndrome
Chromosome 11 of the child is affected, as certain expressions of the parent gene (mother's or father's) remain inactive; a process known as genetic imprinting
Sometimes, these defective genes are inherited from the parents, or sometimes normal genes stop functioning in the prenatal stage sporadically, leading to BWS. Researchers do not know the reason why the genes suddenly stop functioning
The disorder may have a mild, moderate, or serious expression; depending on the magnitude of the defect
What are the Signs and Symptoms of Beckwith-Wiedemann Syndrome?
The signs and symptoms of Beckwith-Wiedemann Syndrome are categorized into major or minor features. These are:
Major features: Abdominal wall defects causing internal organs to push themselves out of the belly button, large-sized tongue that causes breathing and feeding problems, abnormally large body at birth
Minor features: Creases at the earlobes, blood vessel defect called port-wine stain (often seen as a red birthmark), low blood sugar (hypoglycemia), enlarged kidney (renomegaly), asymmetrical body (one body side/part, is bigger than the other)
Apart from these, the infant may have large eyes, undescended testicles (cryptorchidism), small head size (microcephaly), enlarged liver (hepatomegaly), enlarged spleen (splenomegaly), be lethargic, and suffer epileptic seizures (convulsions)
How is Beckwith-Wiedemann Syndrome Diagnosed?
On physical examination, a child should be present with more than two major and three minor features to be defined as affected with Beckwith-Wiedemann Syndrome. The other diagnostic tools include:
Evaluation of patient's medical history
Blood tests for electrolytes
Genetic analysis
MRI, CT scan (abdominal)
X-ray studies (of the skeletal system)
Abdominal ultrasound scan
Many clinical conditions may have similar signs and symptoms. Your healthcare provider may perform additional tests to rule out other clinical conditions to arrive at a definitive diagnosis.
What are the possible Complications of Beckwith-Wiedemann Syndrome?
The complications from Beckwith-Wiedemann Syndrome could include:
High susceptibility to many benign or malignant childhood tumors; like rhabdomyosarcoma, Wilms tumor, hepatoblastoma
Obstruction of large tongue causes respiratory and feeding problems. It also limits the space required for teeth and jaw growth, and impairs speech
Severe umbilical hernia, due to abdominal wall defect
How is Beckwith-Wiedemann Syndrome Treated?
Treatment measures for Beckwith-Wiedemann Syndrome include the following:
Treating signs and symptoms, as they occur
Abdominal wall defect is surgically repaired and corrected
Low blood glucose level has to be immediately treated (usually through oral or intravenous feeding) to prevent brain damage
Surgical intervention may be required to reduce the size of the tongue (a procedure called partial glossectomy), if breathing and feeding problems are severe
Orthopedic treatment and therapy may be required to treat body asymmetry
Individuals with this condition have to regularly undergo screening for cancer
How can Beckwith-Wiedemann Syndrome be Prevented?
Currently there are no specific methods or guidelines to prevent Beckwith-Wiedemann Syndrome genetic condition
Genetic testing of the expecting parents (and related family members) and prenatal diagnosis (molecular testing of the fetus during pregnancy) may help in understanding the risks better during pregnancy
If there is a family history of the condition, then genetic counseling will help assess risks, before planning for a child
Active research is currently being performed to explore the possibilities for  treatment and prevention of inherited and acquired genetic disorders
What is the Prognosis of Beckwith-Wiedemann Syndrome? (Outcomes/Resolutions)
Current medical and healthcare advances have helped those suffering from Beckwith-Wiedemann Syndrome. Children with the abnormality can have a normal quality of life, with prompt treatment of medical issues that arise
Mental or intellectual growth is usually not affected, but some may have speech problems
The initial period of infancy requires close monitoring, in order to prevent any complications
Severe cases of BWS can be fatal, particularly if the abdominal wall defect, low blood sugar, large sized internal organs, or respiratory problems are serious
Additional and Relevant Useful Information for Beckwith-Wiedemann Syndrome:
According to CDC, achieving pregnancy by artificial means (where the egg and sperm are fertilized outside of the body), increases the chances of Beckwith-Wiedemann Syndrome by 3-4 times, when compared to getting pregnant through natural conception.
What are some Useful Resources for Additional Information?
March of Dimes Foundation
1275 Mamaroneck Avenue, White Plains, NY 10605
Phone: (914) 428-7100
Toll-Free: 888-MODIMES (663.4637)
Fax: (914) 428-8203
Email: askus@marchofdimes.com
Website: http://www.marchofdimes.org
The Arc
1825 K Street, NW, Suite 1200, Washington, DC 20006
Phone: (202) 534-3700
Toll-Free: 1 (800) 433-5255
Fax: (202) 534-3731
Email: info@thearc.org
Website: http://www.thearc.org
American Childhood Cancer Organization
10920 Connecticut Ave, Suite A, Kensington, MD 20895
Phone: (301) 962-3520
Toll-Free: (800) 366-2223
Fax: (301) 962-3521
Email: staff@acco.org
Website: http://www.acco.org
National Cancer Institute (NCI)
U.S. National Institutes of Health
Public Inquiries Office
Building 31, Room 10A03
31 Center Drive, MSC 8322 Bethesda, MD 20892-2580
Phone: (301) 435-3848
Toll-Free: (800) 422-6237
TTY: (800) 332-8615
Email: cancergovstaff@mail.nih.gov
Website: http://www.cancer.gov
The Neuroblastoma Children's Cancer Society
P.O. Box 957672 Hoffman Estates, IL 60195
Toll-Free: (800) 532-5162
Fax: (847) 605-0705
Email: info@neuroblastomacancer.org
Website: http://www.neuroblastomacancer.org
Childhood Cancer Canada Foundation (CCC)
21 St. Clair Avenue East, Suite 801, Toronto, Ontario M4T 1L9
Phone: (416) 489-6440
Toll-Free : 1 (800) 363-1062
Fax: (416) 489-9812
Email: info@childhoodcancer.ca
Website: http://www.childhoodcancer.ca
CureSearch for Children's Cancer
4600 East West Highway, Suite 600, Bethesda, MD 20814-3457
Phone: (626) 447-1674
Toll-Free: (800) 458-6223
Fax: (626)447-6359
Email: info@curesearch.org
Website: http://www.curesearch.org
National Institute of Child Health and Human Development (NICHD)
31 Center Dr, Building 31, Room 2A32, MSC2425
Bethesda, MD 20892
Toll-Free: (800) 370-2943
TTY: (888) 320-6942
Fax: (866) 760-5947
Email: NICHDInformationResourceCenter@mail.nih.gov
Website: http://www.nichd.nih.gov
MUMS National Parent-to-Parent Network [For Parents of Children With Disabilities]
150 Custer Court Green Bay, WI 54301-1243
Phone: (920) 336-5333
Parents only: (877) 336-5333
Fax: (920) 339-0995
Email: mums@netnet.net
Website: http://www.netnet.net/mums
National Organization for Rare Disorders (NORD)
55 Kenosia Avenue Danbury, CT 06810
Phone: (203) 744-0100
Toll-Free: (800) 999-6673
Fax: (203) 798-2291
Email: orphan@rarediseases.org
Website: http://www.rarediseases.org
Beckwith Wiedemann Children's Assn of NZ (Inc)
P O Box 43-014, Darfield 7541, New Zealand
Phone: 021 922213
Website: http://www.bwcanz.org
References and Information Sources used for the Article:
http://ghr.nlm.nih.gov/condition/beckwith-wiedemann-syndrome (accessed on 12/5/12)
http://www.ncbi.nlm.nih.gov/pubmedhealth/PMH0002168/ (accessed on 12/5/12)
Pathology & Genetics: Tumours of Soft Tissue and Bone; WHO Classification of Tumours; Edited by Christopher D.M. Fletcher, K. Krishnan Unni, Fredrik Mertens; IARC Press, Lyon, 2002
Helpful Peer-Reviewed Medical Articles:
Chen, C. P. (2012). Prenatal findings and the genetic diagnosis of fetal overgrowth disorders: Simpson-Golabi-Behmel syndrome, Sotos syndrome, and Beckwith-Wiedemann syndrome. Taiwan J Obstet Gynecol, 51(2), 186-191. doi: 10.1016/j.tjog.2012.04.004
Choufani, S., Shuman, C., & Weksberg, R. (2010). Beckwith-Wiedemann syndrome. Am J Med Genet C Semin Med Genet, 154C(3), 343-354. doi: 10.1002/ajmg.c.30267
Demars, J., & Gicquel, C. (2012). Epigenetic and genetic disturbance of the imprinted 11p15 region in Beckwith-Wiedemann and Silver-Russell syndromes. Clin Genet, 81(4), 350-361. doi: 10.1111/j.1399-0004.2011.01822.x
Kadouch, D. J., Maas, S. M., Dubois, L., & van der Horst, C. M. (2012). Surgical treatment of macroglossia in patients with Beckwith-Wiedemann syndrome: a 20-year experience and review of the literature. Int J Oral Maxillofac Surg, 41(3), 300-308. doi: 10.1016/j.ijom.2011.10.021
Moreira-Pinto, J., Pereira, J., Osorio, A., Enes, C., & Mota, C. R. (2012). Beckwith-Wiedemann syndrome, delayed abdominal wall closure, and neonatal intussusception--case report and literature review. Fetal Pediatr Pathol, 31(6), 448-452. doi: 10.3109/15513815.2012.659410
Mohsin, F., Islam, R., Begum, T., Azad, K., & Nahar, N. (2015). Beckwith–Wiedemann Syndrome. Journal of Bangladesh College of Physicians and Surgeons, 32(3), 167-170.
Christensen, L., Christesen, H. B. T., Brusgaard, K., Petersen, H., Rasmussen, L., Hovendal, C., & Detlefsen, S. (2015). Histological features of the pancreas in a patient with congenital hyperinsulinism due to Beckwith-Wiedemann syndrome. In Annual Meeting of the Danish Pathology Society (DPAS).
Paganini, L., Carlessi, N., Fontana, L., Silipigni, R., Motta, S., Fiori, S., ... & Miozzo, M. (2015). Beckwith–Wiedemann syndrome prenatal diagnosis by methylation analysis in chorionic villi. Epigenetics, 10(7), 643-649.
Mussa, A., Russo, S., De Crescenzo, A., Freschi, A., Calzari, L., Maitz, S., ... & Tarani, L. (2015). (Epi) genotype–phenotype correlations in Beckwith–Wiedemann syndrome. European Journal of Human Genetics.
Knopp, C., Rudnik‐Schöneborn, S., Zerres, K., Gencik, M., Spengler, S., & Eggermann, T. (2015). Twenty‐one years to the right diagnosis–clinical overlap of Simpson–Golabi–Behmel and Beckwith–Wiedemann syndrome. American Journal of Medical Genetics Part A, 167(1), 151-155.
Soussi‐Zander, C. (2015). Beckwith–Wiedemann Syndrome Revisited. Human mutation, 36(9), iii-iii.
Ohtsuka, Y., Higashimoto, K., Sasaki, K., Jozaki, K., Yoshinaga, H., Okamoto, N., ... & Nishioka, K. (2015). Autosomal recessive cystinuria caused by genome‐wide paternal uniparental isodisomy in a patient with Beckwith–Wiedemann syndrome. Clinical genetics, 88(3), 261-266.