Adult Chlamydial Conjunctivitis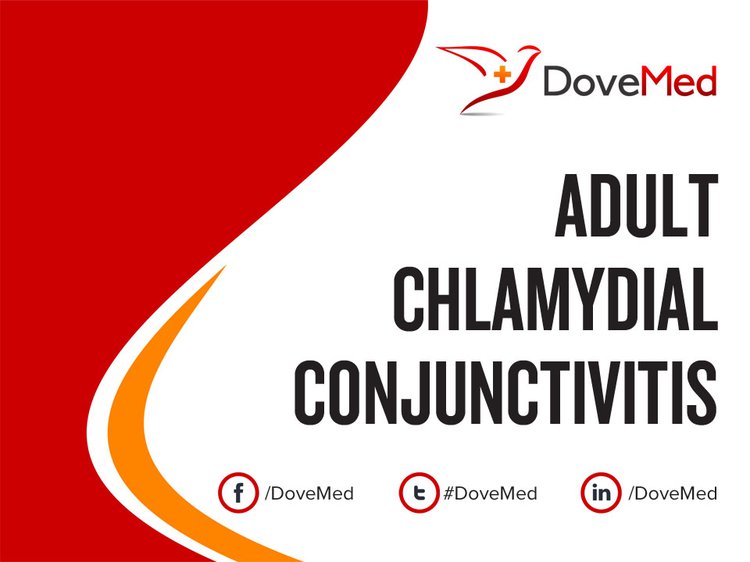 Adult Chlamydial Conjunctivitis is a type of bacterial conjunctivitis that is caused by the bacteria chlamydia trachomatis, which is responsible for sexually transmitted diseases (STDs) in adults.
What are the other Names for this Condition? (Also known as/Synonyms)
AIC (Adult Inclusion Conjunctivitis)
Chlamydial Conjunctivitis – Adult Type
Chlamydial Inclusion Conjunctivitis in Adults
What is Adult Chlamydial Conjunctivitis? (Definition/Background Information)
The cause factors for Conjunctivitis are many; however, Bacterial Conjunctivitis is caused by any of the several types of bacteria, such as staphylococcus aureus, streptococcus pneumoniae, and hemophilus influenzae among others. It is one of the most common types of Conjunctivitis that affects healthy individuals
Adult Chlamydial Conjunctivitis is a type of bacterial conjunctivitis that is caused by the bacteria chlamydia trachomatis, which is responsible for sexually transmitted diseases (STDs) in adults. The acute eye disorder is also termed as Chlamydial Inclusion Conjunctivitis in Adults
Conjunctivitis is inflammation of conjunctiva of the eye, which is the membrane covering the white region of the eye
In Conjunctivitis the white part of the eye turns red or pink, and hence it is also known as Pink Eye. The infection may affect either one, or both the eyes, and is accompanied by inflammation, irritation, with watery discharge from the eyes. Under normal circumstances, Conjunctivitis does not affect vision
Urgent care with medication is essential to prevent permanent blindness and other potential complications from developing, due to the infection
Who gets Adult Chlamydial Conjunctivitis? (Age and Sex Distribution)
Individuals in any age group are vulnerable to Chlamydial Conjunctivitis; but, sexually active individuals are at a high risk
Chlamydial Conjunctivitis does not occur only in adults. Newborns may acquire a certain type of the infection from their infected mothers, known as Neonatal Chlamydial Conjunctivitis
Women have a higher susceptibility to the condition than men
What are the Risk Factors for Adult Chlamydial Conjunctivitis? (Predisposing Factors)
The risk factors for Adult Chlamydial Conjunctivitis, which is a common type of infectious Conjunctivitis affecting adults, include:
Contact with a person affected by the infection, or the use of infected (shared) items
This infection spreads in offices, crowded spaces, hospitals
Exposure to pathogens that cause STDs. In case of Conjunctivitis due to chlamydia bacteria, the sexually active individuals are at a high risk
Young, sexually active adults below age 25 years, have a high risk; more so if they have multiple sexual partners, and do not practice safe sex (lack of condom usage)
Eye disorders such as blepharitis, dryness of the eye, anatomic/structural abnormalities may predispose one to Adult Chlamydial Conjunctivitis
It is important to note that having a risk factor does not mean that one will get the condition. A risk factor increases ones chances of getting a condition compared to an individual without the risk factors. Some risk factors are more important than others.
Also, not having a risk factor does not mean that an individual will not get the condition. It is always important to discuss the effect of risk factors with your healthcare provider.
What are the Causes of Adult Chlamydial Conjunctivitis? (Etiology)
Bacterial Conjunctivitis is caused by a variety of bacteria, in adults. In Adult Chlamydial Conjunctivitis the cause is Chlamydia trachomatis, which is a dangerous bacterium. Conjunctivitis may often be one of the many presentations of other underlying diseases/disorders
In adults, the bacteria are mainly transmitted during sex through infected fluids, semen, with an individual who has STD
It could also spread through direct contact with items used by the infected individual; by touch (hand-to-eye route), use of shared spaces (like swimming pools), and through respiratory or nasal droplets
What are the Signs and Symptoms of Adult Chlamydial Conjunctivitis?
Common signs & symptoms of Adult Chlamydial Conjunctivitis are:
Itching and redness of the eye(s): This may be confined to a single eye only, and present for 2-3 weeks
Discharge of green or yellow color, pus-like fluid from the eyes with formation of crusts (usually seen in the morning, on waking-up). Sticky eyelids, which are difficult to keep open
Eye pain and inflammation (usually mild); with gritty feeling of sand-like particles inside the eye
Blurred vision
Swollen lymph nodes in front of the ears
Burning sensation, stinging pain while urinating (observed in both men & women); watery discharge from vagina
Women may have a history of other disorders affecting their reproductive system, like pelvic inflammatory disease, inflammation of the vagina/urethra
How is Adult Chlamydial Conjunctivitis Diagnosed?
Adult Chlamydial Conjunctivitis is diagnosed using the following tools:
The ophthalmologist or physician performs an eye examination and evaluates the patient's medical history
The eye condition may be present for over 3 weeks and is not cured easily with common antibiotic applications. This may be a conclusive indicator
Slit lamp exam (if necessary), for a detailed study of the eye
Conjunctival scrapings, culture of eye discharge to diagnose the bacteria type
Differential diagnosis to eliminate other conditions; since there are several bacterial or other cause factors for Conjunctivitis
Many clinical conditions may have similar signs and symptoms. Your healthcare provider may perform additional tests to rule out other clinical conditions to arrive at a definitive diagnosis.
What are the possible Complications of Adult Chlamydial Conjunctivitis?
Complications may arise if the cornea is involved, or if Adult Chlamydial Conjunctivitis is not treated in a prompt manner. It is also dependent upon the presence of secondary conditions. The complications include:
Corneal ulcer, scar
Bonding of eyelids to the eyeball, which may be partial or total
Permanent eye damage, loss of vision
Higher risk for other complications like central nervous system problems, pneumonia, septicemia
Inflamed intraocular cavities
Chronic recurrence of the condition
How is Adult Chlamydial Conjunctivitis Treated?
Early diagnosis and speedy treatment is important to prevent permanent complications from acute Adult Chlamydial Conjunctivitis. The underlying health factors also require treatment. Some management measures include:
Topical antibacterial ointments are generally prescribed. Systemic antibiotics are vital in case the disorder is acute and caused by STD-linked bacterial microorganisms
Antibiotic medications are often used, such as: Oral tetracycline and erythromycin
Application of warm compress can help reduce discomfort
Clean the eye crusts carefully using soft and wet cotton wool
The eyes may be cleaned regularly with saline solution to remove mucus formation
Use of lubricating drops may soothe the eyes, and are helpful if eyes remain dry
Corticosteroids are not used, since they worsen the condition
In case of severe and intense (chronic) infection leading to loss of vision; a corneal transplant may be necessary to restore vision
Avoid the use of contact lens during this period; wear eye glasses instead
Management of underlying health conditions is mandatory; and these could be STDs, sinusitis, immune disorders
Follow-up care is regularly required after 1-3 weeks; more so if the condition aggravates
It is advisable to get your sex-partner treated too
How can Adult Chlamydial Conjunctivitis be Prevented?
Adult Chlamydial Conjunctivitis is highly infectious. It is best to keep away from work or crowded places, if you suffer from the condition
Prevent spread of the condition by maintaining hygiene, washing hands regularly, avoiding sharing of pillows, towels, make-up, and by limiting physical contact
The onus is on all sexually mature individuals to ensure that they are generally well-informed of the sexually transmitted diseases (either by their healthcare providers, or public health authorities); and are aware of the preventive measures and precautions, more so if you are planning for a child
In case you are aware of any STDs that are untreated, do inform your healthcare provider about the condition. This must be done as early as possible, particularly if you are pregnant
Abstain from sex with multiple partners; or have a monogamous partner, if you are planning for a child
Prevent aggravation of the condition by staying out of the sun, keeping away from dust and smoke. Also, avoid touching or rubbing the eyes (this may be difficult when the affected individuals are very young children)
What is the Prognosis of Adult Chlamydial Conjunctivitis? (Outcomes/Resolutions)
Acute Conjunctivitis triggered by chlamydia bacteria has a potential to cause blindness and even life-threatening illnesses, such as STDs and pneumonia; if the condition is not quickly diagnosed, and suitably managed
With early diagnosis and appropriate treatment, the outcome is good
Adult Chlamydial Conjunctivitis can be a chronic infection and recur periodically, if conditions are conducive for its recurrence. Besides, the disorder may sometimes persist for an extended period of time, usually many years
Additional and Relevant Useful Information for Adult Chlamydial Conjunctivitis:
Chlamydial Conjunctivitis occurs around 10 times more frequently than Gonococcal Conjunctivitis (which is caused by the bacteria neisseria gonorrhoeae)
Studies have established that typically both the pathogenic bacteria (chlamydia & neisseria) occur together in an infected sexually mature individual
What are some Useful Resources for Additional Information?
References and Information Sources used for the Article:
http://kidshealth.org/kid/ill_injure/sick/conjunctivitis.html (accessed on 02/26/13)
http://www.ncbi.nlm.nih.gov/pubmedhealth/PMH0002005/ (accessed on 02/26/13)
http://www.mayoclinic.com/health/pink-eye/DS00258/DSECTION=causes (accessed on 02/26/13)
http://eyewiki.aao.org/Bacterial_Conjunctivitis (accessed on 02/26/13)
http://www.ccjm.org/content/75/7/507.full (accessed on 02/26/13)
http://chlamydiainmen.net/conjunctivitis.html (accessed on 02/26/13)
http://www.mastereyeassociates.com/eye-diseases-treatments/chlamydia-conjunctivitis/ (accessed on 02/26/13)
http://www.kellogg.umich.edu/theeyeshaveit/red-eye/chlamydial-conjunctivitis.html (accessed on 02/26/13)
http://webeye.ophth.uiowa.edu/eyeforum/cases/68-Adult-Chlamydial-Conjunctivitis-Red-Eyes-Chronic.htm (accessed on 02/26/13)
Helpful Peer-Reviewed Medical Articles:
Darville, T. (2005). Chlamydia trachomatis infections in neonates and young children. Semin Pediatr Infect Dis, 16(4), 235-244. doi: 10.1053/j.spid.2005.06.004
Sarlangue, J., & Castella, C. (2005). [Chlamydia infection in neonates and infants]. Arch Pediatr, 12 Suppl 1, S32-34
Quirke, M., & Cullinane, A. (2008). Recent trends in chlamydial and gonococcal conjunctivitis among neonates and adults in an Irish hospital. International Journal of Infectious Diseases, 12(4), 371-373.
Haller-Schober, E. M., & El-Shabrawi, Y. (2002). Chlamydial conjunctivitis (in adults), uveitis, and reactive arthritis, including SARA. Best Practice & Research Clinical Obstetrics & Gynaecology, 16(6), 815-828.
Yeung, L., Tsao, Y. P., Chen, P. Y. F., Kuo, T. T., Lin, K. K., & Lai, L. J. (2004). Combination of adult inclusion conjunctivitis and mucosa-associated lymphoid tissue (MALT) lymphoma in a young adult. Cornea, 23(1), 71-75.
Malathi, J., Madhavan, H. N., Therese, K. L., & Joseph, P. R. (2003). A hospital based study on the prevalence of conjunctivitis due to Chlamydia trachomatis. Indian Journal of Medical Research, 117, 71.
Rours, I. G., Hammerschlag, M. R., Ott, A., De Faber, T. J., Verbrugh, H. A., de Groot, R., & Verkooyen, R. P. (2008). Chlamydia trachomatis as a cause of neonatal conjunctivitis in Dutch infants. Pediatrics, 121(2), e321-e326.
Burton, M. J., Holland, M. J., Faal, N., Aryee, E. A., Alexander, N. D., Bah, M., ... & Mabey, D. C. (2003). Which members of a community need antibiotics to control trachoma? Conjunctival Chlamydia trachomatis infection load in Gambian villages. Investigative ophthalmology & visual science, 44(10), 4215-4222.