Acute Hemorrhagic Conjunctivitis (AHC)
James Heilman, MD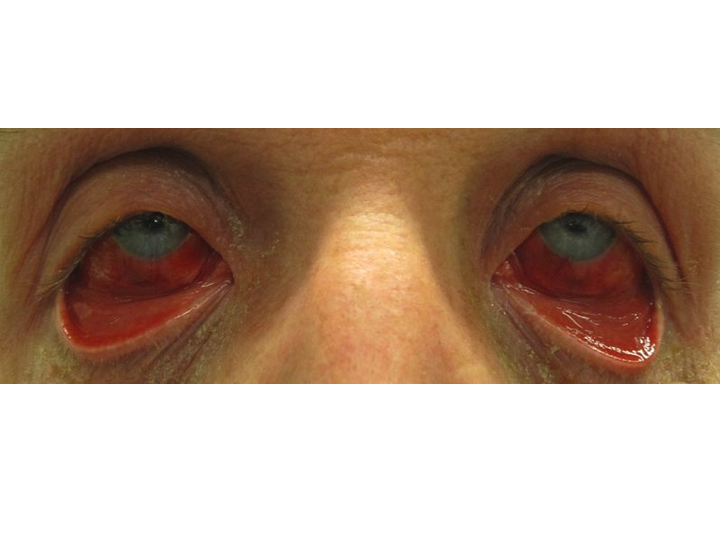 Acute hemorrhagic conjunctivitis with the eyelid pulled down for a more complete view.
What are the other Names for this Condition? (Also known as/Synonyms)
AHC (Acute Hemorrhagic Conjunctivitis)
What is Acute Hemorrhagic Conjunctivitis? (Definition/Background Information)
Acute Hemorrhagic Conjunctivitis (AHC) is one of a rare form of Conjunctivitis which is extremely contagious and is characterized by the sudden onset of signs and symptoms
Conjunctivitis is inflammation of conjunctiva of the eye, which is the membrane covering the white region of the eye
In Conjunctivitis the white part of the eye turns red or pink, and hence it is also known as Pink Eye. The infection may affect either one, or both the eyes, and is accompanied by inflammation, irritation, with watery discharge from the eyes. Under normal circumstances, Conjunctivitis does not affect vision
The cause factors for Conjunctivitis are many; however, Acute Hemorrhagic Conjunctivitis is caused by two main virus types: Enterovirus and Coxsackievirus
Any incident of AHC in closed environments such as offices and schools may result in a rapid spread of the infection among individuals who work/study there, and cause an outbreak of epidemic proportions
The symptoms may last for 7 days, but they tend to clear on their own. No specific treatment exists. Supportive care for symptoms is generally the kind of treatment provided
AHC differs from other types of Viral Conjunctivitis by the fact that there is extensive hemorrhaging (discharge of blood by the blood vessels) of the conjunctiva
Who gets Acute Hemorrhagic Conjunctivitis? (Age and Sex Distribution)
Individuals in any age group are vulnerable to Acute Hemorrhagic Conjunctivitis, but high risk category are children in the age group of 5-18 years
Infants and children may acquire the infection from their mothers
Both male and female genders are equally affected and no racial/ethnic preference is observed
What are the Risk Factors for Acute Hemorrhagic Conjunctivitis? (Predisposing Factors)
The risk factors for Acute Hemorrhagic Conjunctivitis include:
Contact with a person affected by AHC, or the use of infected (shared) items. Contaminated hands and infected fomites are the primary modes of transmission
The infection can also spread via the fecal-oral route. Thus, a lack of hygiene, congested living conditions, inadequate sanitation facilities, are all potential risk factors
This epidemic spreads in offices, classrooms, day care centers, hospitals and other overcrowded situations
It is important to note that having a risk factor does not mean that one will get the condition. A risk factor increases ones chances of getting a condition compared to an individual without the risk factors. Some risk factors are more important than others.
Also, not having a risk factor does not mean that an individual will not get the condition. It is always important to discuss the effect of risk factors with your healthcare provider.
What are the Causes of Acute Hemorrhagic Conjunctivitis? (Etiology)
Acute Hemorrhagic Conjunctivitis is caused by two main viruses: Enterovirus 70 and Coxsackievirus A24. Rarely, it can be caused by Epstein-Barr virus
The disorder is extremely contagious and the infectious phase may last for 5-7 days, until the eye returns to normal color
The virus is transmitted through direct contact with items used by the infected individual; by touch (hand-to-eye route), use of shared spaces (like swimming pools), and through respiratory or nasal droplets
The virus can be transmitted through the fecal-oral route; entering the human body through the mouth and nose. This mainly happens in geographical locations with poor sanitary conditions, ill-maintained public restrooms, etc.
Deficient hygiene conditions, crowded urban spaces, and a lack of quality healthcare, are factors that enhance the rapid spread of AHC
What are the Signs and Symptoms of Acute Hemorrhagic Conjunctivitis?
The onset of Acute Hemorrhagic Conjunctivitis is sudden and the condition develops rapidly. They occur 12 to 48 hours after an individual has been infected. Common signs & symptoms of the viral infection are:
Itching and redness of the eye(s); this may begin in one eye and slowly progress to the other
The conjunctiva is profusely covered with discharge from the blood vessels (called hemorrhaging)
Formation of crusts (usually seen in the morning, on waking-up); sticky eyelids, which are difficult to keep open
Severe eye pain with eyelid inflammation; with gritty feeling of sand-like particles inside the eye
Continuous discharge of watery mucus from the eyes
Blurred vision, light sensitivity
Mild fever in infants
Generally the signs and symptoms start to improve in 5 to 7 days. The condition usually resolves completely in 2 weeks
How is Acute Hemorrhagic Conjunctivitis Diagnosed?
Acute Hemorrhagic Conjunctivitis is diagnosed using the following tools:
The ophthalmologist or physician performs an eye examination and evaluates the patient's medical history
Biochemical studies of conjunctival scrapings: Polymerase chain reaction analysis to determine the cause of the conjunctivitis. Generally such testing is not routinely used because the infection has a rapid course and majority of cases completely recover without any complications
Slit lamp exam (if necessary), for a detailed study of the eye
Differential diagnosis to eliminate other conditions; since there are several causes for Conjunctivitis
Many clinical conditions may have similar signs and symptoms. Your healthcare provider may perform additional tests to rule out other clinical conditions to arrive at a definitive diagnosis.
What are the possible Complications of Acute Hemorrhagic Conjunctivitis?
Complications due to Acute Hemorrhagic Conjunctivitis are rare. However, these could include:
Intense pain
Corneal ulcer, scar
Damage to the eye, loss of vision (this is rare, and happens only if corneal involvement is observed)
Possibility of a bacterial infection occurring in addition to the viral infection (termed as 'bacterial superimposed infections')
Involvement of other vital organs, skin, respiratory system, and neurological system
How is Acute Hemorrhagic Conjunctivitis Treated?
Treatment of Acute Hemorrhagic Conjunctivitis is mainly supportive. Some general management measures include:
Normally, AHC resolves by itself spontaneously. Symptomatic treatment provides a measure of comfort and helps the affected individuals. Antiviral drugs are generally not prescribed
Application of warm compress can help reduce discomfort
Clean the eye crusts carefully using soft and wet cotton wool
Use of lubricating drops may soothe the eyes, and are helpful if eyes remain dry
Topical corticosteroids are used if the iris and cornea are involved
Use of topical antibiotic ointment is recommended to prevent bacterial infections
Avoid the use of contact lens during this period; wear eye glasses instead
If symptoms affect the whole body, then systemic treatment is provided
Follow-up care is important and has to be ensured, in order to prevent any complications
How can Acute Hemorrhagic Conjunctivitis be Prevented?
Acute Hemorrhagic Conjunctivitis is extremely infectious. It is best to keep away from work, school, and even other family members, if you suffer from the condition
Prevent spread of the condition by maintaining good hygiene, washing hands regularly, avoiding sharing of pillows, towels, make-up, and by limiting physical contact
Prevent aggravation of the condition by staying out of the sun, keeping away from dust and smoke. Also, avoid touching or rubbing the eyes (this may be difficult to control when the affected individuals are very young children)
Stop or restrain yourself from smoking tobacco, or drinking alcohol
AHC may be prevented with improved hygiene and sanitary conditions, particularly in overcrowded habitats
The local healthcare providers and local public health authorities have to ensure that the residents of a region are generally well-informed and made aware of basic preventive measures and precautions to be taken during an AHC outbreak
What is the Prognosis of Acute Hemorrhagic Conjunctivitis? (Outcomes/Resolutions)
Most cases of Acute Hemorrhagic Conjunctivitis are self-limiting; they resolve spontaneously, and have an excellent outcome with supportive management of the condition
If there are other underlying conditions that aggravate the infection; then certain complications may develop that would require an extended treatment course
Additional and Relevant Useful Information for Acute Hemorrhagic Conjunctivitis:
Acute Hemorrhagic Conjunctivitis outbreaks have regularly occurred in regions around the world, such as the Caribbean, US, West Africa, China, Taiwan, India, Japan, Egypt, Brazil, etc. Some epidemic bursts have affected populations of a few 1000s, while others have affected over 200,000s simultaneously during such outbreaks
An outbreak of AHC has the potential to tremendously impact the local economy of any region, considering the productive man-days lost and healthcare resources, and expenses involved
Many alternatives medicine therapies, natural therapy, or home remedies are available to ease the discomfort of AHC. However, such treatment methods are not a proven science and should not be substituted for a qualified healthcare provider's medical advice
What are some Useful Resources for Additional Information?
Centers for Disease Control and Prevention (CDC)
1600 Clifton Rd. Atlanta, GA 30333, USA
Phone: (404) 639-3534
Toll-Free: 800-CDC-INFO (800-232-4636)
TTY: (888) 232-6348
Email: cdcinfo@cdc.gov
Website: http://www.cdc.gov
References and Information Sources used for the Article:
http://kidshealth.org/kid/ill_injure/sick/conjunctivitis.html (accessed on 02/23/13)
http://www.ncbi.nlm.nih.gov/pubmedhealth/PMH0002005/ (accessed on 02/23/13)
http://www.mayoclinic.com/health/pink-eye/DS00258/DSECTION=causes (accessed on 02/23/13)
http://www.cdc.gov/conjunctivitis/clinical.html (accessed on 02/23/13)
http://www.doh.state.fl.us/disease_ctrl/epi/htopics/reports/ahcpres.pdf (accessed on 02/23/13)
http://www.ncbi.nlm.nih.gov/pubmed/19836177 (accessed on 02/23/13)
Helpful Peer-Reviewed Medical Articles:
Leveque, N., Huguet, P., Norder, H., & Chomel, J. J. (2010). [Enteroviruses responsible for acute hemorrhagic conjunctivitis]. Med Mal Infect, 40(4), 212-218. doi: 10.1016/j.medmal.2009.09.006
Ozaki, N., & Ieki, R. (1999). [Acute hemorrhagic conjunctivitis]. Ryoikibetsu Shokogun Shirizu(24 Pt 2), 145-146.
Sane, F., Sauter, P., Fronval, S., Goffard, A., Dewilde, A., & Hober, D. (2008). [Fruit of the emergence of an enterovirus: acute haemorrhagic conjunctivitis]. Ann Biol Clin (Paris), 66(5), 485-492. doi: 10.1684/abc.2008.0257
Shimizu, H., & Takeda, N. (2005). [Laboratory diagnosis for acute hemorrhagic conjunctivitis]. Nihon Rinsho, 63 Suppl 7, 386-388.
Uchio, E. (2007). [Acute hemorrhagic conjunctivitis]. Nihon Rinsho, 65 Suppl 3, 321-325.
Wright, P. W., Strauss, G. H., & Langford, M. P. (1992). Acute hemorrhagic conjunctivitis. Am Fam Physician, 45(1), 173-178.
Dawson, C. R., Whitcher, J. P., & Schmidt, N. J. (1974). Acute hemorrhagic conjunctivitis. JAMA, 230(5), 727-728.
Chen, C., & Guo, C. (2015). Acute Hemorrhagic Conjunctivitis. In Radiology of Infectious Diseases: Volume 1 (pp. 49-52). Springer Netherlands.
Bahgat, M., & El Din Abdel Wahab, K. S. (1990). Acute hemorrhagic conjunctivitis. Orbit, 9(1), 43-51.
Dussart, P., Cartet, G., Huguet, P., Lévêque, N., Hajjar, C., Morvan, J., ... & Norder, H. (2005). Outbreak of acute hemorrhagic conjunctivitis in French Guiana and West Indies caused by coxsackievirus A24 variant: phylogenetic analysis reveals Asian import. Journal of medical virology, 75(4), 559-565.