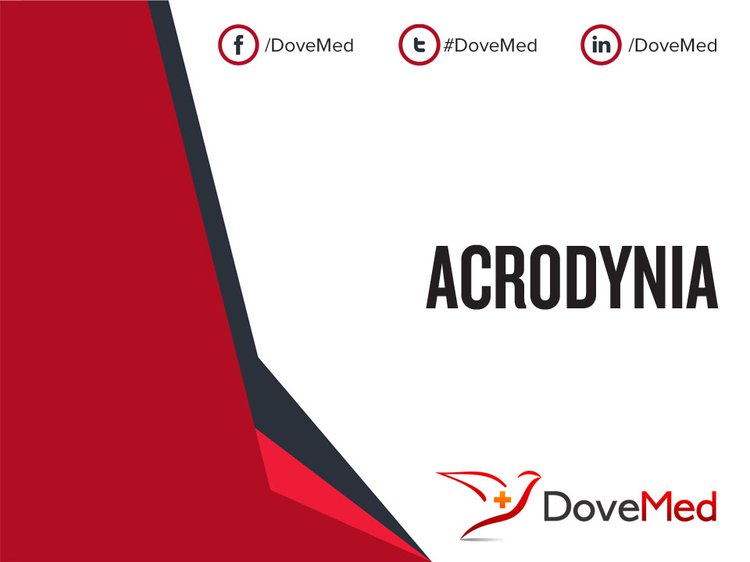 Acrodynia is a rare condition that is typically seen in infants and young children resulting from exposure to a variety of heavy metals (commonly to mercury and mercury-based compounds).
What are the other Names for this Condition? (Also known as/Synonyms)
Bilderbeck's Disease
Pink Disease
Swift-Feer Disease
What is Acrodynia? (Definition/Background Information)
Acrodynia is a rare condition that is typically seen in infants and young children resulting from exposure to a variety of heavy metals (commonly to mercury and mercury-based compounds). It results in pinkish discoloration of the skin on the hands and feet
The exposure is usually chronic and long-term. The source of exposure may be wide-ranging and includes dental amalgams, broken thermometers, various medications (such as laxatives and antimicrobial drugs), etc.
The signs and symptoms of Acrodynia comprise loss of skin layers, peripheral neuropathy, vomiting and diarrhea, renal failure, and memory loss and loss of focus. The condition is diagnosed by complete medical history and physical exam, and through tests to establish the levels of heavy metals in the body
Acrodynia is generally treated by removing the affected individual from the source of the exposure, and through antibiotics and chelation therapy. The prognosis depends on several factors including when the individual is removed from the source of toxicity
Acrodynia is uncommon nowadays due to more stringent regulations and restricted use of mercury and other heavy metals
Who gets Acrodynia? (Age and Sex Distribution)
Infants and young children are affected by Acrodynia following longstanding exposure to heavy metal based compounds
Generally, older children and adults are not affected by this condition
Both males and females are affected and no particular preference is observed
The condition is seen to affect all races and ethnic groups
What are the Risk Factors for Acrodynia? (Predisposing Factors)
The major risk factors associated with Acrodynia is exposure conditions. Exposure to the chemical compound may occur from the following sources:
Accidental mercury ingestion through broken thermometers
Use of amalgams for dental works
Certain antimicrobial medications
Laxatives and diuretics containing the causative compounds
Diaper rinse solutions
Batteries for watches
Antiseptic creams
Teething powders
Note: It is very important to note that most of the above compounds were risk factors prior to stringent governmental regulations regarding mercury and other heavy metal use were in place. Hence, currently the incidence of Acrodynia, due to the above risk factors, is on the decline.
It is important to note that having a risk factor does not mean that one will get the condition. A risk factor increases ones chances of getting a condition compared to an individual without the risk factors. Some risk factors are more important than others.
Also, not having a risk factor does not mean that an individual will not get the condition. It is always important to discuss the effect of risk factors with your healthcare provider.
What are the Causes of Acrodynia? (Etiology)
The cause of Acrodynia is generally due to repeated exposure either through oral ingestion (usually acute) or skin contact and inhalation (which is mostly chronic).
Exposure may be through a variety of compounds or environmental conditions
The heavy metals that can cause the condition include mercury (most common), gold, arsenic, thallium, and many others
Genetic sensitivity to heavy metal poisoning is considered a cause
What are the Signs and Symptoms of Acrodynia?
The signs and symptoms of Acrodynia depend on whether the exposure occurred through oral ingestion, chronic inhalation, or skin contact. It also depends on the type of heavy metal that was involved. The signs and symptoms vary from one individual to another. The condition may be initially observed as a viral infection.
General signs and symptoms associated with Acrodynia include:
Pinkish discolored skin of the hands and feet, and also on the tip of the nose (due to an allergic reaction of the skin to the chemical)
Pain, burning or itching sensation due to peripheral neuropathy
Loss of superficial layers of skin - a process called desquamation
Weight loss, loss of appetite
Fatigue
Ulcers on the gums
Loss of muscle tone
Excess saliva production; being excessively thirsty (polydipsia)
Depression; lack of focus
Children can become cranky and show aggressive behavior
Other signs and symptoms of Acrodynia may include:
Increased heart rate (tachycardia)
Excessive sweating (which may lead to frequent skin infection)
Increased blood pressure
Hair loss
Skin rashes that come and go
Difficulty in seeing bright light or photophobia
Anxiety, nervousness, and irritability
Loss of memory
Loss of sleep, difficulty in sleeping
In infants and small children, when the condition is termed Infantile Acrodynia (or Pink Disease), the following signs and symptoms may be manifested:
Pinkish discolored skin of the hands and feet
Significant swelling of the affected region
Constant crying in infants
Redness in cheeks
Running nose
Enlarged tonsil
Initially vomiting and diarrhea; later in many children the condition may result in constipation
How is Acrodynia Diagnosed?
A diagnosis of Acrodynia may involve the following tests and procedures:
A complete physical examination and comprehensive medical history evaluation (including procuring information on exposure to heavy metals)
Complete blood count
Liver function tests
Blood urea nitrogen (BUN) test
Creatinine test
Mercury testing: It is used to examine the levels of mercury in blood, urine, and rarely, in hair
Heavy metals panel blood and urine test: Increased level of proteins in urine may be observed
Nerve conduction studies
A differential diagnosis may be undertaken to exclude the following conditions:
Pheochromocytoma
Kawasaki disease
Acanthosis nigricans
Poliomyelitis
Many clinical conditions may have similar signs and symptoms. Your healthcare provider may perform additional tests to rule out other clinical conditions to arrive at a definitive diagnosis. 
What are the possible Complications of Acrodynia?
The complications of Acrodynia could include:
Weakening of the gums leading to loss of teeth
Early hair loss (alopecia)
Loss of fingernail and toenail
Chronic mercury exposure leads to kidney failure
Skin sensitization through chronic skin exposure resulting in skin abnormalities
Gastrointestinal complications including diarrhea and vomiting with blood due to prolonged exposure
Electrolyte imbalances can result in severe damage to vital organs
Longstanding exposure can result in decreased academic performance
Coma and death can result from ingestion of heavy metals.
How is Acrodynia Treated?
The treatment for Acrodynia is determined based on the severity of the symptoms and the mode of toxic exposure. Generally, there is no specific treatment for a chronic exposure. The most important treatment measure is removing the individual from the source of exposure and preventing further exposure to the toxic material.
For exposure through skin contact, the following treatment measures may be employed:

Removal from the toxic source of exposure
Flushing of the eyes with water, if the eyes or skin are acutely exposed
Antibiotic creams to avoid secondary infections in skin ulcers

For exposure due to oral ingestion, the following treatment measures may be employed:

Fluids and electrolytes may be administered to maintain electrolyte balance
The ingested element/chemical may be passed out through bowel movement or urine

For exposure through inhalation, the following treatment measures may be employed:

The primary goal is to remove the affected individual from the source of exposure
If the lungs are damaged, then breathing assistance (or oxygen) is provided

Chelation therapy
Any underlying complication may have to be treated on a case-by-case basis
How can Acrodynia be Prevented?
Acrodynia may be prevented by eliminating exposure to sources of mercury and other heavy metals. The following points may be considered towards preventing poisoning by these chemical compounds.
Regularly shower and change clothes after industrial work. Avoid bringing home contaminated clothes from the work site
Practice proper hand hygiene by washing hands with soap frequently
Ensure that industrial safety regulations for heavy metal exposure is adhered to at workplaces
What is the Prognosis of Acrodynia? (Outcomes/Resolutions)
The prognosis for Acrodynia is dependent on when the individual or child is removed from the potential source of toxic compounds. The sooner the individual is removed, the better is the prognosis
The prognosis is also dependent upon the amount of heavy metal one is exposed to. Individuals who are exposed to large amounts of toxic metals orally or through inhalation for longer durations may have worse prognosis
With prompt diagnosis and appropriate treatment, children who have been acutely exposed to the chemical compounds generally have excellent prognosis. However, it is important to note that the signs and symptoms do not get better immediately, but slowly with time
Additional and Relevant Useful Information for Acrodynia:
Acrodynia, when the exposure is particularly due to mercury, is also known as Swift's Disease or Mercurialism.
What are some Useful Resources for Additional Information?
National Institute for Occupational Safety and Health
395 E Street, S.W. Suite 9200, Patriots Plaza Building, Washington, DC 20201
Phone: (513) 533-8328
Toll-Free: (800) 232-4636
Email: cdcinfo@cdc.gov
Website: http://www.cdc.gov/niosh
Center for Health, Environment and Justice
P.O. Box 6806, Falls Church, VA 22040-6806
Phone: (703) 237-2249
Email: info@chej.org
Website: http://www.chej.org
American Academy of Dermatology
930 E. Woodfield Road Schaumburg, IL 60173
Phone: (866) 503-SKIN (7546)
Fax: (847) 240-1859
Website: http://www.aad.org
References and Information Sources used for the Article:
http://www.dermnetnz.org/topics/acrodynia/ (accessed on 01/08/2017)
https://www.ncbi.nlm.nih.gov/pubmed/21797771 (accessed on 01/08/2017)
https://www.ncbi.nlm.nih.gov/pmc/articles/PMC3173747/ (accessed on 01/08/2017)
Helpful Peer-Reviewed Medical Articles:
Yeter, D., & Kuo, H. C. (2015). Acute Febrile Acrodynia (1781-1966): Historical Cases Of Kawasaki Disease Before Kawasaki?.
Khodashenas, E., Aelami, M., & Balali-Mood, M. (2015). Mercury poisoning in two 13-year-old twin sisters. Journal of research in medical sciences: the official journal of Isfahan University of Medical Sciences, 20(3), 308.
Esra, Ç. Ö. P., KÜLTÜR, S. E. Ç., & BAKAR, P. E. E. (2014). Metallic mercury poisoning and neuropsychological effects: a case report. Turk psikiyatri dergisi, 25(1), 60.
McKay, C. A. (2013, December). Public health department response to mercury poisoning: the importance of biomarkers and risks and benefits analysis for chelation therapy. In Journal of medical toxicology (Vol. 9, No. 4, pp. 308-312). Springer US.
Singhvi, R., Taneja, A., Patel, J., Gasser, C., & Kalnicky, D. J. (2014). Hg vapor emission from broken compact fluorescent lamps (CFLs) in an acrylic chamber. Environmental Forensics, 15(1), 17-24.
Seshadri, S. (2013, October). Mad As a Hatter. In 2013 AAP National Conference and Exhibition. American Academy of Pediatrics.
Horowitz, Y., Greenberg, D., Ling, G., & Lifshitz, M. (2002). Acrodynia: a case report of two siblings. Archives of disease in childhood, 86(6), 453-453.
Casano, P., Odena, M. P., Cambra, F. J., Martin, J. M., & Palomeque, A. (2002). Bordetella pertussis infection causing pulmonary hypertension. Archives of disease in childhood, 86(6), 453-453.