Why You Need to Limit Your Saturated Fat Intake
Last updated Aug. 1, 2015
Approved by: Krish Tangella MD, MBA, FCAP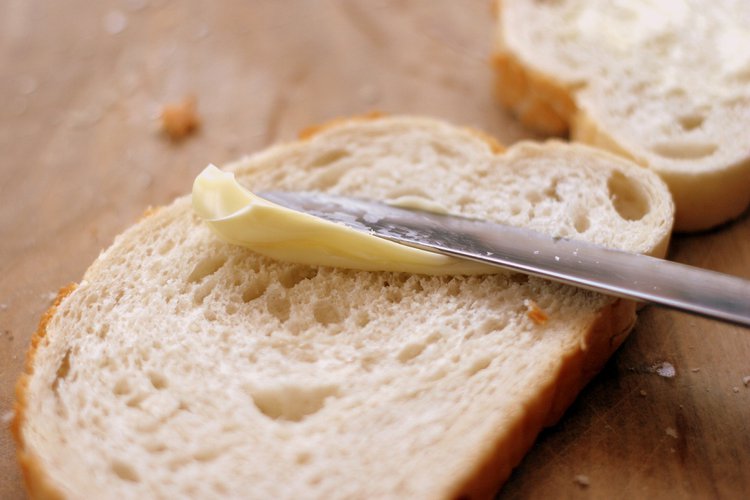 Saturated fats occur naturally in many foods; a majority come from meats (e.g. beef) and dairy products like butter.
---
Fats are necessary to sustain numerous body functions and are required to dissolve some vitamins so they can nourish the body. However, fats are high in calories, which can lead to weight gain and poor health. Unsaturated fats are the "good fats," while saturated fats are classified as the "bad fats".
Unsaturated fats are good for the heart, cholesterol, and overall health
They are present in most oils (olive and sunflower oil), nuts (almonds), fatty fish, tofu, and soymilk.

Saturated fats are suspected to be a harmful dietary fat:
They occur naturally in many foods; a majority come from meats (e.g. beef) and dairy products like butter.  

They are known to cause an increase in blood cholesterol levels.  

Consuming saturated fat increases the risk of developing various cardiovascular disorders, as well as cancer. It could also cause severe damage to bones.
Saturated fats negatively impact one's health:
Increased Risk of Cardiovascular Disorders
Several studies have been conducted to study the health effects of saturated fats on the heart. The following are some of the conclusions drawn from these studies:
Saturated fats are directly associated with atherosclerosis formation.

Consuming saturated fats instead of unsaturated fats has been observed to cause a 20% increase in coronary heart diseases.

Dietary saturated fats have been directly linked to the onset of various coronary heart disorders.

Saturated fats have a causal link to coronary blockage and even untimely stroke.

Reducing consumption of saturated fats has been observed to improve cardiovascular health.  
The 2010 Dietary Guidelines for Americans published by the USDA and U.S. Department of Health and Human Services has advised that since the body produces enough saturated fats, it can be harmful to consume additional saturated fats from our diet. Higher levels of saturated fat intake could lead to an increase in total cholesterol and bad cholesterol, potentially leading to cardiovascular disorders.
Increased Risk of Cancer
An intake of saturated fats on regular basis is considered a risk factor for cancer and may be a major contributor to the increase of cancer cases worldwide:
Separate scientific studies have illustrated that a diet enriched with saturated fat increases men's risk of developing prostate cancer.

A positive association between dietary fat and breast cancer survival has been reported.

Moreover, systemic research published in 2007 by World Cancer Research Fund and the American Institute of Cancer Research have shown how intake of saturated fats regularly can cause colorectal cancer in both female and male subjects.

These scientific studies have demonstrated that regular intake of saturated fats can lead to the growth of malignant cells, along with damage to organs like the prostate, ovaries, and rectum.
Increased Risk of Low Bone Density And Diabetes
Intake of saturated fats has also been seen to decrease bone density, which in turn increases the risk of various musculoskeletal disorders such as rheumatoid arthritis and gout.

Studies have illustrated an inverse relationship exists between dietary saturated fat intake and bone density. In other words, the more saturated fats present in one's diet, the less bone density.

Another research has indicated that bone mineral density (BMD) could be negatively impacted by intake of saturated fat and that men are particularly susceptible to these negative effects.

Similarly, the American Diabetics Association has established that regular consumption of saturated fat could lead to the development of type-2 diabetes, in the long run, and its excessive consumption should be avoided.
In summary, most medical communities and government organizations have illustrated the dangers of saturated fats on the heart. However, contrary reports exist as well, stating that dietary fats have no correlation with cardiovascular disease or the development of different types of cancer.
Nevertheless, overconsuming saturated fats in a diet many have harmful effects on health and fitness. Overindulgence in dietary saturated fats could potentially cause obesity and hormonal disorders. Obesity, in turn, could bring about the metabolic disease and cardiovascular problems in an individual. Additionally, an association has been reported between obesity and various types of cancer. Therefore, whether directly or indirectly, saturated fats could cause harm to an individual's health.
The prudent thing to do is to adhere to portion control, which would limit the amount of saturated fat intake. Leading an active lifestyle, in combination with a healthy diet, will contribute significantly to good health.
References:
Corwin RL, Hartman TJ, Maczuga SA, Graubard BI (2006). "Dietary saturated fat intake is inversely associated with bone density in humans: Analysis of NHANES III". The Journal of nutrition 136 (1): 159–165. PMID 16365076
Mente A,de Koning L, Shannon HS, Anand SS. A Systematic Review of the Evidence Supporting a Causal Link Between Dietary Factors and Coronary Heart Disease. Arch Intern Med. 2009;169(7):659-669. doi:10.1001/archinternmed.2009.38
Siri-Tarino, P. W., Sun, Q., Hu, F. B., & Krauss, R. M. (2010). Meta-analysis of prospective cohort studies evaluating the association of saturated fat with cardiovascular disease. The American journal of clinical nutrition, ajcn-27725. Retrieved from  http://ajcn.nutrition.org/content/91/3/535  
World Cancer Research Fund International, Second Expert Report 2007. (n.d.). Retrieved July 14, 2015, from http://www.wcrf.org/sites/default/files/english.pdf
Saturated Fats. Retrieved from http://www.heart.org/HEARTORG/GettingHealthy/NutritionCenter/HealthyEating/Saturated-Fats_UCM_301110_Article.jsp
Diet and Cardiovascular Disease. Retrieved from http://www.world-heart-federation.org/cardiovascular-health/cardiovascular-disease-risk-factors/diet
(2014 Aug 7).Dietary Fats: Know which types to choose. Retrieved from http://www.mayoclinic.org/healthy-living/nutrition-and-healthy-eating/in-depth/fat/art-2004555
Dietary Fats, Dietary Cholesterol, and Heart Health. Retrieved from http://www.heartfoundation.org.au/SiteCollectionDocuments/Dietary-Fats-Dietary-Cholesterol-and-Heart-Health.pdf
Choosing Healthy Fats. Retrieved from http://www.helpguide.org/articles/healthy-eating/choosing-healthy-fats.htm
Pelser, C., Mondul, A., Hollenbeck, A., & Park, Y. (2013). Dietary Fat, Fatty Acids, and Risk of Prostate Cancer in the NIH-AARP Diet and Health Study. Cancer Epidemiology Biomarkers & Prevention, 22(4), 697-707.
Reddy, B. (2004). Omega-3 Fatty Acids and Cancer Prevention. Nutrition and Disease Prevention Nutrition and Cancer Prevention, 112(1), 1-7.
Crowe FL, Allen NE, Appleby PN, Overvad K, Aardestrup IV, Johnsen NF, Tjønneland A, Linseisen J, Kaaks R, Boeing H, Kröger J, Trichopoulou A, Zavitsanou A, Trichopoulos D, Sacerdote C, Palli D, Tumino R, Agnoli C, Kiemeney LA, Bueno-de-Mesquita HB, Chirlaque MD, Ardanaz E, Larrañaga N, Quirós JR, Sánchez MJ, González CA, Stattin P, Hallmans G, Bingham S, Khaw KT, Rinaldi S, Slimani N, Jenab M, Riboli E, Key TJ (November 2008). "Fatty acid composition of plasma phospholipids and risk of prostate cancer in a case-control analysis nested within the European Prospective Investigation into Cancer and Nutrition". The American Journal of Clinical Nutrition 88(5): 1353–63. PMID 18996872
Brennan, S., Woodside, J., Lunny, M., Cardwell, C., & Cantwell, M. (2015). Dietary fat and breast cancer survival: A systematic review and meta-analysis. Proceedings of the Nutrition Society.  (n.d.). Retrieved July 14, 2015, from http://www.ncbi.nlm.nih.gov/pubmed/25692500
Obesity and Cancer Risk. (n.d.). Retrieved July 14, 2015, from http://www.cancer.gov/about-cancer/causes-prevention/risk/obesity/obesity-fact-sheet
Reviewed and Approved by a member of the DoveMed Editorial Board
First uploaded: Aug. 1, 2015
Last updated: Aug. 1, 2015