Voluntary Recall Of Canned Seafood By Bornstein Inc.
Last updated Oct. 20, 2015
Approved by: Krish Tangella MD, MBA, FCAP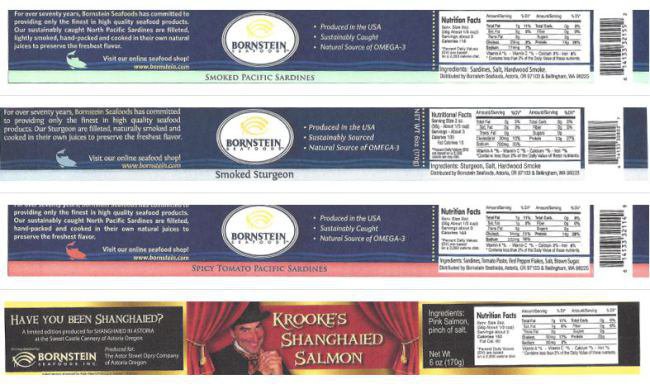 All of the recalled products are not featured in the above image. Click the link at the bottom of the story for images of each item.
---
The US Food and Drug Administration (FDA) has announced that Bornstein Inc., based in Oregon, USA, is voluntarily recalling canned seafood owing to potential contamination with Clostridium botulinum, a bacterium that could cause severe illness or even death.
Skipanon Brands Seafoods LLC. made the Bornstein Seafood products. Consumers have thus far reported no illnesses.
The products include canned Salmon, Sardines, Sturgeon and Tuna, distributed all over the USA through retail and Internet marketing. All recalled cans have codes starting with "OC." The products are being recalled following a recent FDA inspection at Skipanon Brands Seafoods LLC, which found the cans under-processed. 
What is Clostridium botulinum?
Clostridium botulinum is a rod-shaped bacterium and can grow under low oxygen conditions. Under unfavorable conditions for growth, the microbe could form spores and remain dormant. However, upon the availability of favorable conditions, the bacterium starts multiplying. The growth of Clostridium botulinum results in the production of a neurotoxin, which is extremely potent and could cause harm even when minuscule amounts are present. Botulism, as the illness is called, could be serious and potentially life-threatening.
How can Clostridium botulinum affect people?
When the spores of Clostridium botulinum germinate in improperly stored or processed food, they release the toxin in the food substance. When consumed by humans, the toxin affects nerves and could cause botulism.
What are the symptoms associated with Clostridium botulinum contamination?
The growth of Clostridium botulinum results in the release of neurotoxins. When ingested, the toxins start affecting nerves, and the symptoms could begin appearing from as early as 12 hours after ingestion to as late as eight days. Usually, if the symptoms appear soon after consuming contaminated food, it would indicate the presence of elevated amounts of neurotoxin in the food, and, therefore, the affected individual. The symptoms could include:
Nausea and vomiting
Weakness
Dizziness
Blurred vision
Difficulty swallowing
Difficulties with speech
Breathing problems
Airway obstruction
Dry mouth
Sore throat
Abdominal cramps
Diarrhea
Constipation
If detected early enough, individuals could be treated with an anti-toxin and therefore, the effect of the neurotoxin could be somewhat reduced.
What should one do with the potentially contaminated canned seafood?
Do not:
Eat the product even if it does not look or smell spoiled.
Keep the potentially contaminated food where children and pets could reach it.
Do: 
Immediately double bag the potentially contaminated food with plastic bags, close them tightly and put it in the garbage (not recycling).
Contact a medical professional right away, if suffering from breathing or speech or swallowing difficulties, or abdominal pain following consumption of food that could be contaminated with Clostridium botulinum.
Contact Bornstein Inc. for further questions or concerns:

Via telephone at (503) 325-6164 from 8 am to 5 pm (Monday-Friday) Pacific Standard Time
Through email at bornstein@bornstein.com.
References and Information Sources used for the Article:
U.S. Food and Drug Administration. (n.d.). Retrieved October 19, 2015, from http://www.fda.gov/Safety/Recalls/ucm467441.htm?source=govdelivery&utm_medium=email&utm_source=govdelivery

FSIS. (n.d.). Retrieved October 19, 2015, from http://www.fsis.usda.gov/wps/portal/fsis/topics/food-safety-education/get-answers/food-safety-fact-sheets/foodborne-illness-and-disease/clostridium-botulinum/ct_index
Reviewed and Approved by a member of the DoveMed Editorial Board
First uploaded: Oct. 20, 2015
Last updated: Oct. 20, 2015