Patients With Advanced Bladder Cancer Benefit From Anti-PD-L1 Immunotherapy
Last updated June 6, 2016
Approved by: Krish Tangella MD, MBA, FCAP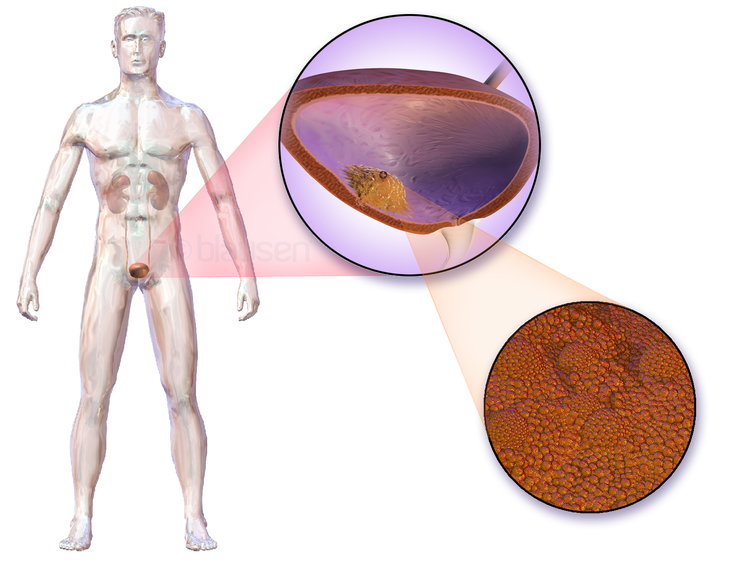 "This and other immunotherapies have brought new momentum to bladder cancer treatment, which until recently had seen practically no treatment advances in more than a decade," said Charles Ryan, MD, ASCO Expert in bladder cancer. "The fact that this treatment appears safe for elderly patients, who too often have few good options, is all the more encouraging."
---
CHICAGO – Anti-PD-L1 immunotherapy atezolizumab (TECENTRIQ) is effective in patients with previously untreated advanced bladder cancer and not eligible for the standard treatment with cisplatin. According to a non-randomized phase II trial, atezolizumab shrank tumors in about a quarter of patients and yielded a median survival of 14.8 months. Typically, patients in this setting have a survival of nine to 10 months with carboplatin-based regimens.1
The study will be featured in a press briefing today and presented at the 2016 American Society of Clinical Oncology (ASCO) Annual Meeting.
"Up to half of patients with advanced bladder cancer are too frail to receive the only known survival-prolonging treatment, cisplatin. There is really no standard treatment for such patients," said lead study author Arjun Vasant Balar, MD, an assistant professor of medicine at the New York University Langone Medical Center and Director of Genitourinary Medical Oncology at the NYU Perlmutter Cancer Center in New York, NY. "We are encouraged to see that atezolizumab immunotherapy may help address this major unmet need."
About the Study
The trial, called IMvigor210, is a single-arm phase II study of atezolizumab in patients with locally advanced or metastatic bladder cancer. All patients had urothelial cancer, which is the most common type of bladder cancer in the United States.
The study included two groups of patients: those receiving atezolizumab as a second-line therapy and those receiving atezolizumab as an upfront treatment. The researchers have previously reported results from the second-line therapy group. Based on those results, the FDA granted accelerated approval for atezolizumab after treatment with a platinum-based regimen.
Key Findings
With a median follow-up of 14.4 months, 28 out of 119 (24%) patients responded to the treatment. The longest duration of response thus far is greater than 18 months, and 21 of 28 (75%) responses were ongoing at the time of data analysis. The median overall survival was 14.8 months.
Overall, atezolizumab was well-tolerated, with only 10-15% of patients experiencing severe adverse effects. The most common toxicities were hypothyroidism, liver function abnormalities, rash, and diarrhea. "The majority of our patients had few or no side effects from atezolizumab and only 6% of patients discontinued treatment because of toxicity. This is in stark contrast to the approximate 20% rate of treatment discontinuation from toxicity observed with carboplatin-based chemotherapy regimens. Immunotherapy appears to be much easier to tolerate than chemotherapy, and this is especially important for elderly patients," said Dr. Balar.
Atezolizumab for Bladder Cancer
Atezolizumab is an antibody targeting PD-L1, a component of the PD-1/PD-L1 immune checkpoint. When atezolizumab attaches to PD-L1 on the surface of tumor cells, it prevents it from interacting with PD-1 receptors on immune cells and thus unleashes the immune system to attack the tumor.
IMvigor210 is the first trial to test the efficacy of atezolizumab as the initial treatment in patients with advanced bladder cancer. These data are encouraging, and the researchers are planning a randomized phase III trial of atezolizumab as an upfront treatment for advanced bladder cancer.
A randomized clinical trial of atezolizumab as an adjuvant treatment for early-stage bladder cancer is also underway. Meanwhile, there are several ongoing clinical trials exploring other immune checkpoint inhibitors, including nivolumab, durvalumab, and pembrolizumab, in localized and advanced bladder cancer.
About Bladder Cancer
Bladder cancer is the fifth most common cancer in adults. Nearly 77,000 people will be diagnosed with bladder cancer in the United States this year,2 and 450,000 were diagnosed worldwide in 2012.3 Bladder cancer is largely a disease of the elderly; the average age at diagnosis is 70 years. This cancer is also closely linked to smoking, with 80% of patients being former smokers.
The standard upfront treatment for advanced bladder cancer is cisplatin-based chemotherapy. Patients receiving this therapy have a median survival of 12-15 months. However, for 30-50% of patients with advanced bladder cancer, cisplatin chemotherapy is not considered a safe option due to their advanced age, kidney function, and/or ongoing medical conditions. Such patients may receive carboplatin-based chemotherapy, which provides a median survival of 9-10 months.
This study received funding from Genentech, a member of the Roche Group.
View the full abstract.
The above post is reprinted from materials provided by American Society of Clinical Oncology (ASCO). Note: Materials may be edited for content and length.

Disclaimer: DoveMed is not responsible for the adapted accuracy of news releases posted to DoveMed by contributing universities and institutions.
Reviewed and Approved by a member of the DoveMed Editorial Board
First uploaded: June 6, 2016
Last updated: June 6, 2016