Liberia Is Free of Ebola, Says the World Health Organization
Last updated May 12, 2015
Approved by: Krish Tangella MD, MBA, FCAP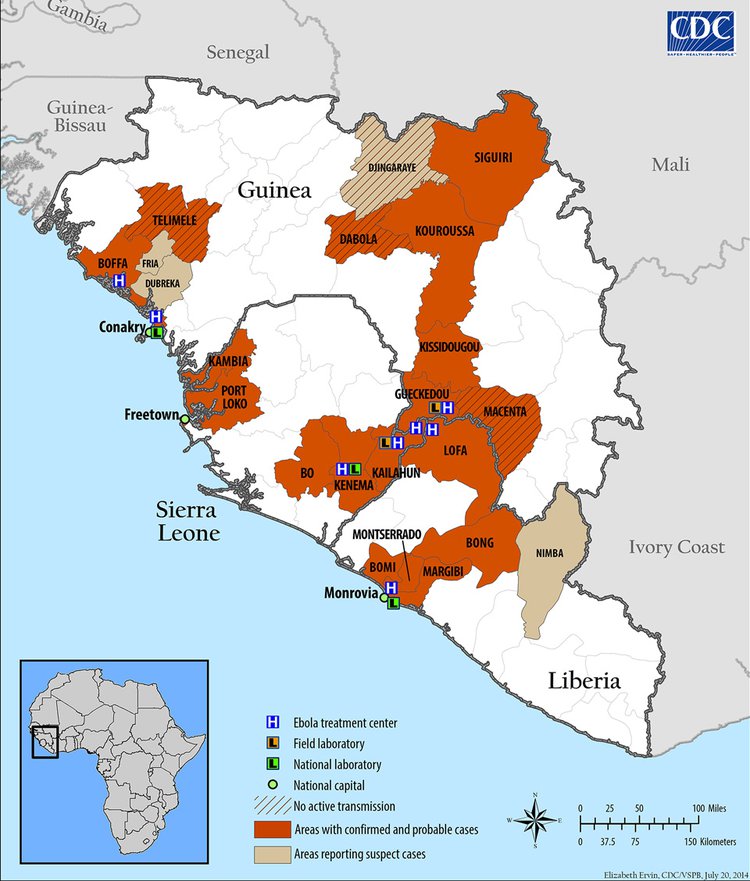 In a report issued on May 9, 2015, the World Health Organization (WHO) declared Liberia to be Ebola-free.
---
In a report issued on May 9, 2015, the World Health Organization (WHO) declared Liberia to be Ebola-free.
The last laboratory confirmed Ebola victim was buried on March 28, 2015.
Liberia was most affected by the recent outbreak, which, according to the WHO, was the most complex and prolonged outbreak in the last 38 years. In August-September of 2014, the Ebola virus infection was at its peak in Liberia. During this time, 300-400 new cases were reported every week. The worst affected was the capital Monrovia, although cases were reported from every part of Liberia.
The conditions were so bad that there were no hospital beds available for Ebola patients anywhere in the country. Infectious cases and patients remained in homes and communities. Liberia feared that Ebola would become endemic to the region and remain a health hazard on a permanent basis.
Complimenting the people and the government of Liberia, the WHO said, "It is a tribute to the government and people of Liberia that determination to defeat Ebola never wavered, courage never faltered. Doctors and nurses continued to treat patients, even when supplies of personal protective equipment and training in its safe use were inadequate. Altogether, 375 health workers were infected and 189 lost their lives."
The WHO further stated, "Local volunteers, who worked in treatment centers, on burial teams, or as ambulance drivers, were driven by a sense of community responsibility and patriotic duty to end Ebola and bring hope back to the country's people."
The Liberian government, local doctors, aid workers, the communities, and international assistance have all been credited in bringing the number of cases to zero.
Along with elation comes a niggling worry: although Liberia is declared Ebola-free, Sierra Leone and Guinea are still reporting new cases. In the week of May 3, 2015, these neighboring countries reported 9 cases each. With porous borders, the risk of infected people crossing over to Liberia still remains a threat.
The Liberian government remains on high alert. Additionally, as reported by DoveMed, several problems persist in Ebola survivors. With the recent finding that the Ebola virus could reside in the inner eye of survivors months after being declared Ebola-free, and the knowledge that the virus lurks in the sperm of survivors, continued vigilance would be required as the country gets back to normalcy.
While there may remain problems to be solved and vigilance to be maintained, Liberia and its people, along with the international community, deserve to be commended for interrupting the spread of Ebola in Liberia. DoveMed congratulates Liberia for being officially declared "Ebola-free."
Written by Mangala Sarkar Ph.D.
Primary Reference
The Ebola outbreak in Liberia is over. (n.d.). Retrieved May 11, 2015, from http://www.who.int/mediacentre/news/statements/2015/liberia-ends-ebola/en/
Additional References
Sarkar, M. (n.d.). Ebola Virus Can Reside in the Eyes Months After a Person is Declared Ebola-Free. Retrieved May 11, 2015, from http://www.dovemed.com/current-medical-news/ebola-virus-can-reside-eyes/
Ebola Situation Reports. (n.d.). Retrieved May 8, 2015, from http://apps.who.int/ebola/en/ebola-situation-reports
Varkey, J., Shantha, J., Crozier, I., Kraft, C., Lyon, G., Mehta, A., . . . Yeh, S. (2015). Persistence of Ebola Virus in Ocular Fluid during Convalescence. The New England Journal of Medicine. DOI: 10.1056/NEJMoa1500306
Interim Advice on Sexual Transmission of Ebola Virus Disease. (n.d.). Retrieved May 8, 2015, from http://www.who.int/reproductivehealth/topics/rtis/ebola-virus-semen/en/
Reviewed and Approved by a member of the DoveMed Editorial Board
First uploaded: May 12, 2015
Last updated: May 12, 2015