HIV: Early-Phase Infectivity May Not Be as Bad as Previously Predicted
Last updated March 21, 2015
Approved by: Krish Tangella MD, MBA, FCAP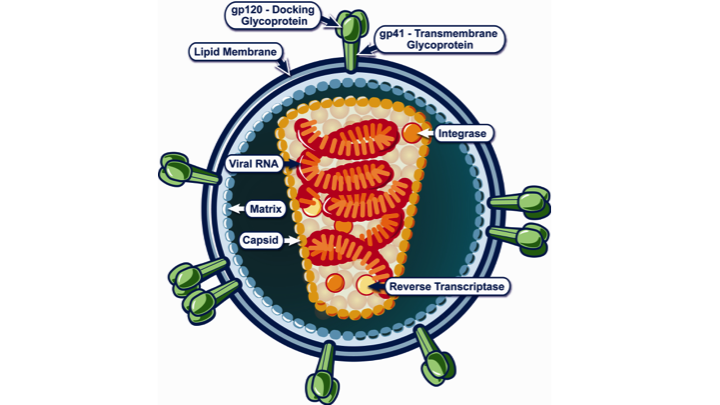 There are an estimated 34 million people in the world who are Human Immunodeficiency Virus or HIV positive.
---
According to the National Institute of Allergy and Infectious Diseases (NIAID), there are an estimated 34 million people in the world who are Human Immunodeficiency Virus or HIV positive. 1.7 million have succumbed to Acquired Immunodeficiency Syndrome or AIDS (a disease caused by HIV) and related causes of AIDS in 2011. In the USA, about 1.1 million people are HIV positive and each year, 50,000 more get infected.
For the sake of simplicity, an HIV infection is divided into four stages:
Primary infection or acute phase: This is a stage right after infection. It may last for a few weeks. The virus is in the peripheral blood and the body at this stage is beginning to respond by generating antibodies to combat the onslaught.
Clinically asymptomatic or chronic phase: This may last up to 10 years. In most cases, no symptoms are observed.
Symptomatic HIV infection: This stage is characterized by a weakened immune system fighting secondary infections. The virus may mutate and become more pathogenic.
Progression from HIV to AIDS: At this stage, there is an increased occurrence of severe secondary infections and even cancers. The individual is diagnosed to be suffering from AIDS.
Direct measurement of infectivity in the acute phase was done only once in Rakai, Uganda in a group of heterosexual couples in which one partner was infected with HIV. Most estimates of acute stage infectivity are based on that study. It is believed that people in the acute phase are generally highly infectious and transmit the disease rapidly because of the viral load.
It is this contention that Bellan and coauthors are trying to refute in their research article published in PLOS. Taking into account some differences in couples in the Rakai study that were previously ignored and estimating the relationship between viral load and infection risks throughout the acute phase, the researchers arrived at a mathematical model. This model calculated the infectivity in the acute phase of HIV infection to be substantially lower than previously estimated. The authors proclaim that the previous studies failed to take into account some differences that could arise as a result of the behavioral pattern of an infectious individual, as well as how susceptible an uninfected partner is.
The findings are relevant to the approach to a treatment of HIV infection. Individuals are not tested or do not test positive for HIV in the very early stages of the infection. The current understanding is that anti-retroviral therapy for HIV-infected individuals should be started as early as possible for maximum clinical benefits as well as reduced infectiousness. Taking into account the findings discussed here that the acute phase may not be as infectious as previously thought, there may be a reason for cautious optimism for benefits in the treatment of HIV.
Written by Mangala Sarkar Ph.D.
References and Information Sources used for the Article:
Bellan, S. E., Dushoff, J., Galvani, A. P., & Meyers, L. A. (2015). Reassessment of HIV-1 Acute Phase Infectivity: Accounting for Heterogeneity and Study Design with Simulated Cohorts. PLoS Med, 12(3), e1001801.
Cohen, M. S., Shaw, G. M., McMichael, A. J., & Haynes, B. F. (2011). Acute HIV-1 infection. New England Journal of Medicine, 364(20), 1943-1954.
Grinsztejn, B., Hosseinipour, M. C., Ribaudo, H. J., Swindells, S., Eron, J., Chen, Y. Q., ... & HPTN 052-ACTG Study Team. (2014). Effects of early versus delayed initiation of antiretroviral treatment on clinical outcomes of HIV-1 infection: results from the phase 3 HPTN 052 randomised controlled trial. The Lancet infectious diseases, 14(4), 281-290.
HIV/AIDS. (n.d.). Retrieved March 20, 2015, from http://www.niaid.nih.gov/topics/hivaids/Pages/Default.aspx
Stages of HIV Infection. (n.d.). Retrieved March 20, 2015, from http://www.avert.org/stages-hiv-infection.htm
Reviewed and Approved by a member of the DoveMed Editorial Board
First uploaded: March 21, 2015
Last updated: March 21, 2015