College Football Players Show Smaller Brain Regions
Last updated June 3, 2016
Approved by: Krish Tangella MD, MBA, FCAP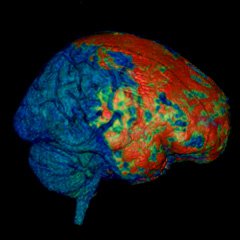 This 3D MRI of a human brain reveals injury (in red) to the brain's coverings following mild head trauma.
---
Research on the long-term effects of concussions have increased drastically over the years. A new study from Tulsa's Laureate Institute for Brain Research shows that college football players who have been subjected to head injuries and those who have been playing football for many years are more likely to have smaller hippocampal volumes than players who have played football for less years.
The hippocampus is a brain region involved in regulating emotion and establishing, storing and processing memories. Previous studies have shown that the hippocampus is mainly vulnerable to moderate and severe concussions, or traumatic brain injury (TBI). Studies have started to show that it may also be sensitive to mild TBI.
Before this study, there have been very few studies that show the long-term effects on how TBI has on the brain function on young athletes. The researchers evaluated 25 college football players with a history of clinically diagnosed concussion and compared them with 25 college football players with no concussion history and 25 non-football-playing healthy controls. 
The researchers measured participants' brain volumes using high-resolution magnetic resonance imaging (MRI). Athletes were also required to take part in computerized concussion-related cognitive tests.
The results revealed that football players with a history of concussion had 17 to 26 percent smaller hippocampal volumes than players who had not experienced concussion. Players who had years of football experience had smaller hippocampal volumes and a slower reaction time on cognitive tests, compared with players who had fewer years' experience. 
"We keep hearing about retired football players having diseases that relate back to smaller hippocampuses," Patrick Bellgowan, the study's senior author, tells Reuters. "Maybe this is just the precursor of it." 
The researchers say their study has some limitations. For example, they note that their sample size was small relative to previous studies. Also, they added that athletes often underreport concussion symptoms, "which could potentially contaminate our distinction between athletes with and without a history of concussion."
Additional Reference:
Relationship of Collegiate Football Experience and Concussion With Hippocampal Volume and Cognitive Outcomes
Reviewed and Approved by a member of the DoveMed Editorial Board
First uploaded: June 3, 2016
Last updated: June 3, 2016