Phenylketonuria Test
Last updated Aug. 4, 2016
Approved by: Maulik P. Purohit MD MPH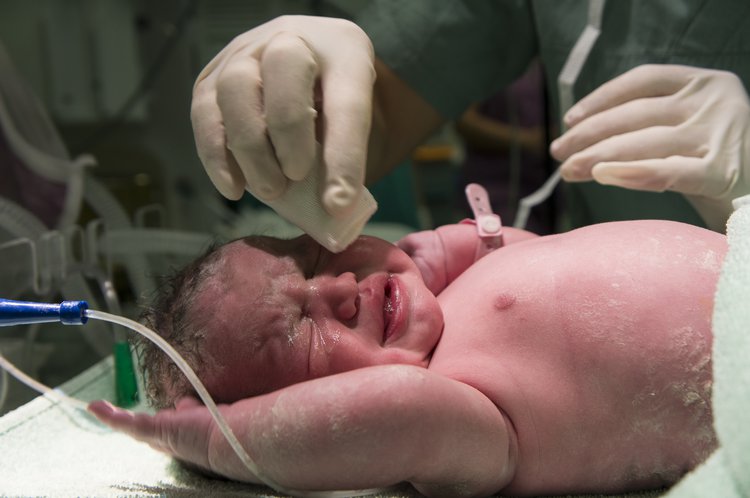 A Phenylketonuria Test is a common blood test for newborns, in order to determine, if they possess this genetic disorder. The test requires only a small blood sample, yet it provides definitive results.
---
What are the other Names for this Test? (Equivalent Terms)
Bacterial Inhibition Test
Phenylalanine Screening Test
PKU Test
What is Phenylketonuria Test? (Background Information)
Proper enzyme function is crucial to metabolizing nutrients that the body consumes. In the case of a faulty enzyme, the chemicals can back-up or accumulate, as a result of their inability to get broken down; which is the case with phenylketonuria (PKU)
Phenylalanine is an essential amino acid, which also exhibits neurotoxic effects at high concentrations. Under normal circumstances, it is quickly broken down by an enzyme and hence, it does not have sufficient time to accumulate to dangerous levels in the body
Phenylketonuria results, when the enzyme that normally degrades (breaks down) phenylalanine is defective, as a result of a genetic disorder. Since, the amino acid phenylalanine cannot get broken down, it accumulates to levels that can impair brain development
A Phenylketonuria Test is a common blood test for newborns, in order to determine, if they possess this genetic disorder. The test requires only a small blood sample, yet it provides definitive results
What are the Clinical Indications for performing the Phenylketonuria Test?
The following conditions may warrant a Phenylketonuria Test:
Routine screening of newborns (as done in the US and Canada)
A diagnosis of PKU during pregnancy
Low birth weight
Liver disorders
How is the Specimen Collected for Phenylketonuria Test?
Sample required: Blood
Process: Pricking of newborn's heel
Preparation: The newborn infant has to be fed milk for 48 hours, prior to the test.
What is the Significance of the Phenylketonuria Test Result?
Elevated levels of phenylalanine may indicate phenylketonuria. Since, PKU is genetic disorder, symptom alleviation and control, may be the only courses of action available. This would include: 
Avoiding phenylalanine-containing foods, such as aspartame (NutraSweet®)
Performing regular PKU Tests to monitor the disorder
The laboratory test results are NOT to be interpreted as results of a "stand-alone" test. The test results have to be interpreted after correlating with suitable clinical findings and additional supplemental tests/information. Your healthcare providers will explain the meaning of your tests results, based on the overall clinical scenario.
Additional and Relevant Useful Information:
The Phenylketonuria Blood Test is often used in conjunction with Phenistix urine test and other relevant blood tests
Testing newborns outside of the 3-7 day range may interfere with the test results
Ever notice this warning label on diet sodas "Phenylketonurics - contains phenylalanine"? Such labels are meant to alert individuals with PKU that the product contains phenylalanine, which cannot be metabolized by them and must be avoided
Certain medications that you may be currently taking may influence the outcome of the test. Hence, it is important to inform your healthcare provider, the complete list of medications (including any herbal supplements) you are currently taking. This will help the healthcare provider interpret your test results more accurately and avoid unnecessary chances of a misdiagnosis.
What are some Useful Resources for Additional Information?
DoveMed is currently working to bring you additional resources.
Please sign up by creating a DoveMed account to receive periodic notification on information updates.
References and Information Sources used for the Article:
Daniels, R. (2010). Delmar's manual of laboratory and diagnostic tests: Organized by type of test (2nd ed.). Clifton Park, NY: Delmar Cengage Learning.
Jacobs, D. S., Oxley, D. K., & DeMott, W. R. (2004). Laboratory test handbook: Concise, with disease index (3rd ed.). Hudson (Cleveland), OH: Lexi-Comp.
Kumar, V., Abbas, A. K., Aster, J. C., & Robbins, S. L. (2013). Robbins basic pathology (9th ed.). Philadelphia, PA: Elsevier/Saunders.
Schnell, Z. B., Van, L. A., & Kranpitz, T. R. (2003). Davis's Comprehensive handbook of laboratory and diagnostic tests: With nursing implications. Philadelphia: F.A. Davis.
Reviewed and Approved by a member of the DoveMed Editorial Board
First uploaded: March 7, 2014
Last updated: Aug. 4, 2016