Phenobarbital Test
Last updated July 25, 2019
Approved by: Maulik P. Purohit MD, MPH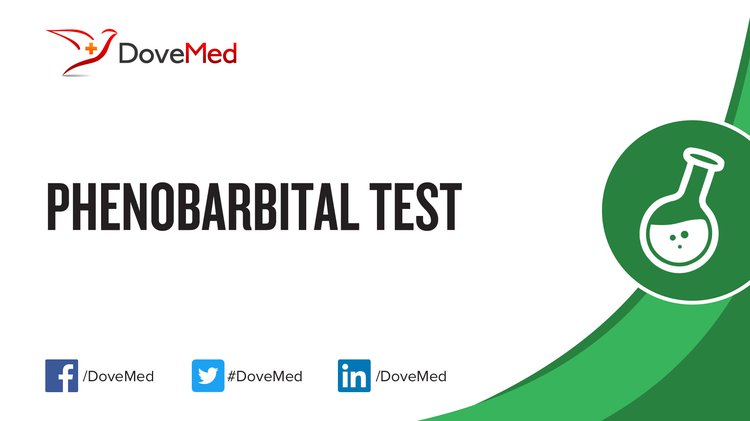 A Phenobarbital Blood Test is a test to assess the levels of phenobarbital in blood. It is used when adjusting the initial dose and to ensure that phenobarbital levels stay within an acceptable range.
---
What are the other Names for this Test? (Equivalent Terms)
Barbita® Levels Blood Test
Comizial® Levels Blood Test
Stental Extentabs® Levels Blood Test 
What is Phenobarbital Test? (Background Information)
Phenobarbital is an anticonvulsant drug used to treat seizures. It is also used to treat anxiety. Phenobarbital is also known under the brand names:

Barbita®
Comizial®
Fenilcan®
Gardenal®
Luminal®
Phenemal®
Phenobarb®
Other names include Phenobarbitone and Stental Extentabs®

Seizures are episodes of abnormal and excessive brain cell activity; they may last several seconds, to even 5 minutes. Often, the cause of a seizure is unknown. A seizure may occur as result of a nervous system disorder, called epilepsy. They may also occur following a brain surgery
During a seizure, an individual may convulse or display other uncontrolled physical behaviors. Such seizures are said to be convulsive and convulsive seizures are the most common seizures
Alternatively, non-convulsive seizures do not exhibit this uncontrolled physical behavior. Instead, an individual experiencing this seizure type may momentarily lapse out of consciousness, effectively "zoning out"
Brain cells communicate to each other and to other cells, through electrical signals. During a seizure, brain cells are rendered excessively conductive. The brain cells that are over-conductive transfer electrical signals too freely. This results in the derailment of their communications system, causing either convulsive or non-convulsive effects of seizures
The drug phenobarbital dampens the activities of brain cells. It works by reducing the sky-high conductivity of brain cells to more functional levels. This is also how phenobarbital works to treat anxiety
Like every other drug, phenobarbital must be kept within a certain range, in order to prevent unwanted effects. If levels are too high, it may result in toxicity. If the levels are too low, the drug may not successfully ward-off a seizure attack
A Phenobarbital Blood Test is a test to assess the levels of phenobarbital in blood. It is used when adjusting the initial dose and to ensure that phenobarbital levels stay within an acceptable range
What are the Clinical Indications for performing the Phenobarbital Test?
The clinical indication for performing a Phenobarbital Blood Test is in monitoring phenobarbital therapy. 
How is the Specimen Collected for Phenobarbital Test?
Following is the specimen collection process for Phenobarbital Blood Test:
Sample required: Blood
Process: Insertion of a needle into an arm vein.
Preparation required: No special preparation is needed prior to the test. 
What is the Significance of the Phenobarbital Test Result?
The significance of the Phenobarbital Blood Test is explained:
Increased phenobarbital levels may indicate phenobarbital toxicity, which is marked by:

Involuntary side-to-side eye movements (nystagmus)
Drowsiness
Loss of consciousness
Confusion
Decreased blood pressure
Nausea and vomiting
Nightmares
Fever
Skin rash

Decreased phenobarbital levels may indicate that more phenobarbital is necessary to achieve a therapeutic dose 
The laboratory test results are NOT to be interpreted as results of a "stand-alone" test. The test results have to be interpreted after correlating with suitable clinical findings and additional supplemental tests/information. Your healthcare providers will explain the meaning of your tests results, based on the overall clinical scenario. 
Additional and Relevant Useful Information:
The point at which phenobarbital reaches a toxic level is difficult to predict. This is because phenobarbital is metabolized by enzymes that have a pre-set capacity unique to every individual. This makes the Phenobarbital Blood Test essential during phenobarbital treatment 
Certain medications that you may be currently taking may influence the outcome of the test. Hence, it is important to inform your healthcare provider, the complete list of medications (including any herbal supplements) you are currently taking. This will help the healthcare provider interpret your test results more accurately and avoid unnecessary chances of a misdiagnosis.
References and Information Sources used for the Article:
Fischer, R. (2005). Epileptic seizures and epilepsy: Definitions proposed by the International League Against Epilepsy (ILAE) and the International Bureau for Epilepsy (IBE). Epilepsia, 46(4), 470-72

Lab Tests Online (2012, November 27). Retrieved September 30, 2014 from http://labtestsonline.org/understanding/analytes/phenobarbital/

Martini, F., Nath, J. L., & Bartholomew, E. F. (2012). Fundamentals of anatomy & physiology (9th ed.). San Francisco: Benjamin Cummings.

Schnell, Z. B., Van, L. A., & Kranpitz, T. R. (2003). Davis's Comprehensive handbook of laboratory and diagnostic tests: With nursing implications. Philadelphia: F.A. Davis.
Reviewed and Approved by a member of the DoveMed Editorial Board
First uploaded: Oct. 2, 2014
Last updated: July 25, 2019