Molecular Testing for Melanotic Schwannoma
Last updated Aug. 6, 2019
Approved by: Maulik P. Purohit MD, MPH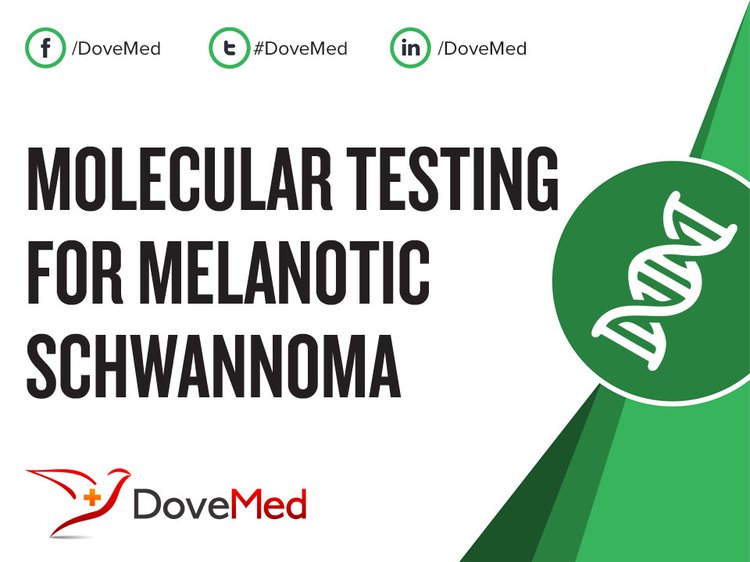 Molecular Testing for Melanotic Schwannoma is a genetic test that is helpful in aiding a diagnosis of melanotic schwannoma.
---
What are other Names of this Test? (Equivalent Terms)
Gene Mutation Analysis for Melanotic Schwannoma
Test for Molecular Diagnosis of Melanotic Schwannoma
What is Molecular Testing for Melanotic Schwannoma? (Background Information)
Molecular Testing for Melanotic Schwannoma is a genetic test that is helpful in aiding a diagnosis of melanotic schwannoma. The lab test results may also be subsequently useful in taking appropriate treatment decisions
Melanotic schwannoma is a rare tumor of the soft tissue involving the nerves of the body. It is called so, because the Schwann cells (a type of nerve cells) produce melanin pigment. The tumor is mostly found in young adults
About half of the cases occur in individuals with Carney complex, which is an autosomal dominant genetic condition. Carney complex is characterized by the presence of multiple tumors, such as myxomas, schwannomas, and pigmented skin conditions
The signs and symptoms of melanotic schwannomas are linked to the tumor site. Although most tumors are benign, some may be malignant. The malignant melanotic schwannomas may metastasize to various body organs (such as lung and brain)
The cause of melanotic schwannoma is due to genetic mutations.
Currently, studies indicate defects in the following gene: CNC2
Additionally, the following chromosomal aberration is noted:

Abnormalities in chromosome 2 is observed with additions/deletions in 2p16 region
Such changes are seen irrespective of whether the tumors are associated with Carney complex or not
The above genetic abnormalities can be detected using molecular studies, which may play a significant role in identifying the tumor type, and in some cases, helping the healthcare provider take appropriate treatment decisions.
The molecular testing, in general, can be performed using a variety of methods. Some of these methods include:
In situ hybridization technique, such as fluorescence in situ hybridization (FISH)
Immunohistochemistry (IHC)
Next-generation sequencing (NGS)
Polymerase chain reaction (PCR)
Comparative genomic hybridization (CGH)
Karyotyping including spectral karyotyping
mRNA analysis
Tissue microarrays (TMAs)
Southern blot test
Northern blot test
Western blot test
Eastern blot test
The methodology used for melanotic schwannoma may vary from one laboratory to another. 
Note: Molecular testing has limitations due to the molecular method and genetic mutational abnormalities being tested. This can affect the results on a case-by-case basis. Consultation with your healthcare provider will help in determining the right test and right molecular method, based on individual circumstances.
What are the Clinical Indications for performing the Molecular Testing for Melanotic Schwannoma Test?
Molecular Testing for Melanotic Schwannoma is undertaken in the following situations:
To assist (and in some cases, confirm) the initial diagnosis of melanotic schwannoma
To distinguish other tumors/conditions that have similar histological features, when examined by a pathologist under the microscope
To help in determining treatment options
To confirm recurrence of the tumor: Tumor recurrence can either be at the original tumor site, or at a distant location (away from the initial site)
How is the Specimen Collected for Molecular Testing for Melanotic Schwannoma?
Following is the specimen collection process for Molecular Testing for Melanotic Schwannoma:
The specimen sample requirements may vary from lab to lab. Hence, it is important to contact the testing lab for exact specimen requirements, before initiating the testing process.
Sample on which the test is performed may include:

Fresh tumor tissue during biopsy
Formalin-fixed paraffin-embedded solid tumor tissue (FFPE tumor tissue), often referred to as paraffin block of the tumor
Unstained tissue slides

Process of obtaining the sample: As outlined by the laboratory testing facility
Preparation required: As outlined by the laboratory testing facility
Note:
In some cases, a different source of specimen (such as peripheral blood, bone marrow biopsy specimen, or other body fluids) may be acceptable to the laboratory performing the test
Occasionally, additional samples may be required to either repeat the test or to perform follow-up testing
Depending on the location of testing, it may take up to 2 weeks' turnaround time, to obtain the test results
Many hospitals preserve the paraffin blocks for at least 7 years. In general, older paraffin blocks (over 5 years) may affect the detection of specific mutations, due to degradation of the tumor specimen over time
Cost of Molecular Testing for Melanotic Schwannoma:
The cost of the test procedure depends on a variety of factors, such as the type of your health insurance, annual deductibles, co-pay requirements, out-of-network and in-network of your healthcare providers and healthcare facilities
In many cases, an estimate may be provided before the test is conducted. The final amount may depend upon the findings during the test procedure and post-operative care that is necessary (if any)
What is the Significance of the Molecular Testing for Melanotic Schwannoma Result?
The significance of Molecular Testing for Melanotic Schwannoma is explained:
Presence of a positive test result helps aid, and in some cases, confirm the diagnosis of melanotic schwannoma
The result can help exclude other tumors with similar histological features
It can help determine the prognosis of the patient
In some cases, the test results may help in taking treatment decisions
The laboratory test results are NOT to be interpreted as results of a "stand-alone" test. The test results have to be interpreted after correlating with suitable clinical findings and additional supplemental tests/information. Your healthcare providers will explain the meaning of your tests results, based on the overall clinical scenario.
Additional and Relevant Useful Information:
Many laboratories may not have the capability to perform this test. Only highly-specialized labs with advanced facilities and testing procedures may perform this test
Additional mutations are still being discovered in many of these tumors. This may further contribute towards tumor diagnosis and treatment. Please consult with your healthcare provider for any information updates
Certain medications that you may be currently taking may influence the outcome of the test. Hence, it is important to inform your healthcare provider of the complete list of medications (including any herbal supplements) you are currently taking. This will help the healthcare provider interpret your test results more accurately and avoid unnecessary chances of a misdiagnosis.
Please visit our Laboratory Procedures Center for more physician-approved health information:
http://www.dovemed.com/common-procedures/procedures-laboratory/
References and Information Sources used for the Article:
https://ghr.nlm.nih.gov/primer/testing/genetictesting (accessed on 03/07/2017)

https://www.cdc.gov/mmwr/preview/mmwrhtml/rr5806a1.htm (accessed on 03/07/2017)

http://www.nature.com/gim/journal/v10/n5/full/gim200852a.html (accessed on 03/07/2017)

http://pediatrics.aappublications.org/content/106/6/1494 (accessed on 03/07/2017)

http://www.jto.org/article/S1556-0864(16)32820-9/fulltext (accessed on 03/07/2017)

http://www.jto.org/ (accessed on 03/07/2017)

https://www.ncbi.nlm.nih.gov/pubmed/20301463 (accessed on 03/07/2017)
Helpful Peer-Reviewed Medical Articles:
Carrano, A. V., et al. Measurement and purification of human chromosomes by flow cytometry and sorting. Proceedings of the National Academy of Sciences 76, 1382–1384 (1979)

Drets, M. E., & Shaw, M. W. Specific banding patterns of human chromosomes. Proceedings of the National Academy of Sciences 68, 2073–2077 (1971)

Druker, B. J. Perspectives on the development of a molecularly targeted agent. Cancer Cell 1, 31–36 (2002)

Parra, I., & Windle, B. High resolution visual mapping of stretched DNA by fluorescent hybridization. Nature Genetics 5, 17–21 (1993) doi:10.1038/ng0993-17

Pinkel, D., et al. High resolution analysis of DNA copy number variation using comparative genomic hybridization to microarrays. Nature Genetics 20, 207–211 (1998) doi:10.1038/2524

Speicher, M. R., et al. Karyotyping human chromosomes by combinatorial multi-fluor FISH. Nature Genetics 12, 368–375 (1996) doi:10.1038/ng0496-368

Stratakis, C. A., Kirschner, L. S., & Carney, J. A. (2001). Clinical and molecular features of the Carney complex: diagnostic criteria and recommendations for patient evaluation. The Journal of Clinical Endocrinology & Metabolism, 86(9), 4041-4046.

Torres-Mora, J., Dry, S., Li, X., Binder, S., Amin, M., & Folpe, A. L. (2014). Malignant melanotic schwannian tumor: a clinicopathologic, immunohistochemical, and gene expression profiling study of 40 cases, with a proposal for the reclassification of "melanotic schwannoma". The American journal of surgical pathology, 38(1), 94-105.

Küsters-Vandevelde, H. V., van Engen-van Grunsven, I. A., Küsters, B., van Dijk, M. R., Groenen, P. J., Wesseling, P., & Blokx, W. A. (2010). Improved discrimination of melanotic schwannoma from melanocytic lesions by combined morphological and GNAQ mutational analysis. Acta neuropathologica, 120(6), 755-764.

De Cerchio, L., Contratti, F., & Fraioli, M. F. (2006). Dorsal dumb-bell melanotic schwannoma operated on by posterior and anterior approach: case report and a review of the literature. European Spine Journal, 15(5), 664-669.

Conti, P., Pansini, G., Mouchaty, H., Capuano, C., & Conti, R. (2004). Spinal neurinomas: retrospective analysis and long-term outcome of 179 consecutively operated cases and review of the literature. Surgical neurology, 61(1), 34-43.

Carrasco, C. A., Rojas-Salazar, D., Chiorino, R., Venega, J. C., & Wohllk, N. (2006). Melanotic nonpsammomatous trigeminal schwannoma as the first manifestation of Carney complex: case report. Neurosurgery, 59(6), E1334.

Kirschner, L. S., Carney, J. A., Pack, S. D., Taymans, S. E., Giatzakis, C., Cho-Chung, Y. S., & Stratakis, C. A. (2000). Mutations of the gene encoding the protein kinase A type I-α regulatory subunit in patients with the Carney complex. Nature genetics, 26(1), 89-92.

Groussin, L., Kirschner, L. S., Vincent-Dejean, C., Perlemoine, K., Jullian, E., Delemer, B., ... & Bertagna, X. (2002). Molecular analysis of the cyclic AMP-dependent protein kinase A (PKA) regulatory subunit 1A (PRKAR1A) gene in patients with Carney complex and primary pigmented nodular adrenocortical disease (PPNAD) reveals novel mutations and clues for pathophysiology: augmented PKA signaling is associated with adrenal tumorigenesis in PPNAD. The American Journal of Human Genetics, 71(6), 1433-1442.
Reviewed and Approved by a member of the DoveMed Editorial Board
First uploaded: March 10, 2017
Last updated: Aug. 6, 2019