Kleihauer-Betke Blood Test
Last updated June 2, 2019
Approved by: Maulik P. Purohit MD, MPH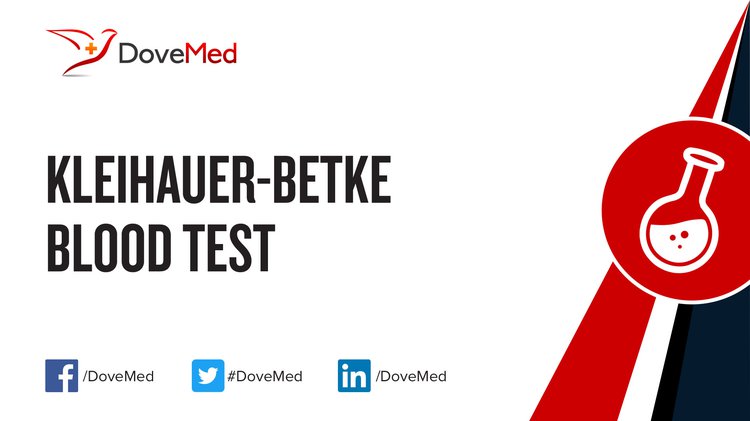 The Kleihauer-Betke Blood Test detects fetal red blood cells in a pregnant woman or a woman who has recently delivered.
---
What are other Names for this Test? (Equivalent Terms)
Acid Elution Blood Test
KB Blood Test
What is Kleihauer-Betke Blood Test? (Background Information)
The Kleihauer-Betke Blood Test is performed on the blood of a pregnant woman to determine, if there is a fetal blood transfer during pregnancy. This means that the test helps determine if blood from the developing fetus has entered her bloodstream, due to a fetal-maternal hemorrhage (FMH)
A fetal-maternal hemorrhage occurs when trauma or a complication with pregnancy results in damage to the placenta, resulting in a significant transfer of blood from the fetus to the mother. The cause may also be unknown
Nearly all pregnancies involve transfer or a small amount of blood from the fetus to the mother. However, FMH involves a large transfer, which deprives the fetus of blood that can result in a fetal death or an anemic newborn. Roughly 50% of pregnant mothers possess red blood cells from their fetuses, but only 1% of pregnancies result in an anemic stillborn
The Kleihauer-Betke Blood Test detects fetal red blood cells in a pregnant woman or a woman who has recently delivered. It is performed as follows:

Step 1: The mother's blood is treated with acid, which destroys the acid-sensitive maternal hemoglobin (a protein abundant in red blood cells) while leaving fetal acid-resistant hemoglobin intact
Step 2: A stain is added to expose the infant hemoglobin
Step 3: The number of fetal red blood cells are counted, then divided by the number of maternal red blood cells, and the result is divided by 10,000 and expressed as fetal bleed (in milliliters)
What are the Clinical Indications for performing the Kleihauer-Betke Blood Test?
Following are the clinical indications for performing the Kleihauer-Betke Blood Test:
Stillbirth
Infant death
Anemic newborn
Excessive bleeding during birth of a child
Abruption of placenta during child pregnancy
Any clinical condition where a healthcare provider suspects a fetal-maternal hemorrhage may have occurred during pregnancy
How is the Specimen Collected for Kleihauer-Betke Blood Test?
Following is the specimen collection process for Kleihauer-Betke Blood Test:
Sample required: Blood 
Process of obtaining a blood sample in adults:
A band is wrapped around the arm, 3-4 inches above the collection site (superficial vein that lies within the elbow pit)
The site is cleaned with 70% alcohol in an outward spiral, away from the zone of needle insertion
The needle cap is removed and is held in line with the vein, pulling the skin tight
With a small and quick thrust, the vein is penetrated using the needle
The required amount of blood sample is collected by pulling the plunger of the syringe out slowly
The wrap band is removed, gauze is placed on the collection site, and the needle is removed
The blood is immediately transferred into the blood container, which has the appropriate preservative/clot activator/anti-coagulant
The syringe and the needle are disposed into the appropriate "sharp container" for safe and hygienic disposal
Preparation required: No special preparation is needed prior to the test.
What is the Significance of the Kleihauer-Betke Blood Test Result?
Detection of fetal red blood cells in maternal blood means a positive result for the Kleihauer-Betke Blood Test. This may point to a diagnosis of fetal-maternal hemorrhage (FMH)
The laboratory test results are NOT to be interpreted as results of a "stand-alone" test. The test results have to be interpreted after correlating with suitable clinical findings and additional supplemental tests/information. Your healthcare providers will explain the meaning of your tests results, based on the overall clinical scenario.
Additional and Relevant Useful Information:
Certain factors interfere with the results of the Kleihauer-Betke Blood Test. These include leukemias and myelodysplastic syndromes, which may increase the level of fetal-type red blood cells
Certain medications that you may be currently taking may influence the outcome of the test. Hence, it is important to inform your healthcare provider, the complete list of medications (including any herbal supplements) you are currently taking. This will help the healthcare provider interpret your test results more accurately and avoid unnecessary chances of a misdiagnosis.
Please visit our Laboratory Procedures Center for more physician-approved health information:
http://www.dovemed.com/common-procedures/procedures-laboratory/
References and Information Sources used for the Article:
Kee, J. L. (2010). Laboratory and diagnostic tests with nursing implications (8th ed.). Upper Saddle River, NJ: Pearson.

Martini, F., Nath, J. L., & Bartholomew, E. F. (2012). Fundamentals of anatomy & physiology (9th ed.). San Francisco: Benjamin Cummings.

Solomonia, N. (2011). Fetal-maternal hemorrhage: A case and literature review. American Journal of Perinatology Reports, 2(1), 7-14.

Williamson, M. A., Snyder, L. M., & Wallach, J. B. (2011). Wallach's interpretation of diagnostic tests (9th ed.). Philadelphia: Wolters Kluwer/Lippincott Williams & Wilkins.
Helpful Peer-Reviewed Medical Articles:
Atkinson, A. L., Santolaya-Forgas, J., Matta, P., Canterino, J., & Oyelese, Y. (2015). The sensitivity of the Kleihauer–Betke test for placental abruption. Journal of Obstetrics and Gynaecology, 35(2), 139-141.

Mittal, K., Marwaha, N., Kumar, P., Saha, S. C., & Thakral, B. (2013). Comparison of estimation of volume of fetomaternal hemorrhage using Kleihauer-Betke test and microcolumn gel method in D-negative nonisoimmunized mothers. 110 REVIEW, 29(3), 105.

Donnelly, J. C., Cooley, S. M., Doyle, A., Murphy, D., Corcoran, D., Kumpel, B., & Áinle, F. N. (2014). False positive Kleihauer–Betke (acid elution) test caused by elevated maternal fetal haemoglobin F cells. European Journal of Obstetrics and Gynecology and Reproductive Biology, 172, 136-137.

Gieleżynska, A., Stachurska, A., Fabijańska-Mitek, J., Dębska, M., Burzynska, B., Rawa, K., & Pawlik, K. (2014). Feto-maternal haemorrhage assessment in a woman with a large population of red blood cells containing fetal haemoglobin. Ginekologia polska, 85(8), 614-618.

Soothill, P. W., Finning, K., Latham, T., Wreford‐Bush, T., Ford, J., & Daniels, G. (2015). Use of cffDNA to avoid administration of anti‐D to pregnant women when the fetus is RhD‐negative: implementation in the NHS. BJOG: An International Journal of Obstetrics & Gynaecology, 122(12), 1682-1686.

Reis, I., Sousa, L., Rasteiro, C., Rodrigues, C., & Teles, T. (2015). Fetomaternal Hemorrhage: A Review after a Case Report. J Preg Child Health, 2(197), 2.

Kadooka, M., Kato, H., Kato, A., Ibara, S., Minakami, H., & Maruyama, Y. (2014). Effect of neonatal hemoglobin concentration on long-term outcome of infants affected by fetomaternal hemorrhage. Early human development, 90(9), 431-434.

Lim, C. L., & Soh, M. D. (2014). Finding foetal erythrocytes in maternal peripheral blood.
Reviewed and Approved by a member of the DoveMed Editorial Board
First uploaded: June 3, 2016
Last updated: June 2, 2019