Influenza Tests
Last updated March 5, 2018
Approved by: Krish Tangella MD, MBA, FCAP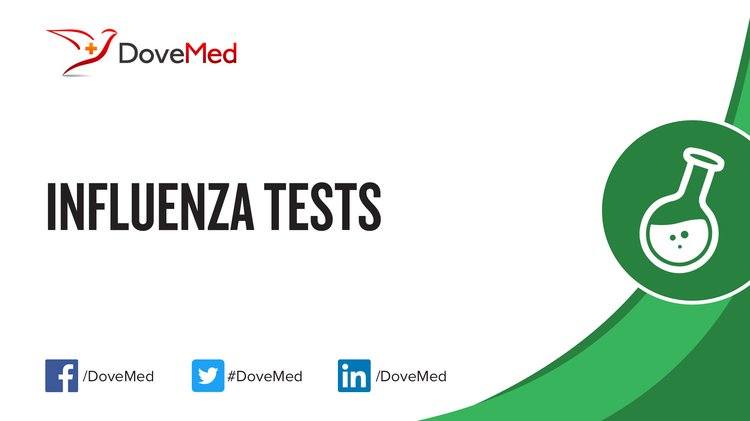 The Influenza Test detects the presence of antibodies against the virus that are circulating in the blood of an infected individual. An appropriate treatment is rendered, depending on the type of influenza that is diagnosed.
---
What are the other Names for this Test? (Equivalent Terms)
Flu Test
Influenza Type A and B Antibody (IgM, IgG)
Rapid Influenza Diagnostic Test (RIDT)
What is Influenza Tests? (Background Information)
Influenza (or flu) is an infection that is caused by two types of viruses; namely influenza A and influenza B
Both influenza A and influenza B infects humans resulting in flu-like symptoms, which include:

Increased body temperatures
Body muscle aches
Fever with chills
Easy tiredness
Cough
Runny nose
Sore throat

The Influenza Test detects the presence of antibodies against the virus that are circulating in the blood of an infected individual. An appropriate treatment is rendered, depending on the type of influenza that is diagnosed
Usually, nasal secretions contain the virus, in an individual with the infection. The viral antigens are shed in the nasal secretions, generally during the first 48-72 hours after symptoms develop
The testing of the nasal secretions for the virus is hence useful, only during that window of time
What are the Clinical Indications for performing the Influenza Tests?
The Flu Tests are performed in individuals showing signs or symptoms of a flu. These signs or symptoms may include those described above
In a majority of the cases, Flu Tests may not be necessary, because the flu symptoms are self-limiting
However, in a subset of individuals, especially those with severe symptoms, such as a decreased immune system and damaged lungs, an accurate diagnosis of the type of influenza, is crucial to aid in further management of the condition
How is the Specimen Collected for Influenza Tests?
Sample required: Nasal swab or a nasopharyngeal swab. A nasal aspirate is also acceptable.
Process:
While procuring a nasal aspirate specimen, a syringe filled with sterile saline is injected into the nasal cavity and gentle pressure is applied to aspirate (the use of suction) the nasal washings. Immediately after procuring the specimen, it is placed into a viral transport media, which preserves the virus.
If a nasopharyngeal swab is performed, then a special swab is inserted into one of the nasal openings. As the swab is inserted deeper into the nasal cavity, it is rotated. This nasal swab, on withdrawal, is placed in a viral transport medium for further processing.
If the testing is done to determine the antibodies developed against the influenza virus, then a blood sample is collected using a needle, inserted into a superficial vein of the arm.
Preparation required: No special preparation is required prior to the test.
What is the Significance of the Influenza Tests Result?
In the majority of cases, influenza is diagnosed based upon its clinical signs and symptoms. If there is an epidemic of flu, then flu-like symptoms are directly attributable to influenza
In certain individuals, influenza can be more severe. These individuals include those with decreased immune system and those with prior lung damage, due to a variety of reasons
A variety of tests are available that are helpful in diagnosing influenza. These tests include:

Direct fluorescent antibody test (DFA)
Rapid influenza diagnostic test (RIDT)
Real time polymerase chain reaction (RTPCR)
Influenza A and influenza B antibody tests
Viral cultures

A positive Influenza Test usually means that the individual has been infected with influenza A or B. If the symptoms are severe or the infection is in a high-risk individual, then treatment with antiviral medication may be necessary
A negative Influenza Test either means that the individual is not infected with influenza, or that there was not enough virus in the specimen analyzed, to aid in influenza diagnosis
A RTPCR test is usually used to sub-classify the types of influenza A, such as bird flu. A positive viral culture also confirms the presence of the virus in an infected individual
The laboratory test results are NOT to be interpreted as results of a "stand-alone" test. The test results have to be interpreted after correlating with suitable clinical findings and additional supplemental tests/information. Your healthcare providers will explain the meaning of your tests results, based on the overall clinical scenario.
Additional and Relevant Useful Information:
Please check back for periodic updates to our 'physician approved content'.
Certain medications that you may be currently taking may influence the outcome of the test. Hence, it is important to inform your healthcare provider, the complete list of medications (including any herbal supplements) you are currently taking. This will help the healthcare provider interpret your test results more accurately and avoid unnecessary chances of a misdiagnosis.
What are some Useful Resources for Additional Information?
DoveMed is currently working to bring you additional resources.

Please sign up by creating a DoveMed account to receive periodic notification on information updates.
References and Information Sources used for the Article:
http://www.cdc.gov/flu/professionals/diagnosis/rapidlab.htm (accessed on 08/10/2013)

http://labtestsonline.org/understanding/analytes/flu/tab/test (accessed on 08/10/2013)

http://health.utah.gov/epi/diseases/flu/InfoGeneralPublic/FactSheet/InfluenzaRT_GP_Flyer.pdf (accessed on 08/10/2013)
Reviewed and Approved by a member of the DoveMed Editorial Board
First uploaded: Aug. 19, 2013
Last updated: March 5, 2018