IgG-to-Albumin Ratio CSF Test
Last updated May 26, 2019
Approved by: Maulik P. Purohit MD, MPH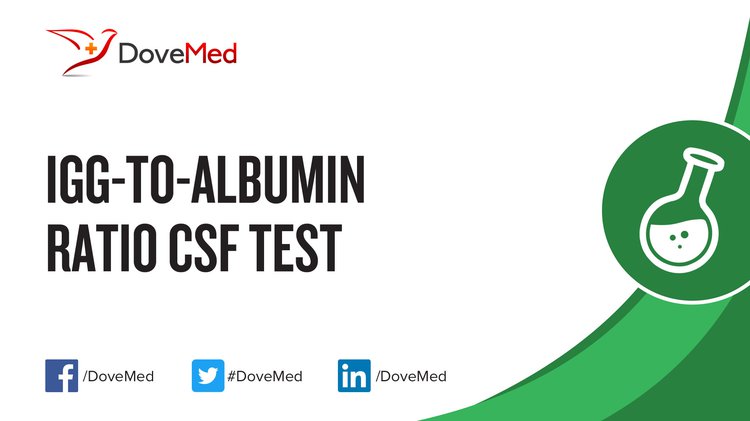 The IgG-to-Albumin Ratio CSF Test compares the levels of IgG to the levels of albumin (a common carrier protein) in the cerebrospinal fluid.
---
What are other Names for this Test? (Equivalent Terms)
IgG/Albumin Ratio, CSF Test
Immunoglobulin G and Albumin, Cerebrospinal Fluid Test
Immunoglobulin G/Albumin Ratio, Cerebrospinal Fluid Test
What is IgG-to-Albumin Ratio CSF Test? (Background Information)
IgG-to-albumin is a comparison of the levels of IgG to the levels of albumin in the cerebrospinal fluid (CSF). It is used to aid in the diagnosis of multiple sclerosis (MS)
IgG is a type of antibody produced by B cells of the immune system. Normally, IgG levels increase after an infection, as the body builds immunity to the pathogen
However, raised IgG levels in the CSF are associated with multiple sclerosis, a disorder that occurs when the immune system attacks the protective covering of the nerves
It is important to differentiate between IgG that is produced in the CSF and IgG made in the blood that leaks into the CSF
The IgG-to-Albumin Ratio CSF Test compares the levels of IgG to the levels of albumin (a common carrier protein) in the cerebrospinal fluid. This may be then compared to the IgG-to-albumin ratio in blood

A high IgG-to-albumin ratio in the CSF means there is an abundance of antibodies in the CSF relative to other proteins. This may be caused by increased antibody production in the CSF, which may be due to multiple sclerosis
Or, a high IgG-to-albumin ratio in CSF may be caused by leakage of IgG into the CSF from the blood. To determine if this is the case, an IgG-to-Albumin Ratio Blood Test may be performed and compared to the value for the IgG-to-Albumin CSF Test value
If the IgG-to-Albumin Blood test value is lower in blood than in the CSF, then IgG is being produced mainly in the CSF. If the test value is higher, IgG is entering the CSF from blood
What are the Clinical Indications for performing the IgG-to-Albumin Ratio CSF Test?
Following are the clinical indications for performing the IgG-to-Albumin Ratio CSF Test:
Slurred speech
Blurred vision
Mood swings
Excessive urination
Cramping 
Fatigue
How is the Specimen Collected for IgG-to-Albumin Ratio CSF Test?
Following is the specimen collection process for IgG-to-Albumin Ratio CSF Test:
Sample required: Cerebrospinal fluid (CSF)
Process of obtaining a cerebrospinal fluid sample in adults:
The skull or lower back is cleaned with 70% alcohol in an outward spiral, away from the zone of needle insertion
A thick needle is inserted into the site, and the necessary amount of CSF is drawn out
Preparation required: No special preparation is needed prior to the test.
What is the Significance of the IgG-to-Albumin Ratio CSF Test Result?
A high value (greater than 0.25) for the IgG-to-Albumin Ratio CSF Test may indicate:
Multiple sclerosis
Cerebral or cerebellar atrophy
Amyotrophic sclerosis
Brain tumor
The laboratory test results are NOT to be interpreted as results of a "stand-alone" test. The test results have to be interpreted after correlating with suitable clinical findings and additional supplemental tests/information. Your healthcare providers will explain the meaning of your tests results, based on the overall clinical scenario.
Additional and Relevant Useful Information:
Certain medications that you may be currently taking may influence the outcome of the test. Hence, it is important to inform your healthcare provider of the complete list of medications (including any herbal supplements) you are currently taking. This will help the healthcare provider interpret your test results more accurately and avoid unnecessary chances of a misdiagnosis.
The following DoveMed website link is a useful resource for additional information:
http://www.dovemed.com/diseases-conditions/multiple-sclerosis-ms/
Please visit our Laboratory Procedures Center for more physician-approved health information:
http://www.dovemed.com/common-procedures/procedures-laboratory/
References and Information Sources used for the Article:
Kee, J. L. (2010). Laboratory and diagnostic tests with nursing implications (8th ed.). Upper Saddle River, NJ: Pearson.

Martini, F., Nath, J. L., & Bartholomew, E. F. (2012). Fundamentals of anatomy & physiology (9th ed.). San Francisco: Benjamin Cummings.

Schnell, Z. B., Van, L. A., & Kranpitz, T. R. (2003). Davis's Comprehensive handbook of laboratory and diagnostic tests: With nursing implications. Philadelphia: F.A. Davis.
Helpful Peer-Reviewed Medical Articles:
Trotter, J. L., & Brooks, B. R. (2013). Pathophysiology of Cerebrospinal Fluid. Neurobiology of Cerebrospinal Fluid 1, 465.

Senel, M., Tumani, H., Lauda, F., Presslauer, S., Mojib-Yezdani, R., Otto, M., & Brettschneider, J. (2014). Cerebrospinal fluid immunoglobulin kappa light chain in clinically isolated syndrome and multiple sclerosis. PloS one, 9(4), e88680.

Persson, L., Longhi, S., Enarsson, J., Andersen, O., Haghigi, S., Nilsson, S., ... & Bergström, T. (2014). Elevated antibody reactivity to measles virus N CORE protein among patients with multiple sclerosis and their healthy siblings with intrathecal oligoclonal immunoglobulin G production. Journal of Clinical Virology, 61(1), 107-112.

Goris, A., Pauwels, I., Gustavsen, M. W., van Son, B., Hilven, K., Bos, S. D., ... & D'Alfonso, S. (2015). Genetic variants are major determinants of CSF antibody levels in multiple sclerosis. Brain, 138(3), 632-643.

Axelsson, M., Mattsson, N., Malmeström, C., Zetterberg, H., & Lycke, J. (2013). The influence of disease duration, clinical course, and immunosuppressive therapy on the synthesis of intrathecal oligoclonal IgG bands in multiple sclerosis. Journal of neuroimmunology, 264(1), 100-105.

Singh, V., Stoop, M. P., Stingl, C., Luitwieler, R. L., Dekker, L. J., van Duijn, M. M., ... & Hintzen, R. Q. (2013). Cerebrospinal-fluid-derived immunoglobulin G of different multiple sclerosis patients shares mutated sequences in complementarity determining regions. Molecular & Cellular Proteomics, 12(12), 3924-3934.
Reviewed and Approved by a member of the DoveMed Editorial Board
First uploaded: April 1, 2016
Last updated: May 26, 2019