Hydroxybutyrate Beta Blood Test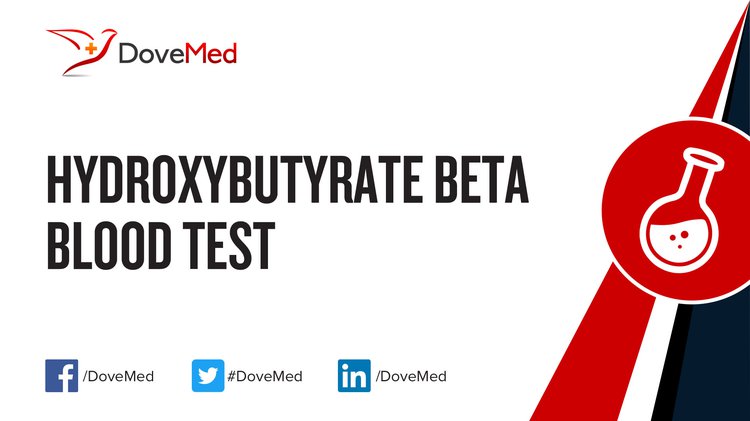 The Hydroxybutyrate Beta Blood Test helps determine the levels of BHB in blood.
What are other Names for this Test? (Equivalent Terms)
3-Hydroxybutyric Acid Blood Test
BHB Blood Test
Ketones Blood Test, Hydroxybutyrate Beta
What is Hydroxybutyrate Beta Blood Test? (Background Information)
Hydroxybutyrate beta (BHB) is a type of chemical called a ketone, which is produced by the body in excessive amounts during ketosis. BHB accounts for the majority of ketones found in blood during ketosis, somewhere around 75%. Acetoacetic acid and acetone are other ketones that are commonly produced
Ketosis occurs when the body uses ketones for energy instead of glucose or blood sugar. This may occur because of a lack of availability of blood sugar. It may also arise from metabolic disorders such as diabetes
Because ketones are acidic, ketosis poses a danger of acidifying the blood. Normally, blood pH must remain within tight limits, between 7.35 and 7.45. Ketones thus pose a danger of ketoacidosis
The Hydroxybutyrate Beta Blood Test helps determine the levels of BHB in blood. It is used to diagnose ketoacidosis and monitor therapy for diabetic ketoacidosis
What are the Clinical Indications for performing the Hydroxybutyrate Beta Blood Test?
Following are the clinical indications for performing the Hydroxybutyrate Beta Blood Test:
Monitoring therapy for diabetic ketoacidosis
Fever
Fatigue
Abdominal pain
Dehydration
Severe thirst
Excessive urination
Fruity-smelling breath
How is the Specimen Collected for Hydroxybutyrate Beta Blood Test?
Following is the specimen collection process for Hydroxybutyrate Beta Blood Test:
Sample required: Blood
Process of obtaining blood sample in adults:
A band is wrapped around the arm, 3-4 inches above the collection site (superficial vein that lies within the elbow pit)
The site is cleaned with 70% alcohol in an outward spiral, away from the zone of needle insertion
The needle cap is removed and is held in line with the vein, pulling the skin tight
With a small and quick thrust, the vein is penetrated using the needle
The required amount of blood sample is collected by pulling the plunger of the syringe out slowly
The wrap band is removed, gauze is placed on the collection site, and the needle is removed
The blood is immediately transferred into the blood container, which has the appropriate preservative/clot activator/anti-coagulant
The syringe and the needle are disposed into the appropriate "sharp container" for safe and hygienic disposal
Preparation required: No special preparation is needed prior to the test.
What is the Significance of the Hydroxybutyrate Beta Blood Test Result?
A high value (greater than 0.27 mmol/L) for the Hydroxybutyrate Beta Blood Test may indicate:
Alcoholic ketoacidosis
Diabetic ketoacidosis (DKA)
Liver disease
Infection
Phenformin and salicylate toxicity
The laboratory test results are NOT to be interpreted as results of a "stand-alone" test. The test results have to be interpreted after correlating with suitable clinical findings and additional supplemental tests/information. Your healthcare providers will explain the meaning of your tests results, based on the overall clinical scenario.
Additional and Relevant Useful Information:
Hydroxybutyrate beta is not detectable by many conventional ketones tests, including the nitroprusside test (Acetest)
Certain medications that you may be currently taking may influence the outcome of the test. Hence, it is important to inform your healthcare provider of the complete list of medications (including any herbal supplements) you are currently taking. This will help the healthcare provider interpret your test results more accurately and avoid unnecessary chances of a misdiagnosis.
The following DoveMed website link is a useful resource for additional information:
https://www.dovemed.com/common-procedures/procedures-laboratory/blood-ketones-test/
Please visit our Laboratory Procedures Center for more physician-approved health information:
http://www.dovemed.com/common-procedures/procedures-laboratory/
References and Information Sources used for the Article:
Kee, J. L. (2010). Laboratory and diagnostic tests with nursing implications (8th ed.). Upper Saddle River, NJ: Pearson.
Martini, F., Nath, J. L., & Bartholomew, E. F. (2012). Fundamentals of anatomy & physiology (9th ed.). San Francisco: Benjamin Cummings.
Williamson, M. A., Snyder, L. M., & Wallach, J. B. (2011). Wallach's interpretation of diagnostic tests (9th ed.). Philadelphia: Wolters Kluwer/Lippincott Williams & Wilkins.
Helpful Peer-Reviewed Medical Articles:
Cooper, C., & Leach, M. (2014). Capillary beta-hydroxybutyrate levels reliably predicts clinical severity in established diabetes but not in first presentations of type 1 diabetes in children.
Sørensen, L. K., Rittig, N. F., Holmquist, E. F., Jørgensen, K. A., Jørgensen, J. O. L., Møller, N., & Johannsen, M. (2013). Simultaneous determination of β-hydroxybutyrate and β-hydroxy-β-methylbutyrate in human whole blood using hydrophilic interaction liquid chromatography electrospray tandem mass spectrometry. Clinical biochemistry, 46(18), 1877-1883.
Coetzee, A., Hoffmann, M., & Ascott-Evans, B. H. (2015). The role of point-of-care blood testing for ketones in the diagnosis of diabetic ketoacidosis. SAMJ: South African Medical Journal, 105(9), 756-759.
Van Ness-Otunnu, R., & Hack, J. B. (2013). Hyperglycemic crisis. The Journal of emergency medicine, 45(5), 797-805.
Youm, Y. H., Nguyen, K. Y., Grant, R. W., Goldberg, E. L., Bodogai, M., Kim, D., ... & Kang, S. (2015). The ketone metabolite [beta]-hydroxybutyrate blocks NLRP3 inflammasome-mediated inflammatory disease. Nature medicine, 21(3), 263-269.
White, H., Venkatesh, B., Jones, M., Worrall, S., Chuah, T., & Ordonez, J. (2013). Effect of a hypertonic balanced ketone solution on plasma, CSF and brain beta-hydroxybutyrate levels and acid–base status. Intensive care medicine, 39(4), 727-733.
Blaikie, T. P., Edge, J. A., Hancock, G., Lunn, D., Megson, C., Peverall, R., ... & Taylor, D. (2014). Comparison of breath gases, including acetone, with blood glucose and blood ketones in children and adolescents with type 1 diabetes. Journal of breath research, 8(4), 046010.