Pars Planitis
Last updated Aug. 17, 2017
Approved by: Maulik P. Purohit MD, MPH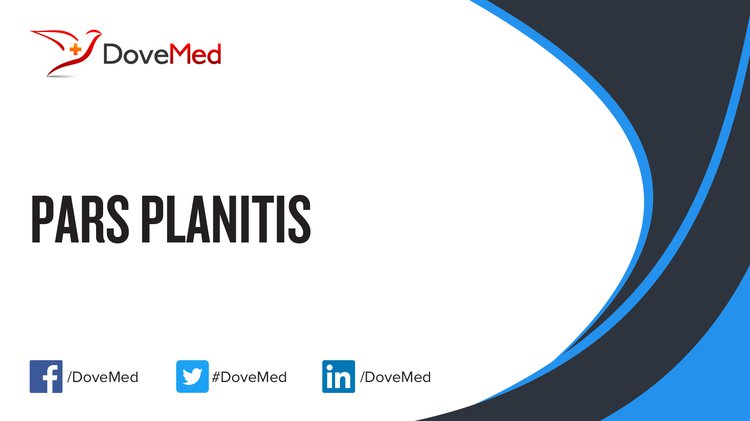 Intermediate Uveitis is a condition involving the inflammation of the uvea, between the iris and choroid.
---
The topic Pars Planitis you are seeking is a synonym, or alternative name, or is closely related to the medical condition Intermediate Uveitis.
Quick Summary:
Uveitis is inflammation of the uvea, which is a part of the eye structure. The uvea is a pigmented layer that consists of the iris, ciliary body, and choroid. The uvea encloses and protects the eyeball, because it is made up of thick and strong fibrous tissue
There are 4 types of Uveitis, depending on which part of the uvea is involved:

Anterior Uveitis
Intermediate Uveitis
Posterior Uveitis
Panuveitis Uveitis

Intermediate Uveitis is a condition involving the inflammation of the uvea, between the iris and choroid. It is also known as Cyclitis. Intermediate Uveitis is the second most common form of uveitis
Any individual can be affected by Intermediate Uveitis; those that are more predisposed to varying types of infection and immunologic problems may be at a higher risk for developing the condition. It can be caused by both infectious and non-infectious reasons. Both the eyes are usually affected in Intermediate Uveitis
A healthcare provider can use various blood tests and physical exams to diagnose Intermediate Uveitis. Upon diagnosis, treatment options, such as steroids or immunomodulators, can be used to treat the condition. Additionally, the healthcare provider will address any underlying conditions that may be contributing to progression of Intermediate Uveitis. An immediate medical attention is sought to achieve better outcomes
The prognosis for Intermediate Uveitis depends on each individual's signs and symptoms and may be assessed on a case-by-case basis. A good prognosis can be expected for those who undergo appropriate treatment. The condition does not usually lead to permanent blindness
Complications, such as glaucoma and cataract, can worsen the prognosis. Individuals who wish to avoid Intermediate Uveitis should avoid infectious scenarios and treat underlying conditions
Uvea: The uvea is a part of the eye that consists of 3 structures, namely the iris, the ciliary body, and the choroid.
Iris: It is the colored portion of the eye; the iris surrounds the pupil of the eye
Ciliary body: It is located between the iris and choroid portion of uvea. Ciliary bodies help in attaching the lens in the eye. It also helps provide nutrients to the lens
Choroid: It is a portion of the uvea that is predominantly made up of the blood vessels; choroid provides nutrients to the retina keeping it healthy
Please find comprehensive information on Intermediate Uveitis regarding definition, distribution, risk factors, causes, signs & symptoms, diagnosis, complications, treatment, prevention, prognosis, and additional useful information HERE.
What are some Useful Resources for Additional Information?
American Optometric Association
243 N. Lindbergh Boulevard St. Louis, MO 63141
Toll-Free: 1 (800) 365-2219
Website: http://www.aoa.org

National Eye Institute (NEI)
Information Office 31 Center Drive
MSC 2510 Bethesda, MD 20892-2510
Phone: (301) 496-5248
Email: 2020@nei.nih.gov
Website: http://www.nei.nih.gov

National Institute of Allergy and Infectious Diseases (NIAID)
Office of Communications and Government Relations
6610 Rockledge Drive, MSC 6612, Bethesda, MD 20892-6612
Phone: (301) 496-5717
Toll-Free: (866) 284-4107
TDD: (800) 877-8339 (for hearing impaired)
Fax: (301) 402-3573
Email: ocpostoffice@niaid.nih.gov
Website: http://www.niaid.nih.gov
References and Information Sources used for the Article:
https://nei.nih.gov/health/uveitis/uveitis (accessed on 08/17/2017)

http://www.uveitis.org/docs/dm/intermediate_uveitis.pdf (accessed on 08/17/2017)
Helpful Peer-Reviewed Medical Articles:
Malinowski, S. M., Pulido, J. S., & Folk, J. C. (1993). Long-term visual outcome and complications associated with pars planitis. Ophthalmology, 100(6), 818-825.

Raja, S. C., Jabs, D. A., Dunn, J. P., Fekrat, S., Machan, C. H., Marsh, M. J., & Bressler, N. M. (1999). Pars planitis: clinical features and class II HLA associations. Ophthalmology, 106(3), 594-599.

Welch, R. B., Maumenee, A. E., & Wahlen, H. E. (1960). Peripheral posterior segment inflammation, vitreous opacities, and edema of the posterior pole: Pars planitis. Archives of Ophthalmology, 64(4), 540-549.

Donaldson, M. J., Pulido, J. S., Herman, D. C., Diehl, N., & Hodge, D. (2007). Pars planitis: a 20-year study of incidence, clinical features, and outcomes. American journal of ophthalmology, 144(6), 812-817.
Reviewed and Approved by a member of the DoveMed Editorial Board
First uploaded: Aug. 17, 2017
Last updated: Aug. 17, 2017