Mucolipidosis Type 1 (ML1)
Last updated June 17, 2020
Approved by: Krish Tangella MD, MBA, FCAP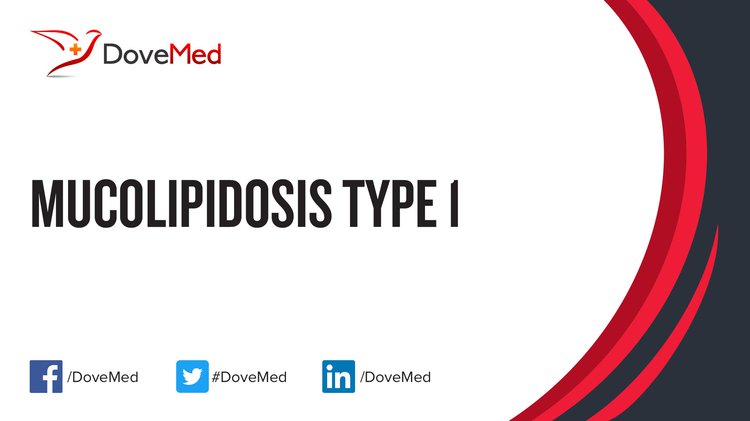 Sialidosis is a rare, inherited genetic disorder that is caused by mutation in the NEU1 gene.
---
The topic Mucolipidosis Type 1 (ML1) you are seeking is a synonym, or alternative name, or is closely related to the medical condition Sialidosis.
Quick Summary:
Sialidosis is a rare, inherited genetic disorder that is caused by mutation in the NEU1 gene. Mutations in this gene are inherited in an autosomal recessive manner
It is classified into 2 types, namely type I and type II, depending on the age of presentation of symptoms and their severity:

Sialidosis Type I: Also known as the Cherry-Red Spot Myoclonus Syndrome, it is the less severe form, mostly affecting the eye. The age of onset is typically in the teens or later
Sialidosis Type II: It is the more severe form, presenting characteristic facial features. It is further divided into 3 subtypes

Sialidosis Type II subtypes:

Sialidosis, congenital type: It is the most severe form and the symptoms are observed in the developing fetus
Sialidosis, infantile type: It is a moderately severe form, with symptom-onset occurring in the first year after birth of the child
Sialidosis, juvenile type: It is the least severe subtype, with symptoms presenting in late childhood

The characteristic symptoms of type I Sialidosis include abnormal gait, reduced vision acuity, muscle twitches, lack of coordination, and seizures
The more severe type II form can lead to fluid accumulation in the fetal abdomen, present coarse facial features (such as a large head, thickened skin, widely-spaced teeth), enlarged spleen and liver, bone abnormalities, and early developmental delays. The congenital form of Type II Sialidosis presents the most severe symptoms, followed by the infantile and juvenile forms
In order to diagnose the disorder, the healthcare provider may perform a thorough physical examination, assess the symptoms, and evaluate family and individual medical history. Further, diagnostic tests, such as imaging studies for detecting bone deformities, microscopic analyses of tissues, and confirmatory genetic testing, may be performed
The potential complications of Type I Sialidosis are progressive deterioration of vision and loss of mobility. Type II complications may be fatal and can include progressive deterioration in vision, severe bone deformities, and stillbirths
Treatment for Sialidosis is generally supportive, and is tailored to making the affected individual as comfortable as possible. Medication to control seizures may be necessary, in some cases
The prognosis of Sialidosis depends on the type of the disorder. Whereas the type I form is not reported to affect life expectancy, the type II form is known to be fatal; most individuals succumb to the disorder, before they reach 20 years of age
Please find comprehensive information on Sialidosis regarding definition, distribution, risk factors, causes, signs & symptoms, diagnosis, complications, treatment, prevention, prognosis, and additional useful information HERE.
What are some Useful Resources for Additional Information?
Children Living with Inherited Metabolic Diseases (CLIMB)
Climb Building, 176 Nantwich Road Crewe, Intl, CW2 6BG United Kingdom
Phone: (0845) 241-2174 (United Kingdom)
Toll-Free: 1 (800) 652-3181
Email: info.svcs@climb.org.uk
Website: http://www.climb.org.uk

Canadian Society for Mucopolysaccharide and Related Diseases, Inc.
#218-2055 Commercial Drive, Vancouver, BC V5N 0C7
Phone: (604) 924-5130
Toll-Free: 1 (800) 667-1846
Email: info@mpssociety.ca
Website: http://www.mpssociety.ca

Genetic and Rare Diseases (GARD) Information Center
PO Box 8126 Gaithersburg, MD 20898-8126
Toll-Free: (888) 205-2311
TTY: (888) 205-3223
International Telephone Access Number: (301) 251-4925
Fax: (301) 251-4911
Website: http://rarediseases.info.nih.gov

Hide & Seek Foundation
6475 East Pacific Coast Highway Suite 466, Long Beach, CA 90803
Phone: (877) 621-1122
Fax: (866) 215-8850
Email: info@hideandseek.org
Website: http://www.hideandseek.org

The International Advocate for Glycoprotein Storage Diseases
20880 Canyon View Drive, Saratoga, CA, 95070
Email: info@ismrd.org
Website: http://www.ismrd.org

National Institute of Diabetes and Digestive and Kidney Disorders (NIDDK)
Office of Communications and Public Liaison
Building 31, Room 9A04 Center Drive, MSC 2560
Phone: (301) 496-3583
Fax: (410) 689-3998
Email: NDDIC@info.niddk.nih.gov
Website: http://www.niddk.nih.gov

Society for Mucopolysaccharide Diseases
MPS House, Repton Place Buckinghamshire, HP7 9LP United Kingdom
Phone: 0345 389 9901
Fax: 0345 389 9902
Email: mps@mpssociety.org.uk
Website: http://www.mpssociety.org.uk

The Arc
1825 K Street, NW, Suite 1200, Washington, DC 20006
Phone: (202) 534-3700
Toll-Free: 1 (800) 433-5255
Fax: (202) 534-3731
Email: info@thearc.org
Website: http://www.thearc.org
References and Information Sources used for the Article:
https://ghr.nlm.nih.gov/condition/sialidosis (accessed on 10/09/2017)

https://rarediseases.org/rare-diseases/sialidosis/ (accessed on 10/09/2017)
Helpful Peer-Reviewed Medical Articles:
Seyrantepe, V., Landry, K., Trudel, S., Hassan, J. A., Morales, C. R., & Pshezhetsky, A. V. (2004). Neu4, a novel human lysosomal lumen sialidase, confers normal phenotype to sialidosis and galactosialidosis cells. Journal of Biological Chemistry, 279(35), 37021-37029.

Palmeri, S., Villanova, M., Malandrini, A., van Diggelen, O. P., Huijmans, J. G., Ceuterick, C., ... & Guazzi, G. (2000). Type I sialidosis: a clinical, biochemical and neuroradiological study. European neurology, 43(2), 88-94.

Naganawa, Y., Itoh, K., Shimmoto, M., Takiguchi, K., Doi, H., Nishizawa, Y., ... & Sakuraba, H. (2000). Molecular and structural studies of Japanese patients with sialidosis type 1. Journal of human genetics, 45(4), 241-249.

Lukong, K. E., Landry, K., Elsliger, M. A., Chang, Y., Lefrancois, S., Morales, C. R., & Pshezhetsky, A. V. (2001). Mutations in sialidosis impair sialidase binding to the lysosomal multienzyme complex. Journal of Biological Chemistry, 276(20), 17286-17290.

Caciotti, A., Di Rocco, M., Filocamo, M., Grossi, S., Traverso, F., d'Azzo, A., ... & Donati, M. A. (2009). Type II sialidosis: review of the clinical spectrum and identification of a new splicing defect with chitotriosidase assessment in two patients. Journal of neurology, 256(11), 1911-1915.
Reviewed and Approved by a member of the DoveMed Editorial Board
First uploaded: Oct. 9, 2017
Last updated: June 17, 2020