CREST Syndrome
Last updated July 26, 2022
Reviewed by: Lester Fahrner, MD
Approved by: Krish Tangella MD, MBA, FCAP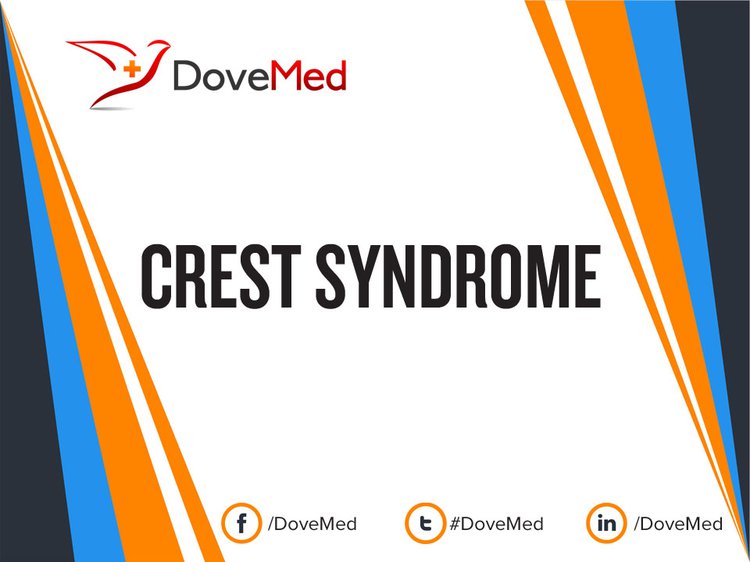 Limited Systemic Scleroderma is a subtype of Scleroderma that affects a variety of organs, such as the gastrointestinal tract, heart, muscles, and joints, potentially causing severe damage.
---
The topic CREST Syndrome you are seeking is a synonym, or alternative name, or is closely related to the medical condition Limited Systemic Scleroderma.
Quick Summary:
Limited Systemic Scleroderma is a subtype of Scleroderma that affects a variety of organs, such as the gastrointestinal tract, heart, muscles, and joints, potentially causing severe damage
Scleroderma is a chronic connective tissue disorder of unknown cause. Connective tissues give support to the organs and skin. Individuals with Scleroderma have thick or hard connective tissue
There is currently a debate about how Scleroderma should be classified. A majority believe that it should be classified as an autoimmune rheumatologic disorder. Due to this, many researchers believe that the damage is caused by immune cells mistakenly attacking one's own healthy tissue.
Scleroderma can be classified into 2 broad categories, which include Localized Scleroderma and Systemic Scleroderma:
Localized Scleroderma:

It often affects the skin tissues and does not cause harm to the other major organs
There are two types of Localized Scleroderma, namely Morphea and Localized Linear Scleroderma

Systemic Scleroderma:

It affects the skin, tissue beneath the skin, major organs, and blood vessels
Systemic Scleroderma also has 2 different types, namely Limited Systemic Scleroderma and Diffuse Systemic Scleroderma
Limited Systemic Scleroderma is a type of Systemic Scleroderma of unknown cause.
Commonly, the organs involved include the esophagus (food pipe), stomach, small intestines, large intestines, heart, muscles, joints, and kidneys. However, it may take years for hardening of the tissue to occur, which in turn, can cause a much slower progression of the signs and symptoms
Typically, Diffuse Systemic Scleroderma progresses rapidly, resulting in severe signs and symptoms and even life-threatening complications. With Limited Systemic Scleroderma, there is no rapid progression of the condition
Limited Systemic Scleroderma is also called as CREST Syndrome. The term CREST stands for:

Calcinosis: Calcium deposits on the skin
Raynaud's phenomenon: Blood vessel spasms in response to cold temperatures or stress
Esophageal dysfunction: Acid reflux and less motility in the esophagus
Sclerodactyly: Thickening and tightening of the skin of the fingers and toes
Telangiectasias: Red capillary dilation on the skin of the face and chest

There is currently no cure for Limited Systemic Scleroderma, but medications, therapy, and surgery may be used to control symptoms and prevent complications. The treatment measures are dependent upon the tissues or organs affected
The way Limited Systemic Scleroderma changes and progresses over time vary among individuals. The rapidity of progression of signs and symptoms and the organs involved affects the prognosis. Typically, individuals who respond to treatment have a better prognosis, than individuals who do not respond to treatment
Please find comprehensive information on Limited Systemic Scleroderma regarding definition, distribution, risk factors, causes, signs & symptoms, diagnosis, complications, treatment, prevention, prognosis, and additional useful information HERE.
What are some Useful Resources for Additional Information?
National Institute of Arthritis and Musculoskeletal and Skin Diseases (NIAMS)
Information Clearinghouse, National Institutes of Health
1 AMS Circle, Bethesda, MD 20892-3675
Phone: 301-495-4484
Toll Free: 877-22-NIAMS (877-226-4267)
TTY: 301-565-2966
Fax: 301-718-6366
Email: NIAMSinfo@mail.nih.gov
Website: http://www.niams.nih.gov

Scleroderma Foundation
300 Rosewood Drive, Suite 105, Danvers, MA 01923
Phone: (978) 463-5843
Toll-free Information Line: (800) 722-HOPE (4673)
Fax: (978) 463-5809
Email: sfinfo@scleroderma.org
Website: http://www.scleroderma.org
References and Information Sources used for the Article:
http://www.hopkinsscleroderma.org/scleroderma/ (accessed on 06/07/2017)

http://www.niams.nih.gov/health_info/scleroderma/scleroderma_ff.asp (accessed on 06/07/2017)

http://www.scleroderma.org/site/PageNavigator/patients_whatis.html#.VYBqFaYay_4 (accessed on 06/07/2017)

http://www.mayoclinic.org/diseases-conditions/scleroderma/basics/definition/con-20021378 (accessed on 06/07/2017)

http://www.nlm.nih.gov/medlineplus/ency/imagepages/19507.htm (accessed on 06/07/2017)
Helpful Peer-Reviewed Medical Articles:
McGuire, F., Kennelly, T., Tillack, T., & Robbins, M. (2010). Pulmonary capillary hemangiomatosis associated with CREST syndrome: a case report and review of the literature. Respiration, 80(5), 435-438.

Riviere, E., Vergniol, J., Reffet, A., Lippa, N., Le Bail, B., & de Ledinghen, V. (2010). Gastric variceal bleeding uncovering a rare association of CREST syndrome, primary biliary cirrhosis, nodular regenerative hyperplasia and pulmonary hypertension. European journal of gastroenterology & hepatology, 22(9), 1145-1148.

Efe, C., Ozaslan, E., Nasiroglu, N., Tunca, H., Purnak, T., & Altiparmak, E. (2010). The development of autoimmune hepatitis and primary biliary cirrhosis overlap syndrome during the course of connective tissue diseases: report of three cases and review of the literature. Digestive diseases and sciences, 55(8), 2417-2421.

Sparsa, A., Lesaux, N., Kessler, E., Bonnetblanc, J. M., Blaise, S., Lebrun-Ly, V., ... & Bédane, C. (2005). Treatment of cutaneous calcinosis in CREST syndrome by extracorporeal shock wave lithotripsy. Journal of the American Academy of Dermatology, 53(5), S263-S265.

Wu, R., Shovman, O., Zhang, Y., Gilburd, B., Zandman-Goodard, G., & Shoenfeld, Y. (2007). Increased prevalence of anti-third generation cyclic citrullinated peptide antibodies in patients with rheumatoid arthritis and CREST syndrome. Clinical reviews in allergy & immunology, 32(1), 47-55.
Reviewed and Approved by a member of the DoveMed Editorial Board
First uploaded: June 16, 2017
Last updated: July 26, 2022